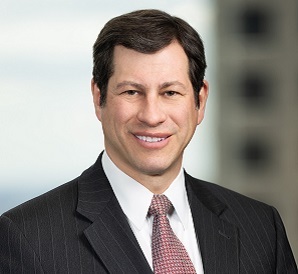 John
M.
Geiringer
Partner
As the Regulatory Section Leader of the Firm's Financial Institutions Group, John concentrates his practice on regulatory, governance, and investigative matters involving financial institutions. He is a frequent speaker and author in the financial institutions area on issues surrounding banking regulations, examinations, and enforcement actions, as well as on national security issues.
Professional Organizations & Associations
John is active in the financial industry and has served as a leader at various organizations involved with financial services law. Some of these organizations include:
American Bar Association, Banking Law Committee

Vice-Chair
Chair, Legislation & Regulation Subcommittee
Chair, Enforcement, Insider Liability & Troubled Banks Subcommittee
Chair, Bank Secrecy Act/Anti-Money Laundering Subcommittee

American Association of Bank Directors, Task Force on Mitigating Director Liability

Illinois Bankers Association

Thought Leadership Council
Faculty Advisor, Law & Banking Principles Class

Chicago Bar Association, Financial Institutions Committee

Chair
Legislative Liaison
Anti-Money Laundering & National Security
John devotes significant time to anti-money laundering and related national security issues. In this regard, he lectures and advises institutions around the country, engages with relevant organizations, and has published on the subject. Some of his notable achievements include:
Chicago-Kent College of Law

Founding Co-Director, Center for National Security and Human Rights Law
Founding Co-Director, Consortium for the Research and Study of Holocaust and the Law (CRSHL)
Adjunct Professor, National Security Law; Holocaust and the Law

Distinguished Lecturer, Case Western Reserve University School of Law's Master of Arts in Financial Integrity (MAFI) Program

Lecturer

Boston University School of Law
Case Western Reserve University School of Law
Georgetown University Center for Security Studies
United States Army Command & General Staff College

Advisor, Harvard Kennedy School's National Security Fellows Program

The Anti-Money Laundering Association

President, Midwest Chapter
Board of Advisors

Participant, Counterterrorism Simulation, University of Utah S.J. Quinney College of Law

Editor & Contributor, Countering the Financing of Terrorism: Law and Policy

Co-Editor & Contributor, Holocaust and the Law (Forthcoming)

Certified Anti-Money Laundering Specialist (CAMS)

Member, Business Executives for National Security (BENS)
Banking Thought Leadership
Working at the forefront of banking law and regulation, John is a thought leader in the field, primarily through teaching, writing, and frequent media interviews. Some of these contributions include:
Chicago-Kent College of Law

Adjunct Professor, Graduate Program in Financial Services Law
Board of Advisors, Institute for Compliance

Instructor, Fundamentals of Banking Law

Boston University School of Law
University of California, Berkeley, School of Law

Contributor, Keys to Banking Law: A Handbook for Lawyers

Editor & Contributor, Banking Law Essentials

Co-Editor & Contributor, Advising Illinois Financial Institutions
Regulatory & Compliance Background
Prior to joining the Firm in 1999, John worked as a bank regulator and also as a compliance consultant. He served as legal counsel for the Illinois bank regulatory agency, now the Illinois Department of Financial and Professional Regulation. John also obtained practical experience with respect to bank operations and compliance issues as a regulatory consultant with a regional accounting firm, performing compliance reviews and training for a variety of financial institutions.
Representative Experience
Assisted numerous clients regarding regulatory examination issues and negotiated more than 100 enforcement actions. Represented many troubled banks regarding insolvency and potential receivership issues.

Advised numerous banks regarding federal and state compliance matters involving lending, deposits, and operations.
Speaking Engagements & Presentations
November 21, 2022

–

Host

(Chicago, IL)

November 15, 2022

–

Speakers

(Madison, Wisconsin)

November 9-10, 2022

–

Speaker

(Chicago, Illinois)

November 3, 2022

–

Speaker

(Gleacher Center, Chicago, IL)

October 27, 2022

–

Speaker

(Skokie, IL)

October 13, 2022

–

Speaker

(Washington, D.C.)

September 28-30, 2022

–

Moderator

September 15, 2022 – September 17, 2022

–

Moderator

(Hybrid)

September 9, 2022

–

Speaker

(Drury Lane | Oak Brook)

August 11, 2022

–

Speaker

(RSM US LLP)

June 1-2, 2022

–

(Boston, MA)

May 18, 2022

–

Speaker

(RSM US LLP)

March 16, 2022

–

(Webinar)

February 24, 2022

–

Speaker & Moderator

February 17, 2022

–

Moderator

November 4, 2021

–

Speaker

(Virtual)

October 4, 2021

–

Speaker

(Virtual)

August 11-12, 2021

–

Speaker (Virtual)

May 25-27, 2021

–

Speaker (Virtual)

May 6, 2021

–

Speaker

(Webinar)

April 29, 2021

–

(Webinar)

April 15, 2021

–

Speaker

(Virtual)

March 25, 2021

–

(Webinar)

March 19, 2021

–

Speaker (Virtual)

March 11, 2021

–

Speaker (Podcast)

February 17, 2021

–

Speaker

(Virtual)

January 28, 2021

–

Speaker (Podcast)

January 7, 2021

–

Speaker

January 5, 2021

–

Panelist

(Virtual)

December 15, 2020

–

Speaker (Virtual Learning)

December 2020

–

Panelist, The Risks and Rewards of Cannabis Banking

(Virtual)

November 5, 2020

–

Speaker

(Virtual)

October 15, 2020

–

(Webinar)

September 21-25, 2020

–

Moderator

(Virtual)

September 8, 2020

–

Speaker

(Virtual)

August 20, 2020

–

Speaker

(Virtual)

July 29, 2020

–

Speaker

(Virtual)

July 21-23, 2020

–

Speaker

July 16, 2020

–

Co-Sponsor

(Video Webinar)

June 16-17, 2020

–

Speaker

(Virtual)

May 13, 2020

–

Co-Sponsor

(Webinar)

March 18, 2020

–

Speaker

(Webinar)

March 13, 2020

–

Speaker

(Webinar)

March 5, 2020

–

Speaker

(Chicago, IL)

February 9, 2020

–

Speaker

(Chicago, IL)

December 6, 2019

–

Speaker, The Highs and Lows and Hows of Banking Marijuana-Related Businesses

(Chicago, IL)

November 20, 2019

–

Speaker

October 30 – November 1, 2019

–

Speaker

(San Francisco, CA)

October 16, 2019

–

Speaker

(Chicago, IL)

October 3, 2019

–

Speaker, "Banking Marijuana"

(Oakbrook Terrace, IL)

August 16, 2019

–

Speaker

(Chicago, IL)

July 16, 2019 (Springfield, IL) & July 30, 2019 (Oak Brook, IL)

–

Speaker

June 26-27, 2019

–

Speaker

(Springfield, IL)

June 23-25, 2019

–

Speaker

(Austin, TX)

June 17-19, 2019

–

Speaker

(Boston, MA)

June 7, 2019

–

Speaker

(Naperville, IL)

May 16, 2019

–

Speaker

(Oak Brook, IL)

April 24, 2019

–

Speaker

(Chicago, IL)

April 11, 2019

–

Speaker

(Webinar)

April 8-10, 2019

–

Speaker

(Austin, TX)

February 10, 2019

–

Speaker

(Chicago, IL)

December 4, 2018

–

Speaker

November 1, 2018

–

Speaker

(Chicago, IL)

October 4, 2018

–

Speaker

(Chicago, IL)

August 10, 2018

–

Speaker

(Schaumburg, IL)

July 27, 2018

–

Speaker

(Oak Brook, IL)

July 17, 2018

–

Speaker

(Chicago, IL)

July 12, 2018

–

(Chicago, IL)

June 22, 2018

–

Host

(Chicago, IL)

May 24, 2018

–

Speaker

(Chicago, IL)

May 17, 2018

–

Speaker

(Chicago, IL)

May 2, 2018

–

Speaker

(Chicago, IL)

May 1, 2018

–

Speaker

(Salem, OR)

April 26, 2018

–

Speakers

(Chicago, IL)

February 27, 2018

–

Speaker

(Scottsdale, AZ)

January 7, 2018

–

Speaker

(Chicago, IL)
Articles & Publications
December 28, 2022

–

S&P Global Market Intelligence

November 16, 2022

–

S&P Global Market Intelligence

September 21, 2022

–

S&P Global Market Intelligence

July 27, 2022

–

Barack Ferrazzano Press Release

May 3, 2022

–

S&P Global Market Intelligence

April 13, 2022

–

S&P Global Market Intelligence

April 4, 2022

–

S&P Global Market Intelligence

March 8, 2022

–

Contributor

,

American Bar Association

January 11, 2022

–

S&P Global Market Intelligence

January 11, 2022

–

Barack Ferrazzano Press Release

December 21, 2021

–

American Association of Bank Directors

December 17, 2021

–

S&P Global Market Intelligence

November 30, 2021

–

Barack Ferrazzano Client Alert

October 26, 2021

–

Quoted

,

S&P Global Market Intelligence

September 21, 2021

–

Barack Ferrazzano Client Alert

August 12, 2021

–

Quoted

,

BankDirector.com

August 5, 2021

–

Barack Ferrazzano Client Alert

June 29, 2021

–

Barack Ferrazzano Client Alert

March 16, 2021

–

Quoted

,

American Banker

March 9, 2021

–

Barack Ferrazzano Client Alert

February 25, 2021

–

Quoted

,

HuffPost

February 2021

–

Quoted

,

S&P Global Market Intelligence

January 15, 2021

–

Barack Ferrazzano Client Alert

January 5, 2021

–

Barack Ferrazzano Client Alert

November 14, 2020

–

Co-Author

,

Chicago Sun Times

2020

–

Contributor

,

American Bar Association

October 14, 2020

–

Barack Ferrazzano Client Alert

September 15, 2020

–

Barack Ferrazzano Client Alert

September 8, 2020

–

Barack Ferrazzano Client Alert

August 19, 2020

–

Barack Ferrazzano Client Alert

August 4, 2020

–

Barack Ferrazzano Client Alert

May 11, 2020

–

Barack Ferrazzano Client Alert

May 1, 2020

–

Barack Ferrazzano Client Alert

April 30, 2020

–

Barack Ferrazzano Client Alert

April 17, 2020

–

Barack Ferrazzano Client Alert

April 14, 2020

–

Barack Ferrazzano Client Alert

April 9, 2020

–

Barack Ferrazzano Client Alert

April 8, 2020

–

Barack Ferrazzano Client Alert

April 6, 2020

–

Barack Ferrazzano Client Alert

April 3, 2020

–

Barack Ferrazzano Client Alert

March 24, 2020

–

Barack Ferrazzano Client Alert

March 20, 2020

–

Barack Ferrazzano Client Alert

March 19, 2020

–

Barack Ferrazzano Client Alert

March 17, 2020

–

Barack Ferrazzano Client Alert

March 10, 2020

–

Barack Ferrazzano Client Alert

February 25, 2020

–

Barack Ferrazzano Client Alert

January 9, 2020

–

Barack Ferrazzano Client Alert

November 8, 2019

–

Barack Ferrazzano Client Alert

November 2019

–

Author

,

Volume 4, Great Lakes Banker Magazine, No. 11

October 31, 2019

–

Barack Ferrazzano Client Alert

October 28, 2019

–

Barack Ferrazzano Client Alert

October 24, 2019

–

Barack Ferrazzano Client Alert

September 24, 2019

–

Barack Ferrazzano Client Alert

June 4, 2019

–

Barack Ferrazzano Client Alert

April 3, 2019

–

Barack Ferrazzano Client Alert

March 14, 2019

–

Barack Ferrazzano Client Alert

February 14, 2019

–

Barack Ferrazzano Client Alert

December 11, 2018

–

Barack Ferrazzano Client Alert

December 4, 2018

–

Barack Ferrazzano Client Alert

October 30, 2018

–

Author

,

Barack Ferrazzano Client Alert

October 11, 2018

–

Barack Ferrazzano Client Alert

September 5, 2018

–

Barack Ferrazzano Client Alert

June 6, 2018

–

Barack Ferrazzano Client Alert

April 17, 2018

–

Barack Ferrazzano Client Alert

December 28, 2017

–

Barack Ferrazzano Client Alert

December 7, 2017

–

Barack Ferrazzano Client Alert

November 16, 2017

–

Barack Ferrazzano Client Alert

The Keys to Banking Law: A Handbook for Lawyers, Second Edition

2017

–

Contributor

,

American Bar Association

September 26, 2017

–

Barack Ferrazzano Client Alert

August 1, 2017

–

Barack Ferrazzano Client Alert

June 13, 2017

–

Barack Ferrazzano Client Alert

May 2, 2017

–

Barack Ferrazzano Client Alert

April 20, 2017

–

Barack Ferrazzano Client Alert

March 2, 2017

–

Barack Ferrazzano Client Alert

January 4, 2017

–

Barack Ferrazzano Client Alert

December 20, 2016

–

Barack Ferrazzano Client Alert

December 15, 2016

–

Barack Ferrazzano Client Alert

December 6, 2016

–

Barack Ferrazzano Client Alert

November 29, 2016

–

Barack Ferrazzano Client Alert

November 16, 2016

–

Barack Ferrazzano Client Alert

November 3, 2016

–

Barack Ferrazzano Client Alert

October 24, 2016

–

Barack Ferrazzano Client Alert

October 6, 2016

–

Barack Ferrazzano Client Alert

August 10, 2016

–

Barack Ferrazzano Client Alert

May 19, 2016

–

Barack Ferrazzano Client Alert

May 2, 2016

–

Barack Ferrazzano Client Alert

March 22, 2016

–

Barack Ferrazzano Client Alert

February 24, 2016

–

Barack Ferrazzano Client Alert

February 11, 2016

–

Barack Ferrazzano Client Alert

February 9, 2016

–

Barack Ferrazzano Client Alert

September 3, 2015

–

Bankdirector.com

March 18, 2015

–

Barack Ferrazzano Client Alert

June 2014

–

BankDirector.com

June 20, 2012

–

BankDirector.com

"Bank Examination and Enforcement" in The Keys to Banking Law: A Handbook for Lawyers

"Supervisory Enforcement Actions and Related Civil Liability" in IICLE's Advising Illinois Financial Institutions

Advising Illinois Financial Institutions

"Harmonizing the Illinois and Federal Privacy Laws,"

May 2001

–

Illinois Banker
News
January 6, 2023

–

Barack Ferrazzano Press Release

September 7, 2022

–

Barack Ferrazzano Press Release

August 10, 2022

–

The American Association of Bank Directors

November 10, 2021

–

Barack Ferrazzano Press Release

April 28, 2021

–

The American Association of Bank Directors

January 7, 2021

–

Barack Ferrazzano Press Release

December 16, 2020

–

Quoted

,

S&P Global Market Intelligence's News Insights

October 5, 2020

–

Quoted

,

S&P Global Market Intelligence's News Insights

July 8, 2020

–

Barack Ferrazzano Press Release

May 8, 2020

–

Quoted

,

S&P Global

January 15, 2020

–

Barack Ferrazzano Press Release

November 21, 2019

–

Host

,

Barack Ferrazzano Press Release

June 14, 2019

–

Host

,

Barack Ferrazzano Press Release

April 15, 2019

–

Host

,

Barack Ferrazzano Press Release

March 18, 2019

–

Host

,

Barack Ferrazzano Press Release

January 15, 2019

–

Barack Ferrazzano Press Release

December 6, 2018

–

Barack Ferrazzano Press Release

November 2, 2018

–

Speaker

,

Barack Ferrazzano Press Release

October 22, 2018

–

Barack Ferrazzano Press Release

February 23, 2018

–

Barack Ferrazzano Press Release

January 9, 2018

–

Barack Ferrazzano Press Release

4th Quarter 2017, Volume 27, Number 4

–

Quoted

,

Bank Director

September 28, 2017

–

Press Release

September/October 2017

–

Quoted

,

FMS forward

June 2, 2017

–

Bank Director

January 2016

–

Bank Director, 1st Quarter 2016, Vol. 26, No. 1

April 23, 2014

–

SNL: Street Talk

October 16, 2013

–

BankDirector.com

January 4, 2011

–

blog.bankdirector.com
Services
Education
DePaul University College of Law, J.D., 1995
American University, B.A., 1992