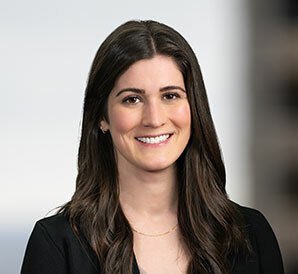 As an associate in the Firm's Corporate & Securities and Fashion, Luxury & Retail Groups, Kait's practice focuses on mergers and acquisitions, venture capital, and other strategic transactions. She has experience representing both public and private companies on complex business matters, with an emphasis on:
Domestic and international strategic transactions, including mergers, acquisitions, dispositions, and other business combinations
Growth and venture capital investments
Strategic business planning and general corporate counseling, including negotiation of commercial contracts and advising on corporate governance matters
Kait counsels both domestic and international clients in a wide range of industries, including manufacturing, technology, and consumer products, but she concentrates the majority of her time in the fashion, luxury and retail and wines and spirits industries. For example, she represented LVMH Moët Hennessy Louis Vuitton in the $650 million sale of Donna Karan International to New York-based G-III Apparel Group, and she has played a pivotal role in Moët Hennessy's North American expansion, including through the acquisition of American craft distillery Woodinville Whiskey Company and the acquisition of an equity interest in Colgin Cellars.
She also has extensive experience representing luxury fashion brands in connection with celebrity endorsement deals, event productions, and product placements. Among other brands, she has represented Louis Vuitton, Givenchy, and Celine in the negotiation of licensing deals with prominent celebrities, such as Emma Stone, Sophie Turner, Alicia Vikander, Nicole Kidman, and numerous others. In addition, she has negotiated a variety of sponsorship agreements, including the representation of Louis Vuitton in its multi-year partnership with the NBA and its inventive partnership with Riot Games, the developer behind the multiplayer online video game "League of Legends."
In her spare time, Kait spends her time logging miles along Chicago's Lakefront Trail and learning to cook.
Representative Experience
Representation of Moët Hennessy, a division of LVMH Moët Hennessy Louis Vuitton SE, in its acquisition of Joseph Phelps Vineyards, a nearly five-decade-old producer of fine wines from Napa Valley and, more recently, the Sonoma Coast. The deal included 530 acres (215 hectares) of vineyards, including 429 acres (174 hectares) in nine Napa Valley estates and 99 acres (40 hectares) in two estates around the Freestone winery on the Sonoma Coast.

Representation of Sephora in negotiations with Kohl's on a long-term strategic partnership to create a new era of elevated Beauty at Kohl's, marrying Kohl's expansive customer reach and omnichannel convenience with Sephora's prestige service, product selection and exceptional beauty experience.

Representation of Givenchy – a Louis Vuitton Moët Hennessy luxury brand known for its haute couture clothing, accessories, and perfume – in the negotiation of a relationship deal with prominent actress and singer Ariana Grande as the new face of Givenchy. Ariana will be featured in Givenchy's Fall-Winter 2019 campaign, to be unveiled in July (Announced: May 2019).

Represented Christian Dior in its global brand ambassador agreement with American actress, model, and activist, Yara Shahidi. The 21-year-old actress and activist will serve as a face for the design house's women's fashion and cosmetics.

Representation of Pendulum, a strategic growth investing and advisory platform designed for founders and leaders of color, in a deal that raised $45 million in funding for Greenwood, Inc., the digital banking platform for Black and Latino individuals and businesses.

Representation of Louis Vuitton in finalizing the negotiation of a complementary collaboration with Leandra Medine Cohen – author, blogger, influencer, and founder of independent fashion and lifestyle site, Man Repeller – as the face of the Spring-Summer 2020 women's shoe collection by Nicolas Ghesquière.

Represented Louis Vuitton Malletier (Louis Vuitton), in its brand ambassador agreement with rising Japanese-American tennis champion, Naomi Osaka.

Represented Louis Vuitton in its new campaign launching its first high jewelry line featuring actress and classically trained dancer, Alicia Vikander, as the face of the collection. This year, the house is marking 200 years since the birth of its founder, Louis Vuitton, with its largest jewelry collection, made up of 90 pieces, titled Bravery.

Representation of LVMH Moët Hennessy in its acquisitions of a majority stake in Off-White LLC, the trademark owner of Virgil Abloh's Off-White brand. LVMH and Virgil Abloh came to an agreement that will give the designer leeway to launch brands and seal partnerships across the full range of the luxury conglomerate's activities, beyond just the fashion division.

Represented LVMH Luxury Ventures, an investment arm of LVMH Moët Hennessy Louis Vuitton SE, in its equity investment in renowned horology authority HODINKEE.

Represented LVMH Luxury Ventures, an investment arm of LVMH Moët Hennessy Louis Vuitton SE, in its equity investment in Replika Software, a social commerce platform solution enabling brands to empower their network of social sellers to inspire and sell online.

Representation of LVMH Luxury Ventures, an investment arm of LVMH Moët Hennessy Louis Vuitton SE, aimed at taking minority stakes in emerging, iconic brands, in its equity investment in Gabriela Hearst LLC. Launched by its founder and namesake, Gabriela Hearst, the company is a New-York based luxury ready-to-wear, leather goods, and lifestyle company.

Representation of Moët Hennessy, a division of LVMH Moët Hennessy Louis Vuitton SE, in its partnership with Shawn Jay-Z Carter, pursuant to which Moët Hennessy acquired a 50% stake in the Champagne brand, Armand de Brignac, previously wholly-owned by Jay-Z.

Represented Moët Hennessy, a division of LVMH Moët Hennessy Louis Vuitton SE, in its acquisition of a minority stake & distribution partnership with WhistlePig Whiskey.

Representation of Moët Hennessy USA in its acquisition of Woodinville Whiskey Company, LLC.

Representation of Louis Vuitton in its collaboration with acclaimed director Spike Lee for his Cannes Film Festival wardrobe. This year, Lee is serving as president of the Cannes Competition jury.
Activities & Honors
Selected, Corporate Law, Best Lawyers: Ones to Watch (2021-2022)
Selected, Corporate/M&A, Chambers USA: Associate to Watch (2021-2022)
Volunteer Attorney, The Law Project's "Solutions Station," offering legal guidance to small business entrepreneurs regarding corporate structures and business planning
Merit Scholar Recipient, University of Michigan Law School
James B. Angell Scholar, University of Michigan
Volunteer, Food Gatherers (2009-2015)
Small Group Leader, Oak Pointe Church (2009-2015)
Speaking Engagements & Presentations
Articles & Publications
January 11, 2021

–

Barack Ferrazzano Client Alert

May 5, 2020

–

Barack Ferrazzano Client Alert

April 29, 2020

–

Barack Ferrazzano Client Alert

April 24, 2020

–

Barack Ferrazzano Client Alert

April 14, 2020

–

Barack Ferrazzano Client Alert

April 14, 2020

–

Barack Ferrazzano Client Alert

March 31, 2020

–

Barack Ferrazzano Client Alert

June 7, 2019

–

Barack Ferrazzano Client Alert

March 18, 2019

–

Barack Ferrazzano Client Alert
News
December 2, 2022

–

Barack Ferrazzano Press Release

November 23, 2022

–

Barack Ferrazzano Press Release

November 3, 2022

–

Barack Ferrazzano Press Release

September 9, 2022

–

Barack Ferrazzano Press Release

September 7, 2022

–

Barack Ferrazzano Press Release

August 18, 2022

–

Barack Ferrazzano Press Release

June 30, 2022

–

Barack Ferrazzano Press Release

June 29, 2022

–

Barack Ferrazzano Press Release

June 6, 2022

–

Barack Ferrazzano Press Release

May 27, 2022

–

Barack Ferrazzano Press Release

May 3, 2022

–

Barack Ferrazzano Press Release

April 11, 2022

–

Barack Ferrazzano Press Release

January 19, 2022

–

Barack Ferrazzano Press Release

November 4, 2021

–

Barack Ferrazzano Press Release

October 8, 2021

–

Barack Ferrazzano Press Release

August 19, 2021

–

Barack Ferrazzano Press Release

August 17, 2021

–

Barack Ferrazzano Press Release

July 23, 2021

–

Barack Ferrazzano Press Release

July 16, 2021

–

Barack Ferrazzano Press Release

July 6, 2021

–

Barack Ferrazzano Press Release

July 6, 2021

–

Barack Ferrazzano Press Release

May 21, 2021

–

Barack Ferrazzano Press Release

February 22, 2021

–

Barack Ferrazzano Press Release

January 29, 2021

–

Barack Ferrazzano Press Release

January 11, 2021

–

Barack Ferrazzano Press Release

December 17, 2020

–

Barack Ferrazzano Press Release

December 7, 2020

–

Barack Ferrazzano Press Release

December 1, 2020

–

Barack Ferrazzano Press Release

November 6, 2020

–

Barack Ferrazzano Press Release

August 20, 2020

–

Barack Ferrazzano Press Release

May 20, 2020

–

Barack Ferrazzano Press Release

February 25, 2020

–

Barack Ferrazzano Press Release

January 23, 2020

–

Barack Ferrazzano Press Release

January 22, 2020

–

Barack Ferrazzano Press Release

November 22, 2019

–

Barack Ferrazzano Press Release

November 15, 2019

–

Barack Ferrazzano Press Release

October 15, 2019

–

Barack Ferrazzano Press Release

October 15, 2019

–

Barack Ferrazzano Press Release

September 27, 2019

–

Barack Ferrazzano Press Release

May 10, 2019

–

Barack Ferrazzano Press Release

July 27, 2017

–

Above the Law

July 13, 2017

–

Barack Ferrazzano Press Release
Education
University of Michigan Law School, J.D., cum laude, 2015
University of Michigan, B.A., Psychology, with highest distinction, 2012