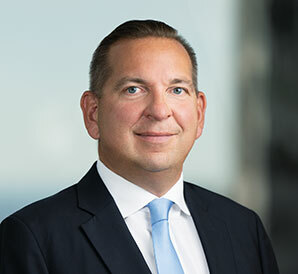 Stanley
F.
Orszula
Partner
Stan has extensive experience providing strategic counsel to banks on Banking-as-a-Service (BaaS), compliance and regulatory issues, cryptocurrency and digital assets, general banking corporate matters, lending issues, distressed loans and assets, failed bank receiverships and Fintech agreements and partnerships. Stan's background includes experience as a counsel with the FDIC, sitting on the board of a financial institution, and representing banks in private practice for over 15 years. Banks rely on his unique perspective to navigate today's complex regulatory environment and in implementing new technology, products and services. Additionally, Stan's substantial experience in representing secured creditors, creditors' committees and debtors in significant Chapter 11 cases, receiverships, assignments for the benefits of creditors and other out-of-court liquidations helps banks deal with special situations. Also, Stan has practical experience gained as a prosecutor and a defense attorney with the United States Navy Judge Advocate Corps.
Representative Experience
Representation of Pendulum, a strategic growth investing and advisory platform designed for founders and leaders of color, in a deal that raised $45 million in funding for Greenwood, Inc., the digital banking platform for Black and Latino individuals and businesses.
Activities & Honors
Selected, Super Lawyers


Illinois Super Lawyers (2014-2020)
Illinois Rising Star (2009-2010)

STAR Award, FDIC (2010-2011)
Member, Chicago Bar Association

Senior Director (2007-2008)
Secretary (2006-2007)
Director (2004-2006)
Bankruptcy Committee Co-Chair, Young Lawyer Section (2002-2004)

Recipient, Navy & Marine Corps Commendation Medal, United States Armed Forces
Recipient, Armed Forces Reserve Medal, United States Armed Forces
Recipient, National Defense Service Medal, United States Armed Forces
Charitable & Community Organizations
Director, Chicago Lawyers Rugby Football Club (2014-2021)
Member, National Eagle Scout Association
Speaking Engagements & Presentations
November 17, 2022

–

Speaker

October 11, 2022

–

(Webinar)

October 7, 2021

–

Speaker

(Burr Ridge, IL)

September 23-25, 2021

–

Speaker

(Chicago, IL)

April 29, 2021

–

(Webinar)

April 14, 2021

–

(Webinar)

October 6, 2020

–

Speaker

(Virtual)

July 21-23, 2020

–

Speaker

July 16, 2020

–

Co-Sponsor

(Video Webinar)

June 12, 2020

–

Speaker

(Webinar)

May 13, 2020

–

Co-Sponsor

(Webinar)

April 3, 2020

–

Speaker

(Webinar)

October 3, 2019

–

Speaker

(Lisle, IL)

April 24, 2019

–

Speaker

(Chicago, IL)

October 18, 2018

–

Speaker

(Chicago, IL)

August 24, 2018

–

Speaker

(Chicago, IL)

June 22, 2018

–

Host

(Chicago, IL)

April 26, 2018

–

Speakers

(Chicago, IL)
Articles & Publications
January 19, 2023

–

Barack Ferrazzano Press Release

March 8, 2022

–

Contributor

,

American Bar Association

December 16, 2021

–

Travillian Group

November 30, 2021

–

Barack Ferrazzano Client Alert

September 21, 2021

–

Barack Ferrazzano Client Alert

March 9, 2021

–

Barack Ferrazzano Client Alert

February 23, 2021

–

Barack Ferrazzano Client Alert

February 2021

–

Quoted

,

Law360

January 15, 2021

–

Barack Ferrazzano Client Alert

January 5, 2021

–

Barack Ferrazzano Client Alert

2020

–

Contributor

,

American Bar Association

October 14, 2020

–

Barack Ferrazzano Client Alert

September 15, 2020

–

Barack Ferrazzano Client Alert

September 8, 2020

–

Barack Ferrazzano Client Alert

August 19, 2020

–

Barack Ferrazzano Client Alert

August 4, 2020

–

Barack Ferrazzano Client Alert

May 11, 2020

–

Barack Ferrazzano Client Alert

May 1, 2020

–

Barack Ferrazzano Client Alert

April 30, 2020

–

Barack Ferrazzano Client Alert

April 17, 2020

–

Barack Ferrazzano Client Alert

April 15, 2020

–

Barack Ferrazzano Client Alert

April 14, 2020

–

Barack Ferrazzano Client Alert

April 9, 2020

–

Barack Ferrazzano Client Alert

April 8, 2020

–

Barack Ferrazzano Client Alert

April 6, 2020

–

Barack Ferrazzano Client Alert

April 3, 2020

–

Barack Ferrazzano Client Alert

March 24, 2020

–

Barack Ferrazzano Client Alert

March 20, 2020

–

Barack Ferrazzano Client Alert

March 20, 2020

–

Barack Ferrazzano Client Alert

March 19, 2020

–

Barack Ferrazzano Client Alert

March 17, 2020

–

Barack Ferrazzano Client Alert

March 10, 2020

–

Barack Ferrazzano Client Alert

February 25, 2020

–

Barack Ferrazzano Client Alert

January 9, 2020

–

Barack Ferrazzano Client Alert

November 8, 2019

–

Barack Ferrazzano Client Alert

October 31, 2019

–

Barack Ferrazzano Client Alert

October 24, 2019

–

Barack Ferrazzano Client Alert

September 24, 2019

–

Barack Ferrazzano Client Alert

June 4, 2019

–

Barack Ferrazzano Client Alert

April 3, 2019

–

Barack Ferrazzano Client Alert

March 14, 2019

–

Barack Ferrazzano Client Alert

February 14, 2019

–

Barack Ferrazzano Client Alert

December 11, 2018

–

Barack Ferrazzano Client Alert

December 4, 2018

–

Barack Ferrazzano Client Alert

October 30, 2018

–

Author

,

Barack Ferrazzano Client Alert

October 17, 2018

–

Author

,

Bank Director

October 11, 2018

–

Barack Ferrazzano Client Alert

September 5, 2018

–

Barack Ferrazzano Client Alert

June 6, 2018

–

Barack Ferrazzano Client Alert

April 17, 2018

–

Barack Ferrazzano Client Alert

December 28, 2017

–

Barack Ferrazzano Client Alert

December 7, 2017

–

Barack Ferrazzano Client Alert

November 16, 2017

–

Barack Ferrazzano Client Alert

The Keys to Banking Law: A Handbook for Lawyers, Second Edition

2017

–

Contributor

,

American Bar Association

September 26, 2017

–

Barack Ferrazzano Client Alert

August 1, 2017

–

Barack Ferrazzano Client Alert

June 13, 2017

–

Barack Ferrazzano Client Alert

June 9, 2017

–

Bank Director

May 2, 2017

–

Barack Ferrazzano Client Alert

April 25, 2017

–

Barack Ferrazzano Client Alert

April 20, 2017

–

Barack Ferrazzano Client Alert

March 2, 2017

–

Barack Ferrazzano Client Alert

January 4, 2017

–

Barack Ferrazzano Client Alert

December 20, 2016

–

Barack Ferrazzano Client Alert

December 15, 2016

–

Barack Ferrazzano Client Alert

December 6, 2016

–

Barack Ferrazzano Client Alert

November 29, 2016

–

Barack Ferrazzano Client Alert

November 16, 2016

–

Barack Ferrazzano Client Alert

November 3, 2016

–

Barack Ferrazzano Client Alert

October 24, 2016

–

Barack Ferrazzano Client Alert

October 6, 2016

–

Barack Ferrazzano Client Alert

September 30, 2016

–

Barack Ferrazzano Client Alert

August 10, 2016

–

Barack Ferrazzano Client Alert

May 19, 2016

–

Barack Ferrazzano Client Alert

May 2, 2016

–

Barack Ferrazzano Client Alert

March 22, 2016

–

Barack Ferrazzano Client Alert

February 24, 2016

–

Barack Ferrazzano Client Alert

February 11, 2016

–

Barack Ferrazzano Client Alert

February 9, 2016

–

Barack Ferrazzano Client Alert
News
December 2, 2022

–

Barack Ferrazzano Press Release

January 7, 2021

–

Barack Ferrazzano Press Release

July 8, 2020

–

Barack Ferrazzano Press Release

January 29, 2020

–

Barack Ferrazzano Press Release

January 15, 2020

–

Barack Ferrazzano Press Release

January 15, 2019

–

Barack Ferrazzano Press Release

January 25, 2018

–

Barack Ferrazzano Press Release

January 9, 2018

–

Barack Ferrazzano Press Release
Services
Education
University of Illinois Chicago, M.B.A., 2014
Loyola University Chicago School of Law, J.D., cum laude, 1998
Boston College, B.A., 1995
Bar & Court Admissions
State of Illinois
Law Society of England and Wales
U.S. District Court - Northern District of Illinois (Trial Bar)
U.S. District Court - Western District of Washington
U.S. Department of Defense - Trial Judiciary