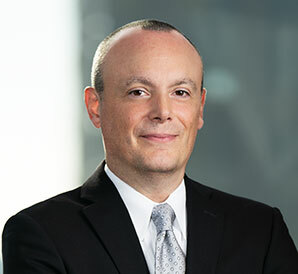 The co-chair of the Firm's Intellectual Property Group and a member of the Fashion, Luxury & Retail and FinTech Groups, Scott has 20+ years of experience representing high-profile clients in all types of intellectual property matters. Whether devising unique strategies to provide maximum international trademark protection, searching and clearing new global brands on a rushed timeline, reviewing new marketing programs, or advising on risks with respect to social media marketing, Scott gets the job done efficiently and cost-effectively so his clients can get back to business.
Trademark Prosecution
Scott's in-depth U.S. and international trademark prosecution experience allows him to help clients manage, grow, and protect their trademark portfolios. From clearing a new mark in multiple jurisdictions, registering it with the relevant trademark offices, policing it against infringers and defending a client's use from threat of attack, through resolving potential conflicts before it reaches litigation, Scott deftly tackles any trademark-related issue.
Inside Abbott Laboratories
In 2018, Scott had the added benefit of a secondment to Abbott Laboratories. In that role, he coordinated the rebranding of four significant product lines, helped to integrate a new subsidiary's intellectual property, and updated the trademark and copyright notices across the entire Abbott product line. He remains involved in several ongoing oppositions and disputes on Abbott's behalf. Scott's in-house experience has given him a unique perspective into the needs and pressures facing in-house counsel and the business units they advise. As a result, he understands how important it is to quickly respond to questions with practical and easily understandable answers, and how to work as a business partner to find creative solutions to problems, rather than to just say "no."
Social Media Influencers
Because social media has become an integral way for his clients to interact with their customers, Scott has become an industry thought leader on social media's impact on trademark protection and enforcement. He represents several social media influencers and has helped multiple clients craft social media policies to protect intellectual property while still allowing them to use new technologies to positively interact with customers. He has authored numerous articles and provided state-of-the-art presentations aimed at teaching companies how to navigate the uncharted waters of leading social media sites while still protecting corporate intellectual property and avoiding infringement risks. He has been quoted in the Chicago Tribune, Bloomberg BNA, The Chicago Daily Law Bulletin, InsideCounsel, and MacNewsWorld, and has appeared on Fox Chicago News.
Paving The Way For Trademark Registration
Through his work with the LVMH Group companies, Scott works with several world-renowned brands, including one of the fastest growing beauty brands in the world – Fenty Beauty by Rihanna. Through his work with Fenty, Scott assisted in the launch of new and innovative brands and products on a worldwide scale in the face of constant social media and news coverage. Recognizing the sensitivities and need for precision involved with such a famous brand, Scott works tirelessly to protect not only the legal rights but the public image of the brand, ensuring disputes are handled efficiently and effectively.
IP Due Diligence
Scott frequently works on high profile intellectual property due diligence projects on behalf of the LVMH Group, including the recent acquisitions of a craft whiskey company and a world-renowned vineyard. In these types of projects, Scott's comprehensive trademark experience allows him to fully understand and analyze the target company's trademark portfolio, and to forecast future issues the acquiror should consider in determining its purchase price and post-acquisition strategy.
Trade Secret Law
Clients rely on Scott's experience in trade secret law, and he conducts trade secret audits to help his clients identify and protect their most valued commercial advantages, and he creates trade secret compliance programs to help ensure their continued protection into the future.
Professor of Trademarks
Scott also served as a Supervising Attorney and Professor of Trademarks for the University of Arizona's Intellectual Property Clinic, which provides free legal counseling and services on IP matters to individuals, start-ups, and small businesses having limited financial resources. As a result of Scott's supervision of the IP Clinic, he developed a deep knowledge-base regarding the unique intellectual property issues and challenges start-ups face.
Personal Interests
Never far from his phone, even when he takes time off, Scott enjoys playing tennis, watching his son's travel soccer games, and traveling with his family. Their latest adventure involved a road trip down the coast of California from San Francisco to LA along Route 1, culminating at the Rose Bowl in Pasadena. Scott recently became an ordained minister and officiated his brother-in-law's wedding. If anyone needs an officiant, just call!
---
Representative Experience
Trademark Registration
In a coordinated effort with over 70 foreign associates, Scott cleared and applied to register a multi-national corporate client's new trademark in over 75 countries on the same day. Scott devised the difficult international filing strategy to stave off potential infringers from around the world that were looking to get a jump on his client's trademark filings for pirating purposes.
IP Audits
Scott has conducted intellectual property audits for more than 25 corporate clients. During the audit process, he created social networking policies, web site terms and conditions, and bring-your-own-device policies; conducted on-site inspections leading to the discovery of a number of trade secrets and copyrights; and drafted restrictive covenants and non-disclosure agreements. Scott's tireless attention to detail during these audits has uncovered and protected millions of dollars of previously unrecognized corporate assets.
Entrepreneur Trademark Dispute
Scott represented a local entrepreneur in a heated trademark dispute that had raged for nearly a decade before his involvement. Scott suggested and conducted court-aided mediation in an effort to finally resolve the matter. The court found in favor of Scott's client, awarding damages and injunctive relief, rejecting the defendant's trademark application and transferring its domain name to Scott's client.
LVMH & Rihanna Fenty Luxury Maison
Scott helped represent LVMH Moët Hennessy Louis Vuitton in strategic intellectual property transactions related to the formation and launch of Fenty by Rihanna, a new luxury fashion maison of ready-to-wear clothing, shoes, and accessories. The historic collaboration will make Rihanna the 1st woman to create an original LVMH brand, and Fenty the 1st LVMH-established fashion house in more than 30 years.
LVMH & Gabriela Hearst
Scott helped with all aspects of the intellectual property due diligence, from searching to applications to assignments, and was intimately involved across all aspects of LVMH Luxury Ventures, an investment arm of LVMH Moët Hennessy Louis Vuitton SE, making an equity investment in Gabriela Hearst LLC. Launched by its founder and namesake, Gabriela Hearst, the company is a New York-based luxury ready-to-wear, leather goods, and lifestyle company.
Ole Henriksen Rebrand
After 32 years of success in skin care, Kendo Holdings, Inc. – a cosmetics and beauty incubator company owned by LVMH Moët Hennessy Louis Vuitton and affiliated with Sephora – decided to rebrand and repackage the entire lineup into four different color-coordinated franchises, which included both old and new products. Scott helped coordinate this transition and continues to help the brand with new brand clearances and filing strategies.
Center Cut Hospitality's Restaurant Concepts
In a busy year of transactions, Scott helped Center Cut Hospitality, owner of the famous Del Frisco's and Del Frisco's Double Eagle restaurant concepts, sell its Sullivan's restaurant concept and purchase the bartaco and Barcelona Wine Bar concepts. In connection with these transactions, Scott helped with all aspects of the intellectual property due diligence, from searching to applications to assignments, Scott was intimately involved across all aspects of the deals. After the transactions were consummated, Scott continues to represent not only the two new concepts but continues to represent Sullivan's as well.
Main Event Rebrand

Main Event Entertainment, L.P. offers a unique experience featuring state-of-the-art bowling, multi-level laser tag, thrilling high ropes adventure courses, captivating game rooms featuring the latest video and amusement, stylish billiards, energetic bars, and high-quality restaurants across its 41 centers across the U.S., rebranded this past year and Scott helped every step of the way, from searching and clearing the new logos to applying to register them with the United States Patent and Trademark Office (USPTO).

Dave & Buster's I. L.P. v. Main Event Entertainment, L.P., Opposition No. 91/232,388 (TTAB)
When Dave & Buster's opposed Main Event's trademark application for one of its widely used slogans, Scott worked to settle the dispute amicably. We reached a favorable settlement that preserved our client's registration and right to use its slogan. This was a very high stakes matter. Had Dave & Buster's prevailed, Main Event would have been required to change physical signage, among other things including all social media accounts, across the country.
Boston Dental Group, LLC v. Affordable Care, LLC
Scott represented Affordable Dental, a leading dental services organization that owns a family of trademarks, in a declaratory judgment action filed by Boston Dental, after our client filed a petition to cancel the plaintiff's registration for "Affordable Dental" based on likely confusion with our client's registration for "Affordable Dentures." On summary judgment, we successfully got Boston Dental's claim dismissed, and we defeated its affirmative defenses. The matter was crucial to our client's nationwide business, as it operates under the trademark at issue in more than 225 locations in 40 states. The matter settled on favorable but confidential terms, under which, among other things, Boston Dental voluntarily cancelled its federal trademark registration.
Affordable Care, LLC v. Dr. Jason Stott
Scott also represented Affordable Care in a separate action arising from the defendant's use of and application to register the trademark "Open and Affordable Dental." The matter settled on favorable but confidential terms.
L Catterton & ClassPass
When L Catteron decided to invest in ClassPass, Inc., Scott helped in the intellectual property due diligence surrounding the investment. Recognized as one of Forbes' Next Billion Dollar Startups, ClassPass is the leading membership to the world's largest fitness network, using a technology-enabled platform to connect members to a variety of fitness experiences in 50 cities worldwide. Scott helped with all aspects of the intellectual property due diligence for this investment, including searching, evaluating, and strategizing over a number of complicated intellectual property issues.
Moët Hennessy & Colgin Cellars
Scott helped represent Moët Hennessy USA in connection with the acquisition of Colgin Cellars to increase Moët Hennessy's growing luxury-wine portfolio. The client acquired 60% of the winery and its vineyards, as well as the brand which remains exclusive and has been described as a Napa Cabernet "cult-classic."
Moët Hennessy & Woodinville Whiskey
When Moët Hennessy USA, Inc. decided to acquire Woodinville Whiskey Company, a craft spirits company, Scott conducted an in-depth intellectual property due diligence review of Woodinville's entire intellectual property portfolio. After the acquisition, the company replaced its prior intellectual property company with our Firm.
L Catterton & Il Makiage
Scott helped represent L Catterton in connection with a $29 million USD growth investment in Il Makiage, an Israeli-based cosmetics company. Scott helped with all aspects of the intellectual property due diligence for this investment, including searching, evaluating, and strategizing over a number of complicated intellectual property issues.
Kendo & Fenty Beauty by Rihanna
Scott helped represent Kendo Holdings, Inc. – a cosmetics and beauty incubator company owned by LVMH Moët Hennessy Louis Vuitton and affiliated with Sephora – in strategic transactions related to the formation and launch of the brand Fenty Beauty by Rihanna. The brand has been so well received that TIME magazine named it one of the "25 best inventions of 2017." Scott continues to handle the related trademark portfolio today.
LVMH & Jeff Koons
Scott helped represent Louis Vuitton enter into a collaboration with Jeff Koons – well-known American artist – to create a 51-piece capsule collection of handbags and other small leather goods emblazoned with great works of art. The collaboration was greeted with a huge amount of fanfare.
Representation of LVMH Moët Hennessy in its acquisition of a majority stake in Off-White LLC, the trademark owner of Virgil Abloh's Off-White brand.
Activities & Honors
Ranked, Illinois Intellectual Property,

Chambers USA

(2021)
Selected, Leading Lawyers Network (2009-2022)
Selected, Super Lawyers


Illinois Super Lawyers (2014-2022)
Illinois Rising Stars (2009, 2012-2013)

Selected, World Trademark Review 1000, The World's Leading Trademark Professionals (2011-2015, 2018-2021)
Selected, IP Star, Intellectual Property (2013-2015, 2021-2022)
Selected, "Forty Illinois Attorneys Under 40 to Watch," Law Bulletin (2012)
Adjunct Professor, Intellectual Property Clinic, Indiana University
Member, American Bar Association
Member, Chicago Bar Association
Member, Illinois State Bar Association
Member, International Trademark Association
Member, Marques - The Association of European Trade Mark Owners
Former Adjunct Professor, Intellectual Property Clinic, University of Arizona
Speaking Engagements & Presentations
May 2021

–

Speaker, IP Hot Issue

(YouTube)

April 2021

–

Speaker, IP Hot Issue

(YouTube)

March 2021

–

Speaker, IP Hot Issue

(YouTube)

March 2021

–

Speaker, IP Hot Issue

(YouTube)

March 2021

–

Speaker, IP Hot Issue

(YouTube)

February 2021

–

Speaker, IP Hot Issue

(YouTube)

February 2021

–

Speaker, IP Hot Issue

(YouTube)

February 2021

–

Speaker, IP Hot Issue

(YouTube)

January 2021

–

Speaker, IP Hot Issue

(YouTube)

January 2021

–

Speaker, IP Hot Issue

(YouTube)

January 2021

–

Speaker, IP Hot Issue

(YouTube)

December 2020

–

Speaker, IP Hot Issue

(YouTube)

December 2020

–

Speaker, IP Hot Issue

(YouTube)

December 2020

–

Speaker, IP Hot Issue

(YouTube)

November 2020

–

Speaker, IP Hot Issue

(YouTube)

October 2020

–

Speaker, IP Hot Issue

(YouTube)

September 2020

–

Speaker, IP Hot Issue

(YouTube)

August 2020

–

Speaker, IP Hot Issue

(YouTube)

August 11, 2020

–

Speaker, IP Clinician's Workshop

(Virtual)

August 2020

–

Speaker, IP Hot Issue

(YouTube)

July 2020

–

Speaker, IP Hot Issue

(YouTube)

July 23, 2020

–

Speaker, Lurie Children's Hospital

(Virtual)

May 2020

–

Speaker, IP Hot Issue

(YouTube)

November 13, 2019

–

Co-Sponsor

(New York, NY)
Articles & Publications
April 1, 2021

–

Barack Ferrazzano Client Alert

January 11, 2021

–

Barack Ferrazzano Client Alert

April 29, 2020

–

Barack Ferrazzano Client Alert

April 24, 2020

–

Barack Ferrazzano Client Alert

April 14, 2020

–

Barack Ferrazzano Client Alert

January 7, 2020

–

Barack Ferrazzano Client Alert

June 7, 2019

–

Barack Ferrazzano Client Alert

March 12, 2019

–

Barack Ferrazzano Client Alert

February 14, 2019

–

Barack Ferrazzano Client Alert

December 11, 2018

–

Barack Ferrazzano Client Alert

April 17, 2018

–

Barack Ferrazzano Client Alert

October 18, 2017

–

Inside Counsel

September 26, 2017

–

Barack Ferrazzano Client Alert

September 25, 2017

–

Author

,

Inside Counsel

September 25, 2017

–

Author

,

Inside Counsel

September 5, 2017

–

Author

,

Daily Business Review

August 1, 2017

–

Barack Ferrazzano Client Alert

June 9, 2017

–

Author

,

Corporate Counsel

March 27, 2017

–

Inside Counsel

March 23, 2017

–

Inside Counsel

March 2, 2017

–

Barack Ferrazzano Client Alert

March 2, 2017

–

Barack Ferrazzano Client Alert

February 24, 2017

–

Corporate Counsel

February 21, 2017

–

Corporate Counsel

February 9, 2017

–

Inside Counsel

February 2, 2017

–

Inside Counsel

January 4, 2017

–

Barack Ferrazzano Client Alert

December 20, 2016

–

Barack Ferrazzano Client Alert

December 6, 2016

–

Barack Ferrazzano Client Alert

October 28, 2016

–

Inside Counsel

October 2016

–

ABA Entertainment and Sports Lawyer, Fall 2016 Volume 33 Issue 1

October 6, 2016

–

Barack Ferrazzano Client Alert

September 30, 2016

–

Barack Ferrazzano Client Alert

September 28, 2016

–

Inside Counsel

September 26, 2016

–

Inside Counsel

September 26, 2016

–

Law360

September 21, 2016

–

Inside Counsel

August 2016

–

ABA Entertainment and Sports Lawyer, Summer 2016 Volume 32 Issue 4

August 15, 2016

–

Inside Counsel

July 12, 2016

–

Inside Counsel

June 14, 2016

–

Inside Counsel

June 1, 2016

–

Inside Counsel

May 13, 2016

–

Barack Ferrazzano Client Alert

May 12, 2016

–

Inside Counsel

May 2, 2016

–

Inside Counsel

April 26, 2016

–

Inside Counsel

April 11, 2016

–

Barack Ferrazzano Client Alert

April 5, 2016

–

Inside Counsel

March 30, 2016

–

Inside Counsel

March 25, 2016

–

Inside Counsel

March 21, 2016

–

Inside Counsel

March 2016

–

Entertainment Law & Finance Newsletter, Law Journal Newsletters

February 10, 2016

–

Inside Counsel

January 27, 2016

–

Inside Counsel

January 25, 2016

–

Inside Counsel

January 4, 2016

–

Inside Counsel

December 10, 2015

–

Inside Counsel
News
April 11, 2022

–

Barack Ferrazzano Press Release

March 11, 2022

–

Barack Ferrazzano Press Release

January 19, 2022

–

Barack Ferrazzano Press Release

August 30, 2021

–

Barack Ferrazzano Press Release

August 17, 2021

–

Barack Ferrazzano Press Release

July 23, 2021

–

Barack Ferrazzano Press Release

May 21, 2021

–

Barack Ferrazzano Press Release

February 22, 2021

–

Barack Ferrazzano Press Release

January 29, 2021

–

Barack Ferrazzano Press Release

December 17, 2020

–

Barack Ferrazzano Press Release

December 7, 2020

–

Barack Ferrazzano Press Release

December 1, 2020

–

Barack Ferrazzano Press Release

September 11, 2020

–

Barack Ferrazzano Press Release

March 26, 2020

–

Barack Ferrazzano Press Release

January 29, 2020

–

Barack Ferrazzano Press Release

January 22, 2020

–

Barack Ferrazzano Press Release

November 2019

–

Barack Ferrazzano Press Release

October 15, 2019

–

Barack Ferrazzano Press Release

September 27, 2019

–

Barack Ferrazzano Press Release

May 14, 2019

–

Barack Ferrazzano Press Release

February 6, 2019

–

Barack Ferrazzano Press Release

January 2019

–

Barack Ferrazzano Press Release

July 25, 2018

–

Barack Ferrazzano Press Release

February 2, 2018

–

Quoted

,

New York Post

January 25, 2018

–

Barack Ferrazzano Press Release

December 18, 2017

–

Barack Ferrazzano Press Release

September 25, 2017

–

Barack Ferrazzano Press Release

July 27, 2017

–

Above the Law

July 13, 2017

–

Barack Ferrazzano Press Release
Education
Georgetown University, J.D., 1998
Northwestern University, B.A. 1995