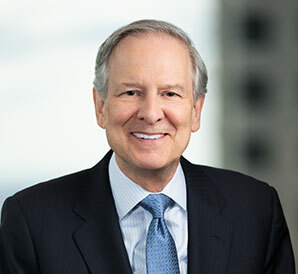 John
E.
Freechack
Partner
John is the founder and co-chair of the Firm's Financial Institutions Group and has advised hundreds of financial institutions on strategic, corporate governance and other matters for over 30 years. His extensive experience includes the representation of numerous public companies, as well as regional and community banks. John spends considerable time counseling institutions and their boards with respect to mergers and acquisitions, bank regulatory issues, corporate governance and securities law matters.
Adjunct Professor of banking law at a number of law schools for the past 25 years, including at Northwestern University Pritzker School of Law since 2001.
A well-known speaker at national conferences involving the financial institutions area, addressing bank trade associations, regulators and industry groups across the country.
One of only three recipients of the Illinois Bankers Association's Distinguished Bank Counsel Award.
Founder and past Chairman of the Community Bank Subcommittee of the American Bar Association Business Law Section's Banking Law Committee.
Financial Institutions
The Financial Institutions Group has grown to 30 lawyers representing over 250 banks across the country. The group prides itself in providing to banks the same efficient, experienced and responsive service that its banking clients provide to their customers. As a result, we are a continual national leader in bank M&A deals the past 20 years. We also have one of the largest groups of regulatory attorneys in the country serving regional and community banks in regulatory enforcement, workout, restructuring and compliance matters.
S&P Global Market Intelligence rankings has listed our Firm as one of the top firms in the nation in number of announced bank and thrift merger and acquisition transactions during the past 10 years. For the last decade, our Firm ranked #1 in the Midwest. In total, we have represented buyers and sellers of financial institutions in more than 300 mergers and acquisitions.
Representative Experience
Represented ATBancorp in connection with the agreement and plan of merger of United American (OTCBB: UABK) into Heritage Bank of Commerce Corp (Nasdaq: HTBK).

Represented First BancTrust Corporation (OTCQX: FIRT) in connection with the acquisition by First Mid-Illinois Bancshares, Inc. (Nasdaq: FMBH).

Represented Bankmanagers Corp. and its wholly owned subsidiary, Park Bank, in connection with its acquisition by First Midwest Bancorp, Inc. ("First Midwest") (Nasdaq: FMBI).

Represented First Trust & Savings Bank of Albany, Illinois in connection with its planned merger into Morton Community Bank.

Represented Prairie State Bancorp, Inc., the holding company for Farmers State Bank of Danforth, in connection with an acquisition that will merge Farmers State Bank of Danforth into First Trust Bank of Illinois – a First Trust Financial Corp. unit – which will operate under the name First Trust Bank.

Representation of Level One Bancorp, Inc. (Nasdaq: LEVL) and its subsidiary Level One Bank (HQ: Michigan) in M&A, IPO, subordinated debt, and other transactions.

Represented Andalusia Community Bank, in executing an agreement and plan of merger with Midwest Bank, a wholly-owned subsidiary of Western Illinois Bancshares, Inc.

Represented QCR Holdings, Inc. (Nasdaq: QCRH) in connection with its acquisition of Springfield Bancshares, Inc.
Activities & Honors
Selected, Illinois Financial Services Regulation, Chambers USA (2022)
Adjunct Professor, Banking Law, Northwestern University Pritzker School of Law (2001-Present)
Selected, The Best Lawyers in America© (2007-2023)

Banking and Finance Law
Financial Services Regulation Law

Selected, Illinois Super Lawyers (2009-2013, 2017-2023)
Selected, Leading Lawyers Network (2006-2023)
Ranked, Top Rated Lawyer in Banking & Finance Law, American Lawyer Media and Martindale-Hubbell™
Recipient, IBA's Distinguished Bank Counsel Award
Adjunct Professor, Graduate Financial Services Program, IIT/Chicago Kent College of Law
Co-Editor, Advising Illinois Financial Institutions, Two-Volume Handbook (2006)
Speaking Engagements & Presentations
July 16, 2020

–

Co-Sponsor

(Video Webinar)

May 13, 2020

–

Co-Sponsor

(Webinar)

January 26, 2020

–

Sponsor

(Phoenix, AZ)

September 10, 2019

–

Sponsor

(Davenport, IA)

June 23-25, 2019

–

Sponsor

(Austin, TX)

May 16, 2019

–

Speaker

(Oak Brook, IL)

January 27, 2019

–

Sponsor

(Phoenix, AZ)

June 22, 2018

–

Host

(Chicago, IL)
Articles & Publications
March 9, 2021

–

Barack Ferrazzano Client Alert

January 15, 2021

–

Barack Ferrazzano Client Alert

January 5, 2021

–

Barack Ferrazzano Client Alert

October 14, 2020

–

Barack Ferrazzano Client Alert

September 15, 2020

–

Barack Ferrazzano Client Alert

September 8, 2020

–

Barack Ferrazzano Client Alert

August 19, 2020

–

Barack Ferrazzano Client Alert

August 4, 2020

–

Barack Ferrazzano Client Alert

May 11, 2020

–

Barack Ferrazzano Client Alert

May 1, 2020

–

Barack Ferrazzano Client Alert

April 30, 2020

–

Barack Ferrazzano Client Alert

April 17, 2020

–

Barack Ferrazzano Client Alert

April 14, 2020

–

Barack Ferrazzano Client Alert

April 9, 2020

–

Barack Ferrazzano Client Alert

April 8, 2020

–

Barack Ferrazzano Client Alert

April 6, 2020

–

Barack Ferrazzano Client Alert

April 3, 2020

–

Barack Ferrazzano Client Alert

March 24, 2020

–

Barack Ferrazzano Client Alert

March 20, 2020

–

Barack Ferrazzano Client Alert

March 19, 2020

–

Barack Ferrazzano Client Alert

March 17, 2020

–

Barack Ferrazzano Client Alert

March 10, 2020

–

Barack Ferrazzano Client Alert

February 25, 2020

–

Barack Ferrazzano Client Alert

January 9, 2020

–

Barack Ferrazzano Client Alert

November 8, 2019

–

Barack Ferrazzano Client Alert

October 31, 2019

–

Barack Ferrazzano Client Alert

October 24, 2019

–

Barack Ferrazzano Client Alert

September 24, 2019

–

Barack Ferrazzano Client Alert

June 4, 2019

–

Barack Ferrazzano Client Alert

April 3, 2019

–

Barack Ferrazzano Client Alert

March 14, 2019

–

Barack Ferrazzano Client Alert

February 14, 2019

–

Barack Ferrazzano Client Alert

December 4, 2018

–

Barack Ferrazzano Client Alert

October 30, 2018

–

Author

,

Barack Ferrazzano Client Alert

October 11, 2018

–

Barack Ferrazzano Client Alert

September 5, 2018

–

Barack Ferrazzano Client Alert

June 6, 2018

–

Barack Ferrazzano Client Alert

December 28, 2017

–

Barack Ferrazzano Client Alert

December 7, 2017

–

Barack Ferrazzano Client Alert

November 16, 2017

–

Barack Ferrazzano Client Alert

June 13, 2017

–

Barack Ferrazzano Client Alert

May 2, 2017

–

Barack Ferrazzano Client Alert

April 25, 2017

–

Barack Ferrazzano Client Alert

April 20, 2017

–

Barack Ferrazzano Client Alert

March 2, 2017

–

Barack Ferrazzano Client Alert

January 4, 2017

–

Barack Ferrazzano Client Alert

December 20, 2016

–

Barack Ferrazzano Client Alert

December 15, 2016

–

Barack Ferrazzano Client Alert

November 29, 2016

–

Barack Ferrazzano Client Alert

November 16, 2016

–

Barack Ferrazzano Client Alert

November 3, 2016

–

Barack Ferrazzano Client Alert

October 24, 2016

–

Barack Ferrazzano Client Alert

October 6, 2016

–

Barack Ferrazzano Client Alert

August 10, 2016

–

Barack Ferrazzano Client Alert

May 19, 2016

–

Barack Ferrazzano Client Alert

May 2, 2016

–

Barack Ferrazzano Client Alert

March 22, 2016

–

Barack Ferrazzano Client Alert

February 24, 2016

–

Barack Ferrazzano Client Alert

February 11, 2016

–

Barack Ferrazzano Client Alert

February 9, 2016

–

Barack Ferrazzano Client Alert

January 15, 2016

–

Bank Director, 1st Quarter 2016, Vol. 26, No. 1

March 18, 2015

–

Barack Ferrazzano Client Alert

April 22, 2013

–

BankDirector Magazine, 2nd Quarter 2013, Volume 23, Number 2
News
January 24, 2023

–

Barack Ferrazzano Press Release

November 3, 2022

–

Barack Ferrazzano Press Release

August 18, 2022

–

Barack Ferrazzano Press Release

June 6, 2022

–

Barack Ferrazzano Press Release

April 5, 2022

–

Barack Ferrazzano Press Release

November 10, 2021

–

Barack Ferrazzano Press Release

November 4, 2021

–

Barack Ferrazzano Press Release

August 19, 2021

–

Barack Ferrazzano Press Release

May 10, 2021

–

Barack Ferrazzano Press Release

January 29, 2021

–

Barack Ferrazzano Press Release

January 7, 2021

–

Barack Ferrazzano Press Release

November 6, 2020

–

Barack Ferrazzano Press Release

September 30, 2020

–

Barack Ferrazzano Press Release

September 23, 2020

–

Barack Ferrazzano Press Release

August 20, 2020

–

Barack Ferrazzano Press Release

July 8, 2020

–

Barack Ferrazzano Press Release

May 8, 2020

–

Barack Ferrazzano Press Release

March 10, 2020

–

Globe Newswire Press Release

January 29, 2020

–

Barack Ferrazzano Press Release

January 15, 2020

–

Barack Ferrazzano Press Release

January 2, 2020

–

Barack Ferrazzano Press Release

December 16, 2019

–

Barack Ferrazzano Press Release

November 1, 2019

–

Barack Ferrazzano Press Release

August 15, 2019

–

Barack Ferrazzano Press Release

January 2019

–

Barack Ferrazzano Press Release

January 15, 2019

–

Barack Ferrazzano Press Release

December 6, 2018

–

Barack Ferrazzano Press Release

November 1, 2018

–

Barack Ferrazzano Press Release

August 15, 2018

–

Barack Ferrazzano Press Release

July 26, 2018

–

Peoples Bank Press Release

July 2, 2018

–

Barack Ferrazzano Press Release

June 13, 2018

–

Barack Ferrazzano Press Release

May 30, 2018

–

Barack Ferrazzano Press Release

May 7, 2018

–

Globe Newswire

May 1, 2018

–

Barack Ferrazzano Press Release

April 30, 2018

–

Barack Ferrazzano Press Release

January 25, 2018

–

Barack Ferrazzano Press Release

1st Quarter 2018

–

Quoted

,

Bank Director

January 9, 2018

–

Barack Ferrazzano Press Release

December 18, 2017

–

Barack Ferrazzano Press Release

November 1, 2017

–

Barack Ferrazzano Press Release

October 2, 2017

–

Globe Newswire

October 2, 2017

–

Globe Newswire

September 28, 2017

–

Press Release

January 2010

–

Law & Politics Magazine
Services
Education
Northwestern University Pritzker School of Law, J.D., 1975
Northwestern University, B.A., 1972