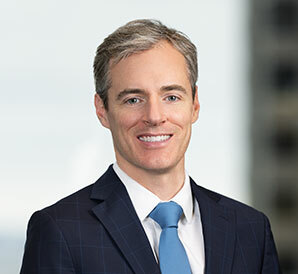 Bill has extensive experience advising clients on major corporate transactions, including mergers and acquisitions, joint ventures, private equity transactions and securities offerings. He also regularly advises the firm's public company clients with respect to the federal securities laws and corporate governance matters, including Exchange Act reporting, ESG matters and shareholder activism. His clients engage in a wide variety of industries, including banking, consumer products, luxury goods, mortgage origination and mortgage servicing, healthcare and technology.
Bill also serves as Adjunct Professor at Northwestern University Pritzker School of Law, where he teaches "Business Planning."
Prior to joining Barack Ferrazzano in 2015, Bill practiced in the Chicago office of Sidley Austin LLP as a member of the Corporate and Securities group.
Representative Experience
Represented Midland States Bancorp, Inc. (Nasdaq: MSBI) in a variety of corporate transactions, including its 2016 IPO and subsequent subordinated notes offerings, and numerous M&A transactions, including its acquisitions of Alpine Bancorporation, Inc., Centrue Financial Corporation, HomeStar Financial Group, Inc. and the acquisitions of the trust businesses of Sterling National Bank and ATG Trust Company.
Represented Level One Bancorp, Inc. (Nasdaq: LEVL) in a variety of corporate transactions, including its 2018 IPO and subsequent preferred stock and subordinated notes offerings, and its acquisition of Ann Arbor Bancorp, Inc.
Represented Moët Hennessy USA and its affiliates in connection with various M&A transactions, including its acquisition of Woodinville Whiskey Company, LLC and an equity interest in Colgin Cellars.
Represented a national insurance company in connection with the creation of joint ventures with respect to its credit card and banking businesses.
Represented Cummins-American Corp., the bank holding company of Glenview State Bank, in connection with its acquisition by First Busey Corporation (Nasdaq: BUSE).
Represented underwriters and placement agents in connection with registered offering and private placement transactions by Potbelly Corporation (Nasdaq: PBPB), Heartland Financial USA Inc. (Nasdaq: HTLF), Mackinac Financial Corporation (Nasdaq: MFNC) and Equity Bancshares Inc. (Nasdaq: EQBK).
Activities & Honors
Selected, Emerging Lawyers Network (2015-2023)
Selected, Illinois Rising Stars, Super Lawyers (2016)
Member, Dartmouth Alumni Council
Recipient, Nelson A. Rockefeller Prize in Economics, Dartmouth College
Speaking Engagements & Presentations
September 19-21, 2019

–

Speaker

(Springfield, IL)

September 29, 2018

–

Speakers

(St. Louis, MO)

June 22, 2018

–

Host

(Chicago, IL)
Articles & Publications
March 9, 2021

–

Barack Ferrazzano Client Alert

January 15, 2021

–

Barack Ferrazzano Client Alert

January 5, 2021

–

Barack Ferrazzano Client Alert

October 14, 2020

–

Barack Ferrazzano Client Alert

September 15, 2020

–

Barack Ferrazzano Client Alert

September 8, 2020

–

Barack Ferrazzano Client Alert

August 19, 2020

–

Barack Ferrazzano Client Alert

August 4, 2020

–

Barack Ferrazzano Client Alert

May 11, 2020

–

Barack Ferrazzano Client Alert

May 5, 2020

–

Barack Ferrazzano Client Alert

May 1, 2020

–

Barack Ferrazzano Client Alert

April 30, 2020

–

Barack Ferrazzano Client Alert

April 17, 2020

–

Barack Ferrazzano Client Alert

April 14, 2020

–

Barack Ferrazzano Client Alert

April 14, 2020

–

Barack Ferrazzano Client Alert

April 9, 2020

–

Barack Ferrazzano Client Alert

April 8, 2020

–

Barack Ferrazzano Client Alert

April 6, 2020

–

Barack Ferrazzano Client Alert

April 3, 2020

–

Barack Ferrazzano Client Alert

March 31, 2020

–

Barack Ferrazzano Client Alert

March 24, 2020

–

Barack Ferrazzano Client Alert

March 20, 2020

–

Barack Ferrazzano Client Alert

March 19, 2020

–

Barack Ferrazzano Client Alert

March 17, 2020

–

Barack Ferrazzano Client Alert

March 10, 2020

–

Barack Ferrazzano Client Alert

February 25, 2020

–

Barack Ferrazzano Client Alert

January 9, 2020

–

Barack Ferrazzano Client Alert

November 8, 2019

–

Barack Ferrazzano Client Alert

October 31, 2019

–

Barack Ferrazzano Client Alert

October 24, 2019

–

Barack Ferrazzano Client Alert

October 17, 2019

–

Bank Director Magazine

September 24, 2019

–

Barack Ferrazzano Client Alert

June 4, 2019

–

Barack Ferrazzano Client Alert

April 3, 2019

–

Barack Ferrazzano Client Alert

March 14, 2019

–

Barack Ferrazzano Client Alert

February 14, 2019

–

Barack Ferrazzano Client Alert

December 4, 2018

–

Barack Ferrazzano Client Alert

October 30, 2018

–

Author

,

Barack Ferrazzano Client Alert

October 11, 2018

–

Barack Ferrazzano Client Alert

September 5, 2018

–

Barack Ferrazzano Client Alert

June 6, 2018

–

Barack Ferrazzano Client Alert

December 28, 2017

–

Barack Ferrazzano Client Alert

December 7, 2017

–

Barack Ferrazzano Client Alert

November 16, 2017

–

Barack Ferrazzano Client Alert

June 13, 2017

–

Barack Ferrazzano Client Alert

May 2, 2017

–

Barack Ferrazzano Client Alert

April 25, 2017

–

Barack Ferrazzano Client Alert

April 20, 2017

–

Barack Ferrazzano Client Alert

March 2, 2017

–

Barack Ferrazzano Client Alert

January 4, 2017

–

Barack Ferrazzano Client Alert

December 20, 2016

–

Barack Ferrazzano Client Alert

December 15, 2016

–

Barack Ferrazzano Client Alert

November 29, 2016

–

Barack Ferrazzano Client Alert

November 16, 2016

–

Barack Ferrazzano Client Alert

November 3, 2016

–

Barack Ferrazzano Client Alert

October 24, 2016

–

Barack Ferrazzano Client Alert

October 6, 2016

–

Barack Ferrazzano Client Alert

August 10, 2016

–

Barack Ferrazzano Client Alert

May 19, 2016

–

Barack Ferrazzano Client Alert

May 2, 2016

–

Barack Ferrazzano Client Alert

February 24, 2016

–

Barack Ferrazzano Client Alert
News
September 13, 2022

–

Barack Ferrazzano Press Release

June 9, 2022

–

Barack Ferrazzano Press Release

April 5, 2022

–

Barack Ferrazzano Press Release

November 10, 2021

–

Barack Ferrazzano Press Release

January 25, 2021

–

Barack Ferrazzano Press Release

January 7, 2021

–

Barack Ferrazzano Press Release

July 23, 2020

–

Globe Newswire Press Release

July 8, 2020

–

Barack Ferrazzano Press Release

January 15, 2020

–

Barack Ferrazzano Press Release

January 2, 2020

–

Barack Ferrazzano Press Release

December 19, 2019

–

Globe Newswire Press Release

November 12, 2019

–

Barack Ferrazzano Press Release

July 17, 2019

–

Globe Newswire Press Release

January 2019

–

Barack Ferrazzano Press Release

January 15, 2019

–

Barack Ferrazzano Press Release

June 13, 2018

–

Barack Ferrazzano Press Release

April 30, 2018

–

Barack Ferrazzano Press Release

March 16, 2018

–

Barack Ferrazzano Press Release

February 28, 2018

–

Barack Ferrazzano Press Release

January 18, 2018

–

Globe Newswire

January 9, 2018

–

Barack Ferrazzano Press Release

December 18, 2017

–

Barack Ferrazzano Press Release

July 13, 2017

–

Barack Ferrazzano Press Release

June 12, 2017

–

Barack Ferrazzano Press Release
Education
Harvard Law School, J.D., cum laude, 2006
Dartmouth College, A.B., summa cum laude, 2003