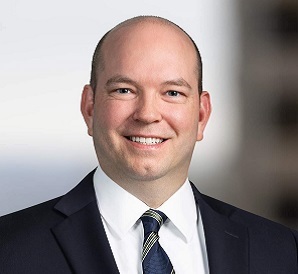 Matt is co-chair of the firm's Litigation Group. As a commercial litigator and counselor, Matt brings a creative, pragmatic, and efficient approach to help clients resolve complex legal and business problems. He has significant, first-chair experience in a wide variety of business disputes. He regularly represents clients in matters involving breach of contract, fraud, breach of fiduciary duty, non-competes, post-closing disputes, and insurance coverage. Matt has experience with commercial class actions, trade secrets and unfair competition disputes, corporate internal investigations, and employment matters. He also advises clients on corporate compliance, commercial contract, and ethics issues.
Insurance Coverage
Matt is the Practice Chair of the Firm's Insurance Coverage Group and regularly handles insurance coverage matters, including those involving commercial general liability, errors and omissions, professional liability, cyber, kidnap and ransom, environmental, property, employment practices liability, representations and warranties, and business specialty policies. For example, he has handled claims and coverage litigation such as:
an arbitration (first-chair) regarding the duty to defend an underlying software misappropriation lawsuit and estoppel issues;
coverage litigation regarding data protection and business interruption losses under a cyber policy stemming from a ransomware attack on the policyholder;
extortion and cyber extortion claims under a kidnap and ransom policy;
litigation concerning coverage for costs in responding to a government subpoena;
coverage litigation regarding reasonable rates for independent defense counsel and duty to defend defensive action brought by policyholder;
a declaratory judgment action involving "personal injury" coverage for disparagement;
property damage and business interruption losses stemming from events such as fires and natural disasters;
a complex, multi-party asbestos bodily injury coverage case in California involving claims for unaggregated "non-products" coverage;
litigation under a crime/financial institutions bond involving novel issues relating to the forgery of over $40 million in collateral; and
an arbitration regarding coverage under a representations and warranties policy.
Post-Closing Disputes
Matt has significant experience with post-closing disputes, requiring an understanding of complex accounting and financial issues. Matt has represented:
the sellers of a multi-million-dollar environmental sustainability education company in a post-closing dispute alleging fraud, breach of contract, breach of fiduciary duty, conversion, and violations of the Computer Fraud and Abuse Act;
a private equity firm in multiple post-closing disputes, including those involving alleged securities fraud, fraudulent inducement, and breaches of contractual representations and warranties;
a technology company buyer against claims of breach of contract and seeking indemnification from the sellers for alleged breaches of representations and warranties in the purchase agreement; and
a large public corporation in numerous post-closing disputes over earn-outs, working capital, and financial and environmental-related representations and warranties, including as first-chair for a multi-week arbitration.
Class Actions
Matt has represented several large companies in commercial and employment class actions, including:
TCPA class actions alleging unlawful faxing practices; and
an FLSA wage-and-hour collective action asserting unpaid overtime.
Business Litigation
Matt also regularly represents clients in other business litigation. Among these matters, he has represented:
an asset management company and some of its clients against claims of fraudulent conveyance in multidistrict litigation stemming from the Tribune Company bankruptcy;
a REIT in litigation concerning breach of a master lease and fraudulent conveyance;
a Fortune 50 technology company in disputes involving complex software implementations, hardware installations, and executive compensation;
a freight brokerage company in Carmack Amendment, breach of contract, and tort litigation;
a specialty pharmacy in an action involving alleged breach of non-solicitation provisions;
a healthcare technology company in a matter alleging breach of a services contract;
a proprietary trading firm and its executive in a lawsuit relating to trading technology, including claims for breach of contract, breach of fiduciary duty, and fraud;
a retail property owner and manager in claims regarding overcharges under electricity contracts;
a Fortune 200 global diversified industrial manufacturer of consumables and specialty equipment in a misappropriation of trade secrets and unfair competition lawsuit relating to warehouse automation;
a resistance welding product manufacturer in disputes regarding exclusive purchase agreements;
a wind energy developer in a dispute over ownership of a wind energy farm based on a letter of intent and alleged oral partnership; and
gaming companies in litigation relating to license agreements.
Pro Bono
Finally, pro bono work is an important part of Matt's practice. He has handled medical needs, unlawful arrest, asylum, and immigration matters for clients.
Activities & Honors
Selected,

The Best Lawyers in America© (2022-2023)
Selected, Leading Lawyers Network (2017-2023)

Commercial Litigation
Insurance, Insurance Coverage & Reinsurance Law

Selected, Emerging Lawyers Network (2015-2017)
Selected, Super Lawyers


Illinois Super Lawyers (2016-2023)
Illinois Rising Stars (2011-2015)

Chair, Chicago Bar Association Federal Civil Practice Committee (2017-2018)
Chair, Principles Project Team, Seventh Circuit Electronic Discovery Pilot Program (2017-2018)
Recipient, Western Illinois University Alumni Achievement Award (2014)
Selected, "Forty Illinois Attorneys Under 40 to Watch," Chicago Lawyer and Chicago Daily Law Bulletin (2013)
Law Clerk, Hon. James F. Holderman, U.S. District Court, Northern District of Illinois (2002-2004)
Speaking Engagements & Presentations
March 3, 2022

–

Moderator & Panelist

(ABA Insurance Coverage Litigation Committee CLE Seminar)

Privilege & Work Product Issues Facing In-House Counsel
Articles & Publications
February 2021

–

Quoted

,

Super Lawyers

October 14, 2020

–

Barack Ferrazzano Client Alert

September 9, 2020

–

Barack Ferrazzano Client Alert

August 19, 2020

–

Barack Ferrazzano Client Alert

August 4, 2020

–

Barack Ferrazzano Client Alert

July 13, 2020

–

Barack Ferrazzano Client Alert

July 7, 2020

–

Barack Ferrazzano Client Alert

July 2, 2020

–

Barack Ferrazzano Client Alert

June 12, 2020

–

Barack Ferrazzano Client Alert

June 3, 2020

–

Barack Ferrazzano Client Alert

May 11, 2020

–

Barack Ferrazzano Client Alert

May 1, 2020

–

Barack Ferrazzano Client Alert

April 30, 2020

–

Barack Ferrazzano Client Alert

April 9, 2020

–

Barack Ferrazzano Client Alert

April 3, 2020

–

Barack Ferrazzano Client Alert

March 18, 2020

–

Barack Ferrazzano Client Alert

February 25, 2019

–

Barack Ferrazzano Client Alert

December 11, 2018

–

Barack Ferrazzano Client Alert

October 11, 2018

–

Barack Ferrazzano Client Alert

September 5, 2018

–

Barack Ferrazzano Client Alert

April 17, 2018

–

Barack Ferrazzano Client Alert

9 Ways to Reduce E-Discovery Costs, Corporate Counsel

Note, Let Us Pray?: The Constitutionality of Student-Led Graduation Prayer After Santa Fe v. Doe, 2002 U. Ill. L. Rev. 149
News
March 13, 2023

–

Barack Ferrazzano Press Release

January 24, 2023

–

Barack Ferrazzano Press Release

November 3, 2022

–

Barack Ferrazzano Press Release

August 18, 2022

–

Barack Ferrazzano Press Release

December 10, 2021

–

Barack Ferrazzano Press Release

November 4, 2021

–

Barack Ferrazzano Press Release

August 19, 2021

–

Barack Ferrazzano Press Release

January 29, 2021

–

Barack Ferrazzano Press Release

January 7, 2021

–

Barack Ferrazzano Press Release

January 29, 2020

–

Barack Ferrazzano Press Release

January 15, 2020

–

Barack Ferrazzano Press Release

January 2019

–

Barack Ferrazzano Press Release

January 15, 2019

–

Barack Ferrazzano Press Release

January 25, 2018

–

Barack Ferrazzano Press Release

December 18, 2017

–

Barack Ferrazzano Press Release
Services
Education
University of Illinois College of Law, J.D., summa cum laude, Order of the Coif, 2002

Western Illinois University, B.B., summa cum laude, 1999
Bar & Court Admissions
State of Illinois
U.S. District Court - Central District of Illinois
U.S. District Court - Northern District of Illinois
U.S. District Court - Eastern District of Michigan
U.S. Court of Appeals - 7th Circuit
U.S. Court of Appeals - 9th Circuit