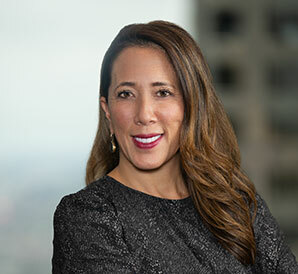 Maile
Hitomi
Solís
Partner
Maile is a partner in the Firm's Litigation; Fashion, Luxury & Retail; and Motor Vehicle Groups. Maile has two decades of experience in complex commercial litigation, litigating matters involving fiduciary duty, data privacy, breach of contract, insurance coverage, real estate, and employment discrimination disputes throughout the country.
Since joining the Firm, Maile has litigated on behalf of, and has counseled clients in all manner of commercial litigation, including in the fashion, luxury brands and cosmetics/beauty space on issues relating to contract disputes, data privacy, and biometric information protection and trademark infringement. In addition, she has represented automotive manufacturer clients on various aspects of their businesses, including dealer agreement modification, implementation of incentive programs, add-points and relocations, changes to areas of sales responsibility, addressing performance standards, allocation, and other issues.
Prior to joining the Firm, Maile served as Assistant General Counsel of Litigation at Blue Cross Blue Shield of Illinois, where she managed and directed complex commercial litigation filed against the Company, prepared and defended executives for deposition and trial, counseled the business on litigation and other risk and recommended approaches to minimize such risk. In addition, Maile spent a substantial portion of her time advising the business on issues relating to cybersecurity, data privacy, and insurance coverage.
While a partner at the litigation boutique of Grippo & Elden, Maile counseled and represented clients in all aspects of the litigation process from discovery through resolution by favorable settlement, trial, alternative dispute resolution, and appeal. Maile ran and managed a series of the firm's largest and most complex cases, including representing 19 members of the top management of Tribune Company and its subsidiaries and serving as liaison counsel for more than 100+ defendants in the fiduciary duty adversary action filed against Tribune's directors, officers, and former advisors.
Maile began her career as a complex commercial litigation associate at the law firm of Jenner & Block, where she represented policyholders in insurance coverage matters, litigated numerous commercial contracting disputes, defended a patent infringement claim, tried a preliminary injunction hearing to enforce a non-compete provision, and first-chaired multiple pro bono hearings.
Pro Bono
Maile has devoted her career to protecting victims of persecution in a broad range of pro bono immigration matters. She has been a member of the Leadership Council of the National Immigrant Justice Center since 2003 and has obtained grants of asylum, legal permanent residency, U-Visas, DACA, and VAWA approvals for dozens of persons fleeing persecution and domestic violence from around the world.
Representative Experience
Walker Wear LLC v. Off-White LLC. Obtained dismissal of federal trademark dilution claim on grounds that the asserted marks were not famous marks for purposes of the Lanham Act. Obtained dismissal of NY state law claim on grounds that the complaint failed to allege sufficient harm to the public.

Representation of Sephora in negotiations with Kohl's on a long-term strategic partnership to create a new era of elevated Beauty at Kohl's, marrying Kohl's expansive customer reach and omnichannel convenience with Sephora's prestige service, product selection and exceptional beauty experience.
Activities & Honors
Selected,

Crain's Notable Gen X Leaders in Accounting, Consulting & Law (2021)

Selected, The Best Lawyers in America©

(2020-2023)

Commercial Litigation (2021-2023)
Franchise Law (2020-2023)
Named Chicago Franchise Lawyer of the Year (2023)

Member, Leadership Council, National Immigrant Justice Center (NIJC)
President, Parent Teacher Organization, Chicago International Charter School - Irving Park (2016-Present)
Speaking Engagements & Presentations
November 13, 2019

–

Co-Sponsor

(New York, NY)

September 18-20, 2019

–

Sponsor

(Sacramento, CA)

April 2, 2019

–

Co-Sponsor

(London, UK)

November 14, 2018

–

Co-Sponsor

(New York, NY)
Articles & Publications
January 11, 2021

–

Barack Ferrazzano Client Alert

May 1, 2020

–

Barack Ferrazzano Client Alert

April 29, 2020

–

Barack Ferrazzano Client Alert

April 24, 2020

–

Barack Ferrazzano Client Alert

April 15, 2020

–

Barack Ferrazzano Client Alert

April 14, 2020

–

Barack Ferrazzano Client Alert

March 27, 2020

–

Barack Ferrazzano Client Alert

March 18, 2020

–

Barack Ferrazzano Client Alert

February 25, 2019

–

Barack Ferrazzano Client Alert

December 11, 2018

–

Barack Ferrazzano Client Alert

April 17, 2018

–

Barack Ferrazzano Client Alert
News
November 21, 2022

–

Barack Ferrazzano Press Release

November 3, 2022

–

Barack Ferrazzano Press Release

October 17, 2022

–

Barack Ferrazzano Press Release

August 18, 2022

–

Barack Ferrazzano Press Release

March 23, 2022

–

Barack Ferrazzano Press Release

December 10, 2021

–

Barack Ferrazzano Press Release

November 22, 2021

–

Barack Ferrazzano Press Release

November 4, 2021

–

Barack Ferrazzano Press Release

August 19, 2021

–

Barack Ferrazzano Press Release

December 1, 2020

–

Barack Ferrazzano Press Release

November 6, 2020

–

Barack Ferrazzano Press Release

August 20, 2020

–

Barack Ferrazzano Press Release

November 1, 2019

–

Barack Ferrazzano Press Release

August 15, 2019

–

Barack Ferrazzano Press Release

October 22, 2018

–

Barack Ferrazzano Press Release
Services
Education
University of Chicago Law School, J.D., 1998
University of Iowa, B.A. in Political Science and Spanish, with honors and distinction, 1995