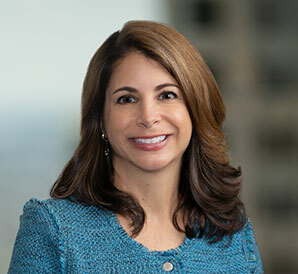 Andrea concentrates her practice on bank regulatory, securities and corporate matters. She has experience working on a variety of regulatory and securities matters, including mergers and acquisitions, equity and debt offerings, trust preferred securities transactions, regulatory applications and enforcement matters. Andrea has also advised clients on a variety of new government programs and initiatives, including the FDIC's Temporary Liquidity Guarantee Program and new deposit insurance assessment scheme and the programs established by the U.S. Treasury and Federal Reserve pursuant to the Emergency Economic Stabilization Act of 2008. Andrea has assisted several clients in the application, approval and closing of securities issued to the U.S. Treasury under the Capital Purchase Program.
Prior to joining the Firm, Andrea served as legal counsel to the Illinois Office of Banks and Real Estate. Andrea's experience there included drafting interpretive letters, legislative proposals, regulations and examination guidelines. She also prosecuted numerous enforcement actions and provided legal analysis of corporate applications, including de novo bank applications, mergers and other structural applications.
Andrea published a chapter on Illinois operational laws and regulations affecting financial institutions, and has chaired the Chicago Bar Association's Financial Institutions Committee.
Activities & Honors
Chair, Chicago Bar Association, Financial Institutions Committee (2003-2004)
Speaking Engagements & Presentations
April 24, 2019

–

Speaker

(Chicago, IL)

April 26, 2018

–

Speakers

(Chicago, IL)

April 20, 2016

–

(Chicago, IL)
Articles & Publications
March 9, 2021

–

Barack Ferrazzano Client Alert

January 15, 2021

–

Barack Ferrazzano Client Alert

January 5, 2021

–

Barack Ferrazzano Client Alert

2020

–

Contributor

,

American Bar Association

October 14, 2020

–

Barack Ferrazzano Client Alert

September 15, 2020

–

Barack Ferrazzano Client Alert

September 8, 2020

–

Barack Ferrazzano Client Alert

August 19, 2020

–

Barack Ferrazzano Client Alert

August 4, 2020

–

Barack Ferrazzano Client Alert

May 11, 2020

–

Barack Ferrazzano Client Alert

May 1, 2020

–

Barack Ferrazzano Client Alert

April 30, 2020

–

Barack Ferrazzano Client Alert

April 17, 2020

–

Barack Ferrazzano Client Alert

April 14, 2020

–

Barack Ferrazzano Client Alert

April 9, 2020

–

Barack Ferrazzano Client Alert

April 8, 2020

–

Barack Ferrazzano Client Alert

April 6, 2020

–

Barack Ferrazzano Client Alert

April 3, 2020

–

Barack Ferrazzano Client Alert

March 24, 2020

–

Barack Ferrazzano Client Alert

March 19, 2020

–

Barack Ferrazzano Client Alert

March 17, 2020

–

Barack Ferrazzano Client Alert

March 10, 2020

–

Barack Ferrazzano Client Alert

February 25, 2020

–

Barack Ferrazzano Client Alert

January 9, 2020

–

Barack Ferrazzano Client Alert

November 8, 2019

–

Barack Ferrazzano Client Alert

October 31, 2019

–

Barack Ferrazzano Client Alert

October 24, 2019

–

Barack Ferrazzano Client Alert

September 24, 2019

–

Barack Ferrazzano Client Alert

June 4, 2019

–

Barack Ferrazzano Client Alert

April 3, 2019

–

Barack Ferrazzano Client Alert

March 14, 2019

–

Barack Ferrazzano Client Alert

February 14, 2019

–

Barack Ferrazzano Client Alert

December 4, 2018

–

Barack Ferrazzano Client Alert

October 30, 2018

–

Author

,

Barack Ferrazzano Client Alert

October 11, 2018

–

Barack Ferrazzano Client Alert

September 5, 2018

–

Barack Ferrazzano Client Alert

June 6, 2018

–

Barack Ferrazzano Client Alert

December 28, 2017

–

Barack Ferrazzano Client Alert

December 7, 2017

–

Barack Ferrazzano Client Alert

November 16, 2017

–

Barack Ferrazzano Client Alert

The Keys to Banking Law: A Handbook for Lawyers, Second Edition

2017

–

Contributor

,

American Bar Association

June 13, 2017

–

Barack Ferrazzano Client Alert

May 2, 2017

–

Barack Ferrazzano Client Alert

April 25, 2017

–

Barack Ferrazzano Client Alert

April 20, 2017

–

Barack Ferrazzano Client Alert

March 2, 2017

–

Barack Ferrazzano Client Alert

January 4, 2017

–

Barack Ferrazzano Client Alert

December 20, 2016

–

Barack Ferrazzano Client Alert

December 15, 2016

–

Barack Ferrazzano Client Alert

November 29, 2016

–

Barack Ferrazzano Client Alert

November 16, 2016

–

Barack Ferrazzano Client Alert

November 3, 2016

–

Barack Ferrazzano Client Alert

October 24, 2016

–

Barack Ferrazzano Client Alert

October 6, 2016

–

Barack Ferrazzano Client Alert

August 10, 2016

–

Barack Ferrazzano Client Alert

May 19, 2016

–

Barack Ferrazzano Client Alert

May 2, 2016

–

Barack Ferrazzano Client Alert

March 22, 2016

–

Barack Ferrazzano Client Alert

February 24, 2016

–

Barack Ferrazzano Client Alert

February 11, 2016

–

Barack Ferrazzano Client Alert

February 9, 2016

–

Barack Ferrazzano Client Alert

March 18, 2015

–

Barack Ferrazzano Client Alert

"Illinois Operational Laws and Regulations"

2006

–

IICLE's Advising Illinois Financial Institutions
News
January 7, 2021

–

Barack Ferrazzano Press Release

December 7, 2020

–

Barack Ferrazzano Press Release

July 8, 2020

–

Barack Ferrazzano Press Release

January 15, 2020

–

Barack Ferrazzano Press Release

January 15, 2019

–

Barack Ferrazzano Press Release

December 19, 2018

–

Barack Ferrazzano Press Release

January 9, 2018

–

Barack Ferrazzano Press Release
Services
Education
Chicago Kent College of Law, LL.M. in Financial Services Law, with high honors, 2003
The American University, J.D., cum laude, 1996
Bucknell University, B.A., 1993
Bar & Court Admissions
District of Columbia
State of Illinois
State of Maryland