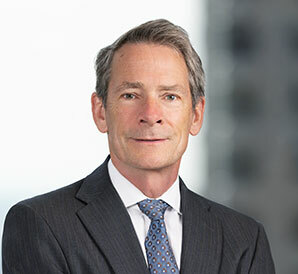 William
J.
Barrett
Partner
Bill is the senior member of the Firm's Bankruptcy & Creditor Rights Group. In recent years Bill has focused his practice on representing secured creditors, landlords, franchisors, suppliers, avoidance action defendants, and asset purchasers in Chapter 11 cases and other insolvency proceedings. Bill has litigated a broad variety of cases in the bankruptcy courts, including stay relief, adequate protection, cash collateral and DIP financing motions brought by or involving secured creditors, and confirmation issues raised by secured and unsecured creditors. In recent years, Bill's secured creditor practice has included a number of cases involving real estate properties such as multi-family housing, shopping centers, leased industrial facilities, and farmland. He also consults with borrowers and creditors in strategies for resolving debtor/creditor problems.
Bill also has extensive experience in insolvency situations resolved under state law, including Article 9 sales, receiverships, and assignments for the benefit of creditors. These state-law procedures can often provide a secured creditor, particularly one whose collateral is concentrated in a single state, with a speedier and less expensive path to realizing on its collateral compared to a bankruptcy proceeding.
Bill is one of very few lawyers who has developed a subspecialty in involuntary bankruptcy cases, typically on behalf of trade creditors. These cases involve not just the successful prosecution of the involuntary petition, but thereafter (often by being appointed as litigation counsel by a trustee) using the powers of the Bankruptcy Code to recover assets fraudulently transferred by the debtor and then selling those assets under Section 363 of the Bankruptcy Code.
Representative Experience
Presently represent both agents and participants in workouts of $100,000,000+ credit facilities, including facilities secured by aircraft, equity interests in banks, office buildings, and partially developed residential projects.
Published Opinions
Chapter 7 trustee of McDonough Associates v. Bowman Consulting, U.S. N.D. Il. 2016 (concerned successor liability claim brought against transferee of engineering design firm)
Sunbeam Products v. Chicago American Manufacturing, 2012 U.S. App. LEXIS 13883 (7th Cir. 2012) (concerned effect of rejection of executory contract)
Gouveia v. RDI Group (In re Globe Building Materials, Inc.), 484 F.3d 946 (7th Cir. 2007) (concerned application of new value defense in preference action)
Village of Rosemont v. Jaffee (In re Emerald Casino), 482 F.3d 926 (7th Cir. 2007) (concerned state sovereign immunity in bankruptcy cases and enforcement under 11 U.S.C. §1142 of plan of reorganization provision against non-consenting state agency)
Advanced Testing Technologies, Inc. v. Desmond (In re Computer Engineering Associates), 337 F.3d 38 (1st Cir. 2003) (concerned whether the assignment of payment rights under a contract with the United States government was a preference)
Kmart Corp. v. Uniden American Corp. (In re Kmart Corp.), 2004 U.S. Dist. LEXIS 19829 (concerned the nature of defenses available to a preference defendant)
Cavanaugh v. Zimmerman (In re Linc Capital, Inc. against principal shareholder of bankrupt public company), 310 B.R. 847 (N.D. Ill. 2004) (concerned fraudulent transfer claim)
Activities & Honors
Selected, The Best Lawyers in America© (2015-2021)

Bankruptcy and Creditor Rights
Insolvency and Reorganization Law

Selected, Illinois Super Lawyers (2009-2020)
Selected, Leading Lawyers Network (2011-2020)
Ranked, Illinois Bankruptcy/Restructuring, Chambers USA (2014-2020)
Recipient, Award for Excellence in Pro Bono Service, United States District Court for the Northern District of Illinois (2019)
Noted Practitioner, Illinois Bankruptcy/Restructuring, Chambers USA (2013)
Chairman, Bankruptcy and Reorganization Committee, Chicago Bar Association (2011-2012)
Co-chair, Bankruptcy Bar Liaison Committee for U.S. Bankruptcy Court, Northern District of Illinois (2007-2008)
Member, American Bankruptcy Institute
Member, International Exchange of Experience on Insolvency Law
Member, Michigan State Bar Association
Order of the Coif
Other Events & Speaking Engagements
"Cash Collateral Issues in Single Asset Cases," Chicago Bar Association, 2011
"Impact of Bankruptcy on State Regulated Industries," National Association of Attorneys General, 2010
"Credit Defaults and Workout Strategies," Illinois State Bankers Association, 2008
Articles & Publications
April 15, 2020

–

Barack Ferrazzano Client Alert

March 27, 2020

–

Barack Ferrazzano Client Alert

March 20, 2020

–

Barack Ferrazzano Client Alert

July 2016

–

Valuation, Q2 2016

October 7, 2014

–

Commercial Bankruptcy Litigation

December 2013

–

Valuation

Spring 2013

–

Franchise Law Journal
News
August 20, 2020

–

Barack Ferrazzano Press Release

May 8, 2020

–

Barack Ferrazzano Press Release

March 6, 2020

–

Quoted

,

Rochelle's Daily Wire, American Bankruptcy Institute

February 25, 2020

–

Barack Ferrazzano Press Release

January 29, 2020

–

Barack Ferrazzano Press Release

November 1, 2019

–

Barack Ferrazzano Press Release

August 15, 2019

–

Barack Ferrazzano Press Release

May 28, 2019

–

Barack Ferrazzano Press Release

May 9, 2019

–

Barack Ferrazzano Press Release

May 1, 2019

–

Honoree

,

Barack Ferrazzano Press Release

January 2019

–

Barack Ferrazzano Press Release

January 23, 2019

–

Law360

November 1, 2018

–

Barack Ferrazzano Press Release

August 15, 2018

–

Barack Ferrazzano Press Release

January 29, 2018

–

Barack Ferrazzano Press Release

January 25, 2018

–

Barack Ferrazzano Press Release

December 18, 2017

–

Barack Ferrazzano Press Release

November 1, 2017

–

Barack Ferrazzano Press Release

July 27, 2017

–

Above the Law

January 14, 2015

–

Super Lawyers

August 9, 2012

–

Chicago Sun-Times

January 2010

–

Law & Politics Magazine
Services
Education
University of Southern California, J.D., Order of the Coif, 1985
Michigan State University, B.A., with honors, 1980
Bar & Court Admissions
State of Illinois
State of Michigan
U.S. District Court - Northern District of Illinois
U.S. District Court - Southern District of Illinois
U.S. District Court - Eastern District of Michigan
U.S. District Court - Western District of Michigan
U.S. District Court - Eastern District of Wisconsin
U.S. Court of Appeals - 1st Circuit
U.S. Court of Appeals - 6th Circuit
U.S. Court of Appeals - 7th Circuit
U.S. Supreme Court
Representative Clients
First Industrial Realty Trust
Genuine Parts Company
Kmart
Volkswagen Group of America