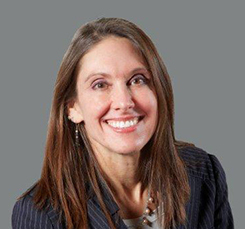 Wendi concentrates her practice on intellectual property law and false advertising, including FDA and FTC regulatory compliance relating to beauty-related products.
As the co-chair of the Firm's Intellectual Property Group, Wendi has extensive experience in all areas of non-utility patent intellectual property. Wendi combines her skill and experience as a trial attorney with her knowledge of copyright, trademark, design patent, and trade secret law to service the Firm's diverse clientele. She actively assists clients in identifying, protecting, valuing, and preserving their intellectual property assets in the United States and internationally. Wendi counsels high profile clients on international trademark filing strategies and clearing new global brands in multiple jurisdictions, registering marks with the relevant trademark offices, and policing marks against infringers or defending a client's use of a mark from threat of attack. She also handles the intellectual property aspects of U.S. and international corporate transactions, including mergers and acquisitions, persona licenses, and trademark licenses. In addition, Wendi has extensive experience in evaluating the risks associated with advertising claims and advertising campaigns to minimize the risk potential litigation and regulatory enforcement actions, and to ensure compliance with the FDA and FTC rules and regulations that apply to beauty products, including cosmetics, sunscreen, and over the counter supplements. She has handled false advertising claims and claims under the California Consumers Legal Remedies Act when they arise. Wendi has litigated a wide variety of intellectual property cases across the country, including trademark infringement, trade dress infringement, unfair competition, counterfeiting, domain name issues, false advertising, right of publicity, copyright infringement, and design patent infringement. She has also handled a number of opposition and cancellation proceedings before the Trademark Trial and Appeal Board. Wendi is well-versed in alternative dispute resolution, both as a litigant handling mediations and arbitrations, and as a member of the Panel of Neutrals for the International Trademark Association and a mediator at ARD Systems in Chicago. She is a frequent speaker at a variety of IP industry seminars and meetings, and a guest lecturer at Northwestern Law School and the University of San Diego Law School.
In 2017, Wendi received an Award of Excellence in Pro Bono Work from the Northern District of Illinois. In 2009, Wendi was honored as a Corporate Woman of Achievement by the National Association of Women Business Owners (NAWBO Chicago Chapter) for her contributions to advancing the success of women in the field of law. She was a member of the Trademark Reporter Committee from 2014-2018 and a member of the International Trademark Association Bulletins Committee from 2018-2019. She is an active member of Trademark, and Copyright committees of the American Intellectual Property Law Association, and is the Vice Chair of the Trademark Litigation Committee.
Wendi is proficient in French.
Representative Experience
Represented various divisions of LVMH Moët Hennessy Louis Vuitton, S.A. in the intellectual property aspects of their acquisitions of Bliss, Fresh, Benefit, Urban Decay, Hard Candy, Donna Karan, Belvedere Vodka, including overseeing the intellectual property-related due diligence activity and negotiating the intellectual property-related provisions of the transaction documents.

Cintas Corp. v. America West Airlines, Inc. Defended America West Airlines in a case alleging misappropriation of trade secrets.

Represented Moёt Hennessy U.S.A., Inc. in a false advertising claim; we settled the lawsuit on favorable but confidential terms.

Louis Vuitton Malletier, S.A. v. Hyundai Motor America. Represented Louis Vuitton in a trademark infringement and dilution action; we obtained summary judgment in Louis Vuitton's favor on its federal dilution claim.

Louis Vuitton Malletier S.A. v. Dooney Bourke. Represented Louis Vuitton Malletier in a successful appeal to U.S. Court of Appeals for the Second Circuit; we obtained a reversal of the District Court's denial of Louis Vuitton Malletier's motion for preliminary injunction in a trademark infringement action.

Hertzberg Ernst & Sons v. Louis Vuitton Malletier S.A. Represented Louis Vuitton in a trademark infringement action; we obtained a consent injunction and the plaintiff's agreement to pay the legal fees our client incurred in the action.

Zodiac Spirits, Inc. v. Moët Hennessy U.S.A. Defended Moët Hennessy in a trademark infringement action.

DeBoulle Diamond & Jewelry Inc. v. De Beers Diamond Jewellers, Ltd. Defended De Beers Diamond Jewellers Ltd. in a trademark infringement action.

GoSmile, Inc. v. CVS Caremark Corporation. Represented GoSmile, Inc. in a trademark and trade dress infringement action.

AA Capital Inc. v. Orecchio. Represented the receiver of a failed investment advisor in all litigation to recover assets and insurance proceeds; we recovered significant assets, including the proceeds of directors and officers liability policies and the advisor's fidelity bond.

Global Property Services, Inc. v. Kmart Corporation. Defended Kmart on a breach of contract claim seeking approximately $20 million; we obtained dismissal of the claimant's damage claim in full.

Smith as Plan Trustee for and on behalf of the Estates of Boston Chicken v. Arthur Andersen LLP; Beck v. Bank of America. Represented Bank of America in third-party actions seeking recovery of more than $1 billion in damages allegedly arising out of national restaurant chain's insolvency; we successfully obtained a summary judgment dismissing the third-party complaints.

Representation of Givenchy – a Louis Vuitton Moët Hennessy luxury brand known for its haute couture clothing, accessories, and perfume – in the negotiation of a relationship deal with prominent actress and singer Ariana Grande as the new face of Givenchy. Ariana will be featured in Givenchy's Fall-Winter 2019 campaign, to be unveiled in July (Announced: May 2019).

Representation of Kendo Holdings, Inc., a cosmetics and beauty incubator company owned by LVMH Moët Hennessy Louis Vuitton and affiliated with Sephora, in strategic transactions related to the formation and launch of the brand Fenty Beauty by Rihanna.

Representation of LVMH Moët Hennessy Louis Vuitton (LVMH) in strategic corporate and intellectual property transactions related to the formation and launch of Fenty by Rihanna, a new luxury fashion maison of ready-to-wear clothing, shoes, and accessories. The historic collaboration will make Rihanna the first woman to create an original LVMH brand, and Fenty the first LVMH-established fashion house in more than 30 years (Announced: May 2019).

Representation of LVMH Luxury Ventures, an investment arm of LVMH Moët Hennessy Louis Vuitton SE, aimed at taking minority stakes in emerging, iconic brands, in its equity investment in Gabriela Hearst LLC. Launched by its founder and namesake, Gabriela Hearst, the company is a New-York based luxury ready-to-wear, leather goods, and lifestyle company.

Representation of Moët Hennessy USA in its acquisition of Woodinville Whiskey Company, LLC.
Activities & Honors
Selected, Illinois Super Lawyers (2013-2023)
Selected, World Trademark Review 1000, The World's Leading Trademark Professionals (2020)
Member, International Trademark Association (INTA) Trademark Mediators Network


Member, Bulletins Committee (2018-2019)
Member, Trademark Reporter Committee (2014-2017)

Recipient, Award of Excellence in Pro Bono Work, Northern District of Illinois (2017)
Recipient, Corporate Woman of Achievement by the National Association of Women Business Owners (NAWBO Chicago Chapter) (2009)
Intellectual Property Mediator, ADR Systems of America, LLC
Member, American Intellectual Property Law Association ("AIPLA")

Chair, Trademark Litigation Committee


Vice Chair, Trademark Litigation Committee (2020-2022 term)
Member, Committee Review of AIPPA-US Study Question on Standing to Litigate (2020)
Liaison with the AIPLA Amicus Committee

Member, Trademark Law Committee

Member, Working Group, Trademark Modernization Act (2020)
Member, Working Group on proposed Right of Publicity Legislation

Member, Copyright Law Committee
Member, Trademark Internet Committee
Member, Topics Subcommittee
Speaking Engagements & Presentations
AIPLA CLE Webinar: Balancing Trademark and Free Speech Rights in Trademark Registration and Enforcement Laws

August 16, 2022

–

Presenter

AIPLA Webinar "Daubert-Proofing Your Survey: Best Practices for Survey Evidence in Trademark Infringement and False Advertising Litigation."

University of San Diego Law School IP Speaker Series "The Cult of Celebrity: Right of Publicity and False Endorsement"

January 24, 2022 & January 25, 2021

–

Guest Lecturer

University of San Diego Law School, Trademark Litigation: "Damage Experts in Trademark Litigation"

March 18, 2021

–

Guest Lecturer

October, 22-30, 2020

–

Coordinator, Trademark Law and Trademark Internet Committees' "Trademark - Brand Launches and the Challenges They Present"

(Virtual)

Northwestern Law School, Cross Border Transactions: "Intellectual Property Issues in Cross Border Transactions"

October 20, 2020

–

Guest Lecturer

May 6, 2020

–

Speaker

(Virtual)

October 31, 2019

–

Speaker

(Chicago, IL)

AIPLA 2019 Annual Meeting

Cross-Border Transactions

2019-2020

–

Guest Lecturer

(Northwestern University Law School)
Articles & Publications
Daubert-Proofing Your Survey: Best Practices for Survey Evidence in Trademark Infringement and False Advertising Litigation

July 14, 2022

–

Co-author

,

AIPLA

January 11, 2021

–

Barack Ferrazzano Client Alert

April 29, 2020

–

Barack Ferrazzano Client Alert

April 24, 2020

–

Barack Ferrazzano Client Alert

April 14, 2020

–

Barack Ferrazzano Client Alert

January 7, 2020

–

Barack Ferrazzano Client Alert

June 7, 2019

–

Barack Ferrazzano Client Alert

March 18, 2019

–

Barack Ferrazzano Client Alert

March 12, 2019

–

Barack Ferrazzano Client Alert

February 25, 2019

–

Barack Ferrazzano Client Alert

March 2, 2017

–

Barack Ferrazzano Client Alert

October 6, 2016

–

Barack Ferrazzano Client Alert

May 13, 2016

–

Barack Ferrazzano Client Alert

April 11, 2016

–

Barack Ferrazzano Client Alert

March 18, 2015

–

Barack Ferrazzano Client Alert
News
January 24, 2023

–

Barack Ferrazzano Press Release

January 29, 2021

–

Barack Ferrazzano Press Release

October 20, 2020

–

Barack Ferrazzano Press Release

January 29, 2020

–

Barack Ferrazzano Press Release

November 2019

–

Barack Ferrazzano Press Release

May 14, 2019

–

Barack Ferrazzano Press Release

May 10, 2019

–

Barack Ferrazzano Press Release

January 25, 2018

–

Barack Ferrazzano Press Release

September 25, 2017

–

Barack Ferrazzano Press Release

July 27, 2017

–

Above the Law

July 13, 2017

–

Barack Ferrazzano Press Release

September 14, 2016

–

Law360

January 14, 2015

–

Super Lawyers

December 2014

–

Lawyer Monthly
Services
Education
The University of Chicago Law School, J.D., 1982
Brown University, B.A., magna cum laude, 1979
Bar & Court Admissions
State of Illinois
U.S. District Court- District of Colorado
U.S. District Court - Northern District of Illinois
U.S. Court of Appeals - 2nd Circuit
U.S. Court of Appeals - 7th Circuit
U.S. Court of Appeals - 8th Circuit
U.S. Court of Appeals - Federal Circuit
U.S. Supreme Court
Representative Clients
Automobili Lamborghini America
First Industrial Realty Trust, Inc.
Fresh
Kmart
Ventas
Volkswagen Group of America
WellSky/Mediware Information Systems