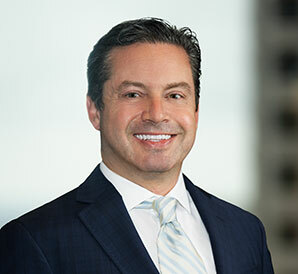 Roger was named Co-Managing Partner of BFKN in January 2022. He is also a partner in the Commercial Litigation, Antitrust & Commercial Competition, Real Estate, Financial Institutions, and Manufacturing, Distribution & Franchising Groups. He is a trial lawyer who litigates on behalf of individuals and corporations. Appearing 100+ times before judges in federal and state courts in jurisdictions across the country, Roger has been engaged by some of the world's most prominent companies to represent them in their most significant legal disputes, including class actions, shareholder disputes, and derivative claims. Roger has a wealth of experience advocating on behalf of manufacturers, REITS, financial institutions, distributors, developers, and the officers and directors that work in these industries.
Real Estate
Roger is a partner in BFKN's Real Estate Group, a cornerstone of the firm since its founding. Roger represents a broad range of real estate clients and is well-versed in the unique controversies involving real estate. He has extensive experience with representing REITs in numerous industries, including the healthcare, industrial, and office sectors. Roger acts as primary counsel to several REITs related to disputes concerning capital markets transactions, creation of joint ventures with institutional investors, acquisitions, dispositions, and leasing in connection with REIT operations. He has also litigated issues related to a broad range of construction and development projects on behalf of various parties, including owners, developers, lenders, and contractors concerning locations throughout North America.
Representative Matters
Ventas Realty, Limited Partnership v. ALC CVMA, LLC
Represented Plaintiff in claim brought in the U.S. District Court for the Northern District of Illinois alleging that the Defendants' receipt of notices of intent to revoke permits from state regulators with respect to its licenses to operate three assisted living facilities in Georgia and Alabama violated a lease agreement with Plaintiff. On June 15, 2012, the matter was resolved with the Defendants' agreement to pay $97 million for the properties at issue, $3 million for a litigation settlement fee and agreement to pay all of Plaintiff's fees and costs associated with the lawsuit.
Retail Properties of America Inc. (NYSE: RPAI)
Represented Plaintiff RPAI against defendant tenant alleging that while tenant leased two 21-story commercial towers, tenant failed to maintain the Property in good condition causing in excess of $20 million in damages.
Commercial Competition
Roger is the former Chair of BFKN's Commercial Competition Group. The Commercial Competition Group at Barack Ferrazzano advises some of the world's largest companies on the implementation and enforceability of commercial covenants implicating competition. Roger represents clients on such matters in a wide range of industries, including medical technology, manufacturing, real estate, and finance. He provides clients with strategic, transactional, and pre-litigation counseling on restrictive covenants, and has mediated, arbitrated, and litigated disputes throughout the United States regarding the enforceability of covenants not to compete, non-solicitation covenants, no-hire covenants, confidentiality covenants, and related matters concerning trade secrets, the Computer Fraud and Abuse Act (18 U.S.C. § 1030), and the Robinson-Patman Act of 1936 (15 U.S.C. § 13).
Representative Matters
Mediware Information Systems, Inc. v. HemaTerra Technologies, LLC
Represented plaintiff healthcare technology company in federal action brought in Middle District of Florida to enforce restrictive covenants against former employees that formed and operated competing enterprise.
National Contract Management
Engaged to manage the enforcement of restrictive covenants in employment agreements across the country following alleged predatory hiring of client's key employees.
Manufacturing, Distribution & Franchising
Roger is the Practice Chair of the Manufacturing, Distribution & Franchising Group. Roger frequently represents manufacturers and distributors across the country and around the world to implement market representation and development initiatives and litigate disputes with dealers, including disputes relating to dealer establishments, relocations and terminations, warranty reimbursement policies, product allocation systems, facility regulations, advertising requirements, dealer transfers, and site control restrictions.
Representative Matters
Steven et al v. Toyota Motor Sales USA, Inc.
Represented defendant manufacturer Toyota where Plaintiff alleged that defendant wrongfully denied him a Lexus franchise in violation of the Automobile Dealers Day in Court Act, 15 U.S.C. Section 1222 causing $20 million in damages. The judge granted defendant's motion to dismiss all claims with prejudice.
National Distributor Realignment
Engaged by machine tool distributor to defend client in federal actions filed in South Carolina, Wisconsin, Texas, and Tennessee relating to wrongful termination of dealer agreements.
Platinum Motors LLC v. Automobili Lamborghini, S.p.A.
Represented manufacturer in termination protest by largest Lamborghini dealer in the world.
Financial Institutions
Roger is a partner in BFKN's Financial Institutions Group which has represented 250+ financial institutions in recent years. Roger has represented financial institutions on matters related to the Employee Retirement Income Security Act of 1974 (ERISA), corporate fiduciary responsibility, directors and officers liability, civil RICO, insurance, conspiracy claims, and general contract disputes.
Representative Matters
Marc S. Kirschner, As Litigation Trustee For The Tribune Litigation Trust v. Fitzsimons, et al.
Represented ESOP trustee in multi-district litigation in SDNY. Plaintiff alleged defendant participated in the Tribune Company's breach of its fiduciary duties resulting in excess of $3 billion in damages. Court dismissed all claims against defendant with prejudice. 2019 WL 294807 (S.D.N.Y. Jan. 23, 2019)
Dalton v. Old Second Bancorp, Inc.
Represented Old Second Bancorp, Inc. and its 401(k) Plan fiduciaries against claims that they breached their respective fiduciary duties under ERISA by imprudently retaining the common stock of the bank as an investment option in the 401(k) Plan. Resolved case with no payment from clients.
Wilson v. Krause, et al.
Represented defendants in lawsuit brought in the Iowa District Court for Polk County. Plaintiff alleged that the defendants breached their fiduciary duties to the company resulting in damages in excess of $40 million. The case was dismissed against all defendants on all counts.
Activities & Honors
Selected, Local Litigation Star, Benchmark Litigation (2019-2022)
Selected, Leading Lawyers Network (2021-2023)
Selected, Emerging Lawyers Network (2015-2020)
Selected, Illinois Rising Stars, Super Lawyers (2011, 2014-2018)
Speaking Engagements & Presentations
July 22, 2021

–

(Webinar)

September 18-20, 2019

–

Sponsor

(Sacramento, CA)
Other Events & Speaking Engagements
Guest lecturer on Uniform Commercial Code and contract drafting at the University of Iowa College of Law, 2005
Articles & Publications
March 9, 2021

–

Barack Ferrazzano Client Alert

October 14, 2020

–

Barack Ferrazzano Client Alert

September 15, 2020

–

Barack Ferrazzano Client Alert

September 8, 2020

–

Barack Ferrazzano Client Alert

April 15, 2020

–

Barack Ferrazzano Client Alert

April 9, 2020

–

Barack Ferrazzano Client Alert

April 3, 2020

–

Barack Ferrazzano Client Alert

March 27, 2020

–

Barack Ferrazzano Client Alert

March 18, 2020

–

Barack Ferrazzano Client Alert

October 24, 2019

–

Barack Ferrazzano Client Alert

September 24, 2019

–

Barack Ferrazzano Client Alert

February 25, 2019

–

Barack Ferrazzano Client Alert

October 11, 2018

–

Barack Ferrazzano Client Alert

September 5, 2018

–

Barack Ferrazzano Client Alert

March 2, 2017

–

Barack Ferrazzano Client Alert

January 4, 2017

–

Barack Ferrazzano Client Alert

December 20, 2016

–

Barack Ferrazzano Client Alert

December 15, 2016

–

Barack Ferrazzano Client Alert

February 11, 2016

–

Barack Ferrazzano Client Alert

April 22, 2015

–

Barack Ferrazzano Client Alert
News
January 3, 2023

–

Barack Ferrazzano Press Release

September 29, 2022

–

Barack Ferrazzano Press Release

July 18, 2022

–

Barack Ferrazzano Press Release

April 13, 2022

–

Barack Ferrazzano Press Release

March 29, 2022

–

Barack Ferrazzano Press Release

January 19, 2022

–

Barack Ferrazzano Press Release

December 10, 2021

–

Barack Ferrazzano Press Release

September 30, 2021

–

Barack Ferrazzano Press Release

September 7, 2021

–

Barack Ferrazzano Press Release

July 8, 2021

–

Barack Ferrazzano Press Release

February 3, 2021

–

Barack Ferrazzano Press Release

October 1, 2020

–

Barack Ferrazzano Press Release

September 24, 2019

–

Barack Ferrazzano Press Release

February 6, 2019

–

Barack Ferrazzano Press Release

January 2019

–

Barack Ferrazzano Press Release

January 23, 2019

–

Law360

October 22, 2018

–

Barack Ferrazzano Press Release

April 11, 2018

–

Barack Ferrazzano Press Release

March 14, 2018

–

Barack Ferrazzano Press Release

January 25, 2018

–

Barack Ferrazzano Press Release

December 18, 2017

–

Barack Ferrazzano Press Release

September 25, 2017

–

Barack Ferrazzano Press Release

January 14, 2015

–

Super Lawyers
Services
Education
University of Michigan School of Law, J.D., 2003
University of Southern California, B.A., magna cum laude, 2000
Bar & Court Admissions
State of Illinois
U.S. District Court - Northern District of Illinois
U.S. District Court - Southern District of Illinois