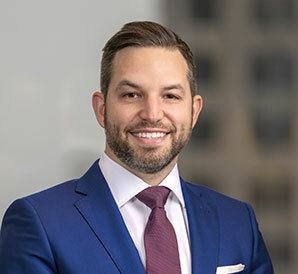 Nicholas
H.
Callahan
Partner
Nick is a first-chair trial lawyer who has tried 30+ jury trials, bench trials, and arbitrations. He splits his time between the Firm's offices in Minneapolis and Chicago, and regularly appears in courts across the country.
He helps clients resolve disputes regarding finance, accounting issues, securities, commercial real estate, corporate governance and shareholder/partnership rights, mergers and acquisitions, contracts, trade secrets, and bankruptcy claims. Nick's trial experience and litigation style make him particularly well-suited to represent plaintiffs and in recent years he has obtained recoveries for clients in excess of $125 million. He also represents defendants and in the past several years has defeated by early motion practice numerous class actions seeking to enjoin mergers involving more than $1 billion in aggregate transaction value.
Nick's clients range from publicly-traded companies and large investment funds to individuals, and he represents them in cases ranging from bet-the-company matters to smaller disputes. Many of those he advises are in the financial industry, including banks, private equity funds and their portfolio companies, hedge funds, mortgage companies, and investment advisers.
For jury trials first-chaired by Nick, many times jurors have ranked Nick the highest rating of "excellent" in all categories on anonymous juror questionnaire forms supplied by the court, and wrote comments like the following:
"He was really good"
"Was prepared, passionate, energetic"
"Solid closing argument; pulled together well"
Nick has served on the faculty of the National Institute for Trial Advocacy (NITA), which is the country's leading organization for trial skills training. Through NITA and other legal education organizations, he has presented to many associates and partners at the country's largest corporate law firms about trial techniques, picking juries, and examining expert witnesses.
Nick has been recognized by Super Lawyers as a "Rising Star" for each of the last five years and also selected for Benchmark's "40 & Under Hot List." In its 2020 rankings, Benchmark recognized him as a "Future Star" and wrote the following:
"One peer praises litigator and future star Nicholas Callahan as 'one of the best trial lawyers I've come across.' A client echoes this sentiment, asserting, 'Nick is creative, responsive, professional, and efficient. He provides high quality work and works to understand the client's business, which helps him serve as a true outside partner.'"
Nick is married with four kids and an energetic labrador. The chaos of his home makes a trial courtroom feel relaxed by comparison. When not working, Nick is outdoors with his kids and loves travel, wakeboarding off his boat in the summer, skiing and snowboarding in the winter, attending music shows, scuba diving, and all adventures. He has provided more than 1,000 hours of pro bono legal services in the last 10 years.
Representative Matters
Trade Secret and Competition Claims
Defended and prosecuted federal Defend Trade Secrets Act, state trade secret, unfair competition/non-compete, and/or breach of fiduciary duty claims in California, Florida, Illinois, Minnesota, Wisconsin, and several other states.
Part of team that prosecuted state law trade secret claims in Florida federal court against former employee/owner of medical company that client had purchased, who later started a competing business. Resolved on confidential terms before trial.
Shareholder & Partnership Disputes
Represented owners, investors, joint venture partners, or controlling shareholders in more than 50 shareholder, LLC, and partnership disputes.
Engaged by lawyers and law firms in law firm partnership disputes, all of which were resolved on confidential and favorable terms.
Advised special committees of boards of directors in various matters, including internal investigations and responding to offers by interested directors and/or controlling shareholders.
Advised majority ownership group of major professional sports team in dispute with minority owner, successfully resolved with confidential removal of minority owner.
Representation of group of investors in private equity fund organized as an LLC who challenged wind up of LLC and distributions by the managing member. Resolved with confidential settlement by which clients received 50x greater amount than original final distribution.
Representation of a minority shareholder of real estate company who sued majority shareholder for breach of fiduciary duty. Majority shareholder agreed to settle dispute by selling their ownership interest to Nick's client for only half of the market value of those shares.
Representation of a group of investors who had sold shares in company to majority owner. Later found out owner had misrepresented the value of company. After clients hired Nick, the majority owner agreed to settle dispute by doubling the price previously paid for shares.
Representation of a manufacturing company and its officers who were sued by long-time minority shareholder for alleged unlawful termination and alleged shareholder oppression. Court granted summary judgment in favor of clients and no payment made to plaintiff.
Transaction-Related Litigation
Representation of numerous publicly-traded companies and/or their boards of directors in class action lawsuits filed against to enjoin publicly-announced mergers. No merger ever enjoined. All dismissed with no payment to the plaintiff, except for one in which a deminimis amount paid to achieve faster dismissal.
Representation of the subsidiary of a Fortune 50 company in arbitration demand against the sellers of a company it purchased, seeking indemnification for a post-closing settlement with regulators relating to the acquired company's billings to the government and also seeking partial repayment of an earn-out. Arbitrator awarded to client some of the damages it sought and prevailing party attorneys' fees.
Advised a company that had purchased a large business in response to the seller's claim the client had suppressed the earn-out due under the purchase agreement by improper accounting and failure to use best efforts during the earn-out period.
Representation and/or counsel to companies relating to claims for breach of representations and warranties in purchase or merger agreements.
Representation of a real estate investment trust sued by the potential buyer of an industrial property for alleged breach of a letter of intent for a deal that was never consummated. Motion to dismiss granted in favor of client on two counts. Court later granted summary judgment in favor of client on remaining two counts. Plaintiff never appealed.
Representation of REITs in a variety of cases regarding: deals that fell apart where substantial escrow deposits are in dispute, where buyers are making claims for indemnification or breach of reps, and lease renewal provisions in dispute.
Private Equity Firm-Related Litigation
Representation of a SEC-appointed receiver of a registered investment adviser that managed several private equity funds, who was appointed after the embezzlement by a principal of the adviser of over $50 million of client assets, in various lawsuits and claims pursued by the receiver. Ultimately obtained judgments in amount exceeding $50 million.
Representation of private equity company portfolio company in lawsuit regarding rights as a minority shareholder and whether a right of first of first refusal had been triggered. Favorably settled with payment to the client by the plaintiff that filed the case.
Representation of group of investors in private equity fund who challenged wind up of fund and distributions by the general partner. Resolved with confidential settlement by which clients received 50x the final distribution originally provided to them.
Representation of a real estate private equity firm in a lawsuit filed against it by an investor regarding the accounting and allocation of investment losses. After a week-long trial, the jury awarded the plaintiff approximately 1/4 of the total amount lost on his investments in several funds managed by the private equity firm, which was only a fraction of his demand. On appeal, the state appellate court reversed the jury's award and granted judgment for private equity firm client on all counts and awarded client its attorneys' fees.
Advised European private equity firm in various U.S. law matters regarding its various portfolio companies.
Representation of the plaintiff in an accounting malpractice lawsuit filed against an accounting firm in connection with the accounting firm's audit of several private equity funds. Favorably settled on the eve of the arbitration hearing.
Representation of a private equity firm sponsor and its officers who were sued for tens of millions of dollars under a variety of contract and tort theories by a hedge fund and foreign bank that entered into a joint venture with an affiliate of the P.E. sponsor, after many of the asset based loans made by the joint venture defaulted during the 2008 economic crash.
Bank Litigation
Represented hedge fund in claim against Goldman Sachs seeking the court to order Goldman Sachs to distribute more than $200 million to bondholders. Settled day before trial after the court denied Goldman Sachs' motion for summary judgment.
Representation of a defendant bank in a putative class action filed in state court. The putative plaintiff class had invested approximately $10 million in a Ponzi scheme through self-directed IRAs for which the bank had acted as custodian. Motion to dismiss granted by trial court and affirmed on appeal.
Representation of an investment firm that specializes in purchases of notes involving distressed borrowers. The dispute related to the investment firm's right to proceeds from a multimillion dollar recovery in a separate lawsuit filed by a borrower entity that it had foreclosed on. Argued a motion for summary judgment filed on behalf of client (court granted) and then petitioned an out-of-state court to remove the principal of the borrower entity and replace them with a receiver proposed by the client (court granted).
Representation of banks in a number of lawsuits concerning personal guarantees by real estate developers for commercial real estate loans in amounts as high as eight figures.
Representation of lenders seeking replevin of borrowers' collateral.
Representation of outside directors of a failed bank regarding potential civil and criminal claims against them and in interviews conducted by the FBI, FDIC, and U.S. Department of Justice. Ultimately no charges or claims filed.
Representation of a defendant bank in a lawsuit relating to another bank's breach of its presentment warranty under the UCC; argued a motion to dismiss the complaint against his client, which the court granted.
Representation of bank in malpractice arbitration against Big 4 accounting firm regarding its valuation services. Resolved with substantial payment to bank client.
Real Estate Litigation
Representation of REITs and real estate investment companies in a variety of cases regarding deals that fell apart and where substantial escrow deposits are in dispute.
Representation of REITs where buyers are making claims for indemnification or breach of reps or warranties.
Representation of hedge fund seeking modification of waterfall affecting distribution of hundreds of millions of dollars in CMBS transaction.
Representation of REITs in several disputes regarding lease renewal provisions where tens of millions of dollars are at issue.
Representation of REITs against securities fraud lawsuit by group of medical industry tenants who alleged they were defrauded by false promise of opportunity to purchase ownership interest in medical office building once certain milestones were achieved. Plaintiffs voluntarily dismissed lawsuit after being served with discovery focused on their personal finances and whether they would qualify as accredited investors, and depositions of certain plaintiffs.
Bankruptcy-Related Litigation
Representation of both plaintiffs and defendants in dozens of bankruptcy avoidance claims (i.e., preference and fraudulent transfer claims).
On behalf of a Chapter 7 bankruptcy trustee, negotiated dozens of settlements of preference claims and fraudulent transfer claims against former insiders of the debtor company and its subsidiaries.
Representation of defendants in lawsuits filed in state court asserting contract, fraud and state law-based avoidance claims.
Representation of the Chapter 7 bankruptcy trustee of a private holding company and its multiple subsidiaries that had generated more than $1 billion in annual revenue before bankruptcy in multiple avoidance actions seeking tens of millions of dollars. The primary disputed issue in the cases was the dates of insolvency of the various debtors. In a consolidated hearing involving the major defendants, both sides moved to exclude the other's experts. Among the various firms representing the Chapter 7 trustee, Nick was chosen to serve as the primary brief writer on these motions and handle all oral arguments. The federal trial court agreed with Nick and excluded most of the valuation and solvency opinions offered by the defendants' expert, and denied in full the motion filed by the defendants to exclude the testimony of the Chapter 7 trustee's expert. Cases settled shortly thereafter.
Other Representative Experience
Representation of plaintiffs and defendants in various industries in litigation involving alleged breaches of contracts.
Representation of trustees of trusts and personal representatives of estates in litigation with beneficiaries.
Representation of both plaintiffs and defendants in trade secret and non-compete lawsuits.
Representation of manufacturers sued for alleged violations of the Minnesota Termination of Sales Representatives Act.
Activities & Honors
Selected, The Best Lawyers in America©

(2023)

Selected, Future Star, Benchmark Litigation (2020-2022)

Selected, 40 & Under Hot List (2018-2022)

Selected, Minnesota Rising Stars, Super Lawyers (2015-2023)
Member, American Bar Association
Member, Chicago Bar Association
Member, Federal Bar Association
Member, Hennepin County Bar Association
Member, Illinois State Bar Association
Member, Minnesota State Bar Association
Member, Jessup International Law Moot Court Team
Intern, Federal Magistrate Judge Sidney Schenkier, Northern District of Illinois
Phi Beta Kappa
Charitable & Community Organizations
Volunteer Attorney, Neighborhood Justice Center
Volunteer Attorney, Volunteer Lawyers Network
Articles & Publications
March 9, 2021

–

Barack Ferrazzano Client Alert

January 15, 2021

–

Barack Ferrazzano Client Alert

October 14, 2020

–

Barack Ferrazzano Client Alert

September 15, 2020

–

Barack Ferrazzano Client Alert

September 10, 2020

–

Barack Ferrazzano Client Alert

September 8, 2020

–

Barack Ferrazzano Client Alert

August 19, 2020

–

Barack Ferrazzano Client Alert

August 4, 2020

–

Barack Ferrazzano Client Alert

May 12, 2020

–

Barack Ferrazzano Client Alert

May 11, 2020

–

Barack Ferrazzano Client Alert

May 1, 2020

–

Barack Ferrazzano Client Alert

April 30, 2020

–

Barack Ferrazzano Client Alert

April 17, 2020

–

Barack Ferrazzano Client Alert

April 14, 2020

–

Barack Ferrazzano Client Alert

April 9, 2020

–

Barack Ferrazzano Client Alert

April 8, 2020

–

Barack Ferrazzano Client Alert

April 6, 2020

–

Barack Ferrazzano Client Alert

April 3, 2020

–

Barack Ferrazzano Client Alert

March 29, 2020

–

Barack Ferrazzano Client Alert

March 24, 2020

–

Barack Ferrazzano Client Alert

March 20, 2020

–

Barack Ferrazzano Client Alert

March 19, 2020

–

Barack Ferrazzano Client Alert

March 18, 2020

–

Barack Ferrazzano Client Alert

June 4, 2019

–

Barack Ferrazzano Client Alert

October 11, 2018

–

Barack Ferrazzano Client Alert

September 5, 2018

–

Barack Ferrazzano Client Alert

January 4, 2017

–

Barack Ferrazzano Client Alert

December 20, 2016

–

Barack Ferrazzano Client Alert

December 15, 2016

–

Barack Ferrazzano Client Alert

February 11, 2016

–

Barack Ferrazzano Client Alert

April 22, 2015

–

Barack Ferrazzano Client Alert

March 18, 2015

–

Barack Ferrazzano Client Alert
News
January 24, 2023

–

Barack Ferrazzano Press Release

November 3, 2022

–

Barack Ferrazzano Press Release

September 29, 2022

–

Barack Ferrazzano Press Release

August 18, 2022

–

Barack Ferrazzano Press Release

August 3, 2022

–

Barack Ferrazzano Press Release

October 5, 2021

–

Barack Ferrazzano Press Release

September 30, 2021

–

Barack Ferrazzano Press Release

July 31, 2021

–

Barack Ferrazzano Press Release

January 7, 2021

–

Barack Ferrazzano Press Release

December 22, 2020

–

Barack Ferrazzano Press Release

December 14, 2020

–

Barack Ferrazzano Press Release

October 1, 2020

–

Barack Ferrazzano Press Release

July 31, 2020

–

Barack Ferrazzano Press Release

July 22, 2020

–

Barack Ferrazzano Press Release

January 15, 2020

–

Barack Ferrazzano Press Release

September 24, 2019

–

Barack Ferrazzano Press Release

July 2019

–

Barack Ferrazzano Press Release

July 5, 2019

–

Barack Ferrazzano Press Release

January 15, 2019

–

Barack Ferrazzano Press Release

September 4, 2018

–

Barack Ferrazzano Press Release

July 2, 2018

–

Barack Ferrazzano Press Release
Services
Education
Northwestern University Pritzker School of Law, J.D., cum laude, 2009

University of Wisconsin-Madison, B.S., with distinction, 2005
Bar & Court Admissions
State of Illinois
State of Minnesota
U.S. District Court – District of Minnesota
U.S. District Court – Western District of Wisconsin
U.S. Tax Court