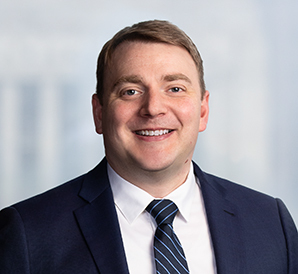 Justin
C.
Steffen
Partner
Justin is a partner in the Firm's Financial Institutions Group. His practice focuses on providing his clients with strategies and solutions for minimizing risk in the digital economy.
FinTech
Banks, lenders, payments companies, private equity and venture capital firms, and brick and mortar clients seek out Justin for his deep understanding of FinTech and emerging technologies. When clients' issues relate to financial privacy, cryptocurrency, blockchain, machine learning, artificial intelligence, robotic process automation, data analytics, or other advances, Justin is uniquely qualified to help them navigate the legal and regulatory obstacles to innovation.
A National Law Journal Cryptocurrency, Blockchain, and FinTech Trailblazer and cited authority on digital currency, lending, and FinTech issues, Justin is a leader and innovator. His notable accomplishments include:
Founding and chairing the nation's first FinTech-focused bar association committee;
Creating a Financial and Emerging Technologies Course that Justin teaches at Northwestern Law School;
Organizing the first legal-themed digital currencies conference, the Block (Legal) Tech Conference;
Founding the FinTech practice at two AmLaw200 law firms;
Being the only attorney recognized as an emerging leader by the Bank Administration Institute;
Drafting the first law review article focused on financial privacy and government-backed or central bank digital currencies; and
Being the first attorney to argue the admissibility of distributed ledger entries before two federal judges.
Justin is also an adjunct professor at Northwestern Pritzker School of Law where he teaches Financial and Emerging Technologies and the Law. Regardless of the legal issue or the technology involved, Justin prides himself on being his clients go-to attorney for the future of financial services.
Litigation & Disputes
In addition to his deep knowledge of technology and financial services, Justin is an experienced litigator who has led dozens of matters, ranging from consumer class actions to complex contract and commercial disputes. In the last few years, for example, Justin has first- or second-chaired myriad litigation matters with millions or billions of dollars at stake. Recently, moreover, Justin secured a $15 million summary judgment award on behalf of a foreign manufacturer in federal court.
Representative Experience
Banking
Guide over two dozen bank clients (with assets ranging from $200m to over $10 billion) through partnerships with FinTech companies and in connection with providing banking-as-a-service products.
Structure and negotiate partnerships and related agreements between banks and digital wallet providers, cryptocurrency sub-custodians, lenders, blockchain and cryptocurrency infrastructure companies, payments companies, BaaS middleware, software, and marketplace companies, robo-advising and wealth management companies, credit scoring businesses, and other technology companies.
Negotiate and draft, at least annually, dozens of software licenses, program management agreements, FinTech partner agreements, and related commercial contracts.
Prepare treasury management agreements, payment processing agreements, terms of service and terms of use, wire agreements, ACH agreements, DDA and other account agreements, compliance policies and procedures, business plans, regulatory correspondence, breach notices, and related documents for community bank clients.
Fintech
Blockchain & Cryptocurrency
Counsel cryptocurrency companies on compliance with state money transmitter laws, FinCEN MSB requirements, lending laws, capital raising laws, securities and commodities registration requirements, and with anti-money laundering and sanctions laws and regulations.
Represented ransomware victim support services client in connection with IRS, FinCEN, and OFAC matters stemming from ransomware payments.
Advised Fortune 500 FinTech company about the litigation, tax, and technical risks associated with offering customers a hosted cryptocurrency wallet.
Lending
Advised online lender about litigation risk stemming from its relationship with bank partners and potential "true lender" issues
Advised online lender about electronic signature audits and internal policies
Prepared AML/KYC policies for online lenders
Payments
Serve as sole outside counsel to payments business for Fortune 500 client, including advising on bank sponsor agreements, payment network compliance, general regulatory compliance, payment processing and other commercial agreements, and strategic advice about product launches, customer disclosures, and FBO account structure.
Advised large private equity client in connection with approximately $400 million acquisition of payment facilitator.
Counseled Fortune 50 company about the impact of PSD2 on design of POS terminals
Other Tech
Represent software vendor in contract dispute with large municipal government.
Advise PropTech unicorn about real estate licensing laws and other relevant regulations.
Counsel software and technology staffing firm on employment, contracting, and vendor management issues.
Negotiate software agreements with six financial institutions on behalf of FinTech software company
Litigation Matters & Investigations
Trial counsel in week-long, eight-figure contract dispute in New York Supreme Court
Trial counsel in three-week, $1 billion RMBS trial
Lead counsel in defense of multiple, large environmental exposure
Activities & Honors
Cryptocurrency, Blockchain, and FinTech Trailblazer, National Law Journal (2018)
Emerging Leader, BAI (2018)
Fellow, American Bar Foundation (2018-present)
Pro Bono Award, Northern District of Illinois (2017)
Speaking Engagements & Presentations
November 15, 2022

–

Speakers

(Madison, Wisconsin)

October 11, 2022

–

(Webinar)

October 5, 2021

–

Speaker

July 21, 2021

–

Speaker (Virtual)

June 23, 2021

–

Speaker

(Webinar)

The Price of Privacy

March 3, 2021

–

Keynote

(Northwestern Journal of International Business and Law Symposium)

DePhi: Cryptocurrency for Social Good

November 18, 2020

–

Closing Speaker

Between a Technological Scylla and Charybdis: Navigating Legal Risks Posed by Innovative Technologies

July 15, 2020

–

Presentation to Corporate Legal Department

Looking back to see ahead: Preparing for a Post-Pandemic Economy (Litigation Finance)

Looking back to see ahead: Preparing for a Post-Pandemic Economy (Lending)

April 21, 2020

–

(Webinar)

The Illinois Artificial Intelligence Video Interview Act

November 1, 2019

–

(Chicago Bar Association)

Block (Legal) Tech 2.0

October 24, 2019

–

Closing Speaker

ABA Annual Meeting, Section of Litigation, Crypto Mock Trial Demonstration

Don't Get Burned by Innovation

May 6, 2019

–

(Ice Miller CLE)

The AI- Demystifying Data Science and Artificial Intelligence

April 24, 2019

–

Moderator

(Chicago Bar Association)

International Appeal of Blockchain and the Future of Cryptocurrency Investments

April 18, 2019

–

Panelist

(Chicago Bar Association)

Cryptocurrency: ICOs, SEC, and Other Issues

April 18, 2019

–

(Chicago Bar Association)

Crypto with Caution

April 18, 2019

–

(The DuPage Foundation)

Biometrics, Blockchains, and Big Data, Oh My

April 10, 2019

–

(Washington University School of Law)

Minimizing Risk in Crypto Litigation

April 2, 2019

–

(Athena Bitcoin & Blockchain Chicago)

Financial Technology and Innovation: The CFPB & The Future of FinTech

March 22, 2019

–

Moderator

(Loyola Law School's Consumer Law Review Symposium)

The BIPA Rollercoaster

March 15, 2019

–

(FinTech and Chicago Bar Association)

The Illinois FinTech Regulatory Sandbox

March 7, 2019

–

(Chicago Bar Association)

Another Block in the (Supply) Chain

March 1, 2019

–

(National Precast Association's Annual Conference)

Blockchain Applications and Implications for the Legal and Accounting Industries

December 20, 2018

–

(Half Moon Education Seminar)

Truth without Proof?: The Process of Getting Distributed Ledger (Blockchain) Entries Into Evidence

Blockchain Regulation and Criminal Law

November 9, 2018

–

Panelist

(John Marshall Law School Symposium)

Legal Considerations for Businesses Considering Cryptocurrency or Blockchain Technologies

October 16, 2018

–

(The FinTech Symposium)

Food & Beverage Litigation Conference: A Look at Hospitality, Liquor and Food Liability

October 16, 2018

–

Panelist

(Perrin Conferences)

The Changing Landscape of the Customer Experience: The Digital Transformation of Lending

October 9, 2018

–

Moderator

(Lend360)

Focus on FinTech

September 26, 2018

–

(FinTex and Chicago Bar Association)

Technological Traps for the Unwary: The Intersection of Blockchain, Smart Contracts and Legal Ethics

June 2018

–

(Chicago Bar Association)

Risky (Legal) Business: Avoiding Common Mistakes by Entrepreneurs

May 2018

–

(1871 Chicago)

Brave New World: Technologies Lawyers Need to Know

May 2018

–

Panelist

(Chicago Bar Association)

The Masters Series for Legal Professionals

May 2018

–

Panelist

(The Master's Conference)
Articles & Publications
October 19, 2022

–

Author

,

BankDirector.com

September 19, 2022

–

Barack Ferrazzano Client Alert

March 7, 2022

–

Barack Ferrazzano Press Release

January 11, 2022

–

Barack Ferrazzano Press Release

December 21, 2021

–

American Association of Bank Directors

November 30, 2021

–

Barack Ferrazzano Client Alert

October 13, 2021

–

Bank Director Magazine, 4th Quarter 2021

September 21, 2021

–

Barack Ferrazzano Client Alert

August 25, 2021

–

Illinois Bankers Association

August 5, 2021

–

Barack Ferrazzano Client Alert

June 29, 2021

–

Barack Ferrazzano Client Alert

June 16, 2021

–

Barack Ferrazzano Client Alert

Deconstructing the Digital Dollar: Protecting Financial Privacy from Surveillance Capital

Spring 2021

–

International Business Law Journal

Debtors Should Seek Privacy Oversight Before Data Sales

Hiring ex Machina: Preparing for Illinois's Artificial Intelligence Video Interview Act

September 23, 2019

–

Law.com

Understanding Software Developer Liability and Mitigating Legal Risk

September 2019

–

Bloomberg Law

The Curious Case of Crypto Valuations

Cryptocurrency and Your Retirement Plan: What's in Your (Crypto) Wallet?

Summer 2019

–

Journal of Pension Benefits

3 Lessons From A Crypto Mock Trial

February 22, 2019

–

Law360

PSD2 Prep: Strong Customer Authentication and the Ramification of US Merchants Doing Business in Europe

November 28, 2018

–

Corporate Counsel

Omnia mutantur, nihil interit: How to Handle Crypto-Assets as a Trustee

Fall 2018

–

American Bankruptcy Trustee Journal

From Crypto-Anarchists to Big Business: Addressing Anti-Competition Concerns in the Blockchain Sphere

Cryptocurrency Security-Status Questions Clarified by SEC

August 30, 2018

–

Daily Journal

How Blockchain Use Can Block Competition

Will Insurance Cover Cryptocurrency Claims?

July 2018

–

Business Insurance

SEC Take on Tokens Clarifies Some Crypto Community Quandaries

July 2018

–

Jenner & Block's Consumer Law Blog

SDNY Rules CFPB Unconstitutional, Creating Split of Authority and Raising New Questions

July 2018

–

Jenner & Block Consumer Law Round-Up

Amid Increased Enforcement Activity, SEC Reportedly Issues Cryptocurrency Subpoenas

March 2018

–

Jenner & Block Financial Services Blog

Navigating Cryptocurrency Regulation: Common Sense in an Uncommon Industry

January 2018

–

FinTech Weekly

Decrypting the Ethical Implications of Blockchain Technology

November 2017

–

Legaltech News

Insurance and Regulatory Hurdles to Blockchain Adoption

Insurance Issues

2012

–

IICLE Business and Commercial Litigation Handbook

The Future of Deferred-Prosecution Agreements: Congress Tries a Little Oversight

May 9, 2008

–

BNA White-Collar Crime Report, Vol. 3. No. 10
News
May 25, 2021

–

Mentioned

,

Chicago Daily Law Bulletin

May 10, 2021

–

Barack Ferrazzano Press Release
Services
Education
Washington University School of Law, J.D., magna cum laude, 2007
University of Illinois at Urbana-Champaign, B.A., History, summa cum laude, 2004
Bar & Court Admissions
State of Illinois
State of Ohio
State of Indiana
State of California
State of New York
State of Pennsylvania
U.S. District Court - Northern District of Illinois
U.S. District Court - Central District of Illinois
U.S. District Court - District of Connecticut