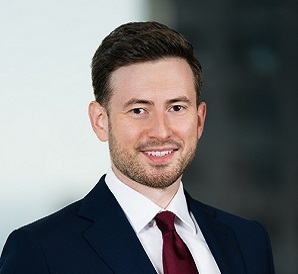 Joshua
W.
Mahoney
Partner
Josh is an experienced trial lawyer and advocate who is frequently called on to deliver critical arguments, examine key witnesses, and guide strategy in and out of the courtroom. He has championed clients' rights in state and federal courts, arbitrations, and mediations across the country. Much of his time is devoted to helping clients avoid litigation and find creative, cost-efficient ways to maximize leverage, minimize risks, and resolve disputes.
Josh has an established record of success for numerous sophisticated and high-profile clients. In the last few years alone, he has played key roles in:
Defeating contract-related claims for hundreds of millions of dollars in an international arbitration with a week-long evidentiary hearing;
Defeating injunctive claims in courts across the country against a distributor and seller of high-tech machines in "bet-the-company" litigation;
Arguing before the Firth Circuit Court of Appeals in defense of a complete victory he secured over multi-million-dollar claims in the trial court;
Securing a favorable settlement to resolve multi-million-dollar claims of a former C-suite executive after a week-long evidentiary hearing;
Disposing of multiple consumer class actions brought or threatened against various retail and luxury-goods clients;
Defeating or successfully settling various trademark, copyright, and other IP claims;
Counseling numerous clients on litigation-related issues in luxury-retail leases and high-end construction contracts; and
Counseling clients on numerous non-compete and fiduciary-duty matters.
Josh has also devoted hundreds of hours to those in need and the greater legal community. His pro bono clients have included mentally ill patients in a large class action suit, a wrongfully convicted inmate seeking post-trial DNA testing, and a DREAMer seeking to stay in the US. In addition, he recently served as the Chair of the Chicago Bar Association's Federal Civil Practice Committee.
He happily devotes his free time to his wife and daughters and their growing menagerie of pets.
Representative Experience
Barack Ferrazzano successfully prevented long-time client Louis Vuitton Malletier SA from being forced to litigate trademark issues with the manufacturer of a novelty toy purse called "Pooey Puitton" in the United States. U.S. District Judge John F. Walter granted Louis Vuitton's motion to dismiss the declaratory action, agreeing with Louis Vuitton that trademark issues raised under foreign laws do not create a dispute under U.S. trademark laws.

Representation of Sephora in negotiations with Kohl's on a long-term strategic partnership to create a new era of elevated Beauty at Kohl's, marrying Kohl's expansive customer reach and omnichannel convenience with Sephora's prestige service, product selection and exceptional beauty experience.
Activities & Honors
Selected, Illinois Super Lawyers (2022-2023)
Selected, The Best Lawyers in America© (2021-2023)
Selected, Emerging Lawyers Network (2017-2023)
Selected, 40 & Under Hot List, Benchmark Litigation (2018-2022)
Former Chair, Chicago Bar Association Federal Civil Practice Committee
Public Interest Law Initiative (PILI) Fellow, Civitas ChildLaw Center (2008)
Speaking Engagements & Presentations
May 21, 2019

–

Moderator

(Chicago, IL)

November 14, 2018

–

Co-Sponsor

(New York, NY)
Articles & Publications
April 15, 2020

–

Barack Ferrazzano Client Alert

March 27, 2020

–

Barack Ferrazzano Client Alert

October 28, 2019

–

Barack Ferrazzano Client Alert

February 25, 2019

–

Barack Ferrazzano Client Alert

December 11, 2018

–

Barack Ferrazzano Client Alert

April 17, 2018

–

Barack Ferrazzano Client Alert
News
January 24, 2023

–

Barack Ferrazzano Press Release

November 3, 2022

–

Barack Ferrazzano Press Release

September 29, 2022

–

Barack Ferrazzano Press Release

August 18, 2022

–

Barack Ferrazzano Press Release

August 3, 2022

–

Barack Ferrazzano Press Release

November 4, 2021

–

Barack Ferrazzano Press Release

September 30, 2021

–

Barack Ferrazzano Press Release

August 19, 2021

–

Barack Ferrazzano Press Release

July 31, 2021

–

Barack Ferrazzano Press Release

December 1, 2020

–

Barack Ferrazzano Press Release

November 6, 2020

–

Barack Ferrazzano Press Release

July 31, 2020

–

Barack Ferrazzano Press Release

May 20, 2020

–

Barack Ferrazzano Press Release

July 2019

–

Barack Ferrazzano Press Release

May 14, 2019

–

Barack Ferrazzano Press Release

January 2019

–

Barack Ferrazzano Press Release

July 2, 2018

–

Barack Ferrazzano Press Release

December 18, 2017

–

Barack Ferrazzano Press Release
Services
Education
Cornell Law School, J.D., cum laude, 2008
Carleton College, B.A. in Political Science, magna cum laude, 2005
Bar & Court Admissions
State of Illinois
U.S. District Court - Northern District of Illinois
U.S. District Court - Eastern District of Michigan