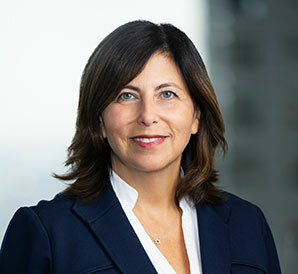 Sarah
M.
Bernstein
Partner
Sarah leads the transactional practice of the Firm's Motor Vehicle Group. She helps motor vehicle manufacturers manage the distribution network for their products by assisting them with the appointment of new dealers, drafting and implementing new dealer agreements and operating standards, navigating the sale of a dealership and the manufacturer's right of first refusal and terminating a dealership, and documenting the manufacturer's repurchase obligations. She also advises clients in establishing key policies and programs impacting product distribution such as brand standards and incentive programs.
Sarah's practice also encompasses the areas of business planning, general corporate matters and secured lending. She has extensive experience in structuring and documenting complex business arrangements for her clients, such as parts, extended warranty and service contract distribution arrangements, product licenses and agreements relating to the motor vehicle manufacturer-dealership relationship. She also represents lenders in connection with secured transactions, with a focus on credit facilities secured by partnership and other investment interests, and experience in motor vehicle consumer financing.
Sarah is an active member of numerous Firm committees and is former co-chair of the Firm's Pro Bono Committee.
Representative Matters
Represented U.S. distributor in successful exercise of right of first refusal and assignment to a preferred candidate in a buy-sell transaction involving two brands in the southeast region of the U.S.
Advised U.S. distributor in complex market transaction that involved consideration of the exercise of ROFR and closure of a dealership in a multi-brand buy-sell transaction in the northeast region of the U.S.
Represented U.S. distributor in documenting financial assistance to a dealer for the purchase of real property for a dealership renovation, including documentation and recording of a restrictive covenant for site control on the property.
Represented U.S. manufacturer in establishing mobile safety recall service program.
Assisted U.S. distributor in drafting and adopting dealer agreement and related documents, obtaining distributor state licensing and appointing a dealer network.
Represented U.S. distributor in drafting vehicle maintenance plan program documents, including dealer opt-in document and program rules and customer maintenance plan documents.
Represented U.S. distributor in resolving disputes concerning repurchase of dealer inventory following voluntary terminations of dealerships.
Representative Experience
Represented national company in the sale of its steel drum reconditioning business.

Represented hedge fund in the purchase of subordinated debt from a portfolio company.

Represented numerous ethanol production companies in going private SEC deregistration transactions, including through reverse stock splits and reclassifications.

Represented related hedge funds in numerous PIPE investments in and convertible debt financings of companies in a range of industries.

Represented Automobili Lamborghini America, in a collaboration with Lady Gaga and the Born This Way Foundation, a non-profit organization founded by Lady Gaga, to fundraise money for those disproportionally impacted by COVID-19.
Activities & Honors
Selected,

Crain's Notable Gen X Leaders in Accounting, Consulting & Law (2021)

Selected, The Best Lawyers in America© (2016-2023)
Board of Directors, Public Interest Law Initiative (PILI)


Immediate Past President, Executive Committee (2020)
President (2018-2020)
Vice President (2016-2018)
Secretary (2014-2016)
Treasurer (2012-2014)

Vice President, Board of Directors, North Lawndale Employment Network
Recognized, Women Leaders in Pro Bono Legal Services, The Law Project (2014)
Speaking Engagements & Presentations
June 15-19, 2020

–

Sponsor

September 18-20, 2019

–

Sponsor

(Sacramento, CA)

June 19, 2019

–

Sponsor

(Chicago, IL)

May 15, 2018

–

Speaker

(London, UK)
Articles & Publications
September 29, 2022

–

Barack Ferrazzano Client Alert

May 5, 2020

–

Barack Ferrazzano Client Alert

April 15, 2020

–

Barack Ferrazzano Client Alert

April 14, 2020

–

Barack Ferrazzano Client Alert

March 31, 2020

–

Barack Ferrazzano Client Alert

March 27, 2020

–

Barack Ferrazzano Client Alert

March 2, 2017

–

Barack Ferrazzano Client Alert

January 4, 2017

–

Barack Ferrazzano Client Alert

December 20, 2016

–

Barack Ferrazzano Client Alert

June 2012

–

Illinois Banker
News
November 3, 2022

–

Barack Ferrazzano Press Release

August 18, 2022

–

Barack Ferrazzano Press Release

March 11, 2022

–

Barack Ferrazzano Press Release

December 10, 2021

–

Barack Ferrazzano Press Release

November 22, 2021

–

Barack Ferrazzano Press Release

November 4, 2021

–

Barack Ferrazzano Press Release

August 19, 2021

–

Barack Ferrazzano Press Release

February 9, 2021

–

Barack Ferrazzano Press Release

January 7, 2021

–

Barack Ferrazzano Press Release

November 6, 2020

–

Barack Ferrazzano Press Release

August 20, 2020

–

Barack Ferrazzano Press Release

January 15, 2020

–

Barack Ferrazzano Press Release

November 1, 2019

–

Barack Ferrazzano Press Release

August 15, 2019

–

Barack Ferrazzano Press Release

January 15, 2019

–

Barack Ferrazzano Press Release

November 1, 2018

–

Barack Ferrazzano Press Release

September 30, 2018

–

Barack Ferrazzano Press Release

August 15, 2018

–

Barack Ferrazzano Press Release

January 9, 2018

–

Barack Ferrazzano Press Release

November 30, 2017

–

Barack Ferrazzano Press Release

November 1, 2017

–

Barack Ferrazzano Press Release

September 25, 2017

–

Barack Ferrazzano Press Release

July 27, 2017

–

Above the Law

August 2010

–

Chicago Lawyer
Services
Education
Northwestern University Pritzker Law School, J.D., 1991
The American University, B.A., magna cum laude, 1988