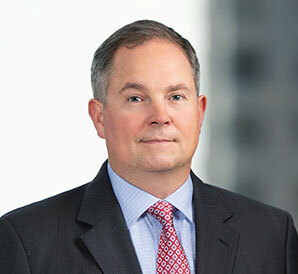 As Chair of the firm's Corporate and Securities Group, Jim concentrates his practice on general corporate and securities matters. He has experience in a number of substantive areas, including corporate finance, public offerings and private placements, joint ventures, contract negotiations, and mergers and acquisitions. Jim counsels both domestic and international clients in a wide range of industries including real estate, insurance brokerage, manufacturing, and technology.

Jim's work in the real estate industry has expanded throughout his career, and he has become trusted counsel to a number of real estate investment trusts, many of which have been his clients for close to 15 years. He initially assisted these clients with their securities reporting, joint venture relationships and entity acquisitions and dispositions. Over time, Jim's representation of these clients has evolved to include more real estate-centric activities, and his practice has expanded to include issues of REIT compliance, property and portfolio acquisitions and dispositions, and leasing matters.
Representative Experience
Represented Hub International Limited and its affiliates in more than 80 acquisitions of insurance agencies through a combination of asset and share acquisitions.

Served as primary counsel to Ventas in connection with its $380 million acquisition of Lillibridge Healthcare Services, Inc. and its related entities, and real estate interests in 95 medical office buildings.

Served as counsel to Medgenics, Inc., an Israeli clinical-stage biopharmaceutical company, in its U.S. initial public offering of common stock on the NYSE Amex.

Served as primary counsel to NYSE-listed industrial REIT with respect to several public offerings utilizing diverse structures, including a 12.5 million share of common stock ($65.6 million) firm commitment underwriting, various "bought deal" underwritten offerings of an aggregate of over 35.1 million shares of common stock for gross proceeds of over $450 million, continuous "at-the-market" programs offering up to 10 million shares, 12.5 million shares and 13.3 million shares of common stock, respectively, and direct stock sales of up to 5 million shares pursuant to a dividend reinvestment and direct stock purchase plan. The offerings utilized takedowns from a universal shelf registration statement on which we previously represented the company.

Served as primary counsel to Ventas, Inc., an S&P 500 company and one of the largest healthcare REITs in the U.S., in connection with the acquisition of the outstanding shares of Senior Care, Inc.

Served as primary counsel to First Industrial in connection with its cash tender offers for $160 million and $87 million, respectively, in aggregate principal amount of notes utilizing a "waterfall" structure to prioritize accepted tenders.

Served as primary counsel to Ventas in connection with its $186 million acquisition of real estate interests in 58 senior living communities from Sunrise Senior Living.

Served as primary counsel to First Industrial in connection with the negotiation of its $625 million unsecured revolving credit facility, $200 million unsecured term loan facility and $260 million unsecured term loan facility.

Served as primary counsel to Invesque Inc. (TSX: IVQ.U) ("Invesque"), a healthcare real estate company serving the U.S. and Canada, in its acquisition of a number of senior living properties and Commonwealth Senior Living, LLC ("Commonwealth"), a transaction that will position Invesque as a leading healthcare platform and open the door for future growth.

Represented The Shidler Group in connection with the formation of a new public west coast-focused office properties REIT in a "reverse merger" transaction involving the contribution of The Shidler Group's western U.S. office building portfolio to a newly created operating partnership subsidiary of Pacific Office Properties Trust and the assumption of indebtedness in excess of $750 million.
Speaking Engagements & Presentations
April 3, 2020

–

Speaker

(Webinar)
Articles & Publications
May 5, 2020

–

Barack Ferrazzano Client Alert

April 14, 2020

–

Barack Ferrazzano Client Alert

March 31, 2020

–

Barack Ferrazzano Client Alert
News
March 6, 2023

–

Barack Ferrazzano Press Release

July 11, 2022

–

Barack Ferrazzano Press Release

March 23, 2022

–

Barack Ferrazzano Press Release

December 10, 2021

–

Barack Ferrazzano Press Release

August 4, 2020

–

Barack Ferrazzano Press Release

August 1, 2019

–

Barack Ferrazzano Press Release
Education
University of Michigan Law School, J.D., cum laude, 2002
Ohio State University, B.A., 1999
Representative Clients
Care Capital Properties
First Industrial Realty Trust, Inc.
Hub International
T2 Capital Management
Ventas