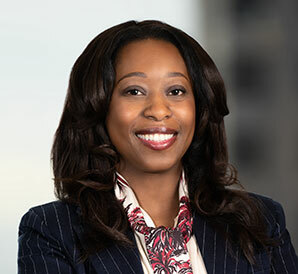 Allison
N.
Powers
Partner
Allison, a partner in the Compensation & Employment and Litigation groups, is a versatile employment litigator, trial attorney, and strategic partner with deep experience handling high-profile and "bet-the-company" matters for diverse clients across the country.
Litigation & Dispute Resolution
Allison's employment litigation practice emphasizes defense of claims of discrimination and harassment in private lawsuits, as well as government agency actions under federal and state anti-discrimination statutes. Allison also has served as defense counsel in several federal and state wage and hour collective action matters and has successfully litigated and resolved numerous single-plaintiff cases through effective discovery management, motion practice, and settlement. Moreover, she has on multiple occasions played a lead role in implementing sophisticated, and ultimately successful, defense strategies in high-profile multi-plaintiff and class action cases. Allison's current and past clients include Fortune-ranked corporations in the luxury, fashion and retail, banking, telecommunications, auto manufacturing, and pharmaceutical sectors.
Trial Wins
In recent years, Allison secured complete defense victories in multiple trials. She has served in the role of a Special Appointed Attorney General while defending a former Illinois State official against highly publicized claims of retaliation involving underlying allegations of sexual harassment and assault in a bench trial. In two separate matters, Allison tried as a lead defense counsel claims of discrimination and retaliation against a Fortune 50 aerospace company and defense contractor, both times securing jury verdicts in state court.
Business Collaboration
More than a litigator, Allison is a strategic partner to her clients, and as such devotes a significant portion of her practice to counseling clients facing a variety of workplace challenges. Having been seconded multiple times to clients, Allison brings valuable in-house perspective to the solutions she proposes. She has served on practice group "#MeToo" and Diversity, Equity & Inclusion task forces and committees and has in recent years expanded her practice to include handling sensitive workplace investigations involving executives and employees at all levels and projects relating to developing diversity strategy. Amidst the current public interest in racial justice and equity issues, Allison has been involved in discrimination and diversity and inclusion crisis investigations for retail clients.
Allison's other recent counseling experience has involved serving on a rapid-response COVID-19 (coronavirus) task force, where she supervised a team of nearly 70 attorneys and became particularly knowledgeable about state and local restrictions on commercial activities in the U.S., Puerto Rico, and the Caribbean.
Before joining Barack Ferrazzano, Allison was a sought-after attorney in the Chicago labor and employment group of a global firm. Prior to her legal career, Allison worked in fundraising and grant writing, serving in positions in large cultural institutions in New York, and at the New York City Emergency Management Office.
Public Service & Pro Bono
In March 2022, Allison was appointed by Illinois Governor J.B. Pritzker to the role of Commissioner of the Executive Ethics Commission, a key agency for sweeping ethics reform for the State of Illinois. The Commission provides more definitive rules regarding what constitutes improper use of state time and resources, improves ethics training and reporting procedures, and establishes strong enforcement mechanisms to ensure ethics rules are followed. The nine-member Commission reviews and determines appropriate action in cases brought forward by the executive inspectors general and represented by the Attorney General. Allison, who serves in this critical role alongside her position as partner at the firm, will complete the time remaining in the vacancy to which she was appointed and will, upon state senate confirmation, serve successive four-year terms.

Allison maintains a successful pro bono practice that includes representing immigrants seeking asylum and other relief under federal immigration laws, honorably discharged veterans seeking benefits from the Department of Veterans Affairs and branches of the armed forces, and first-time home buyers formerly housed in Chicago Housing Authority units and receiving Section 8 benefits. Allison received her alma mater's Distinguished Alumni Public Service Award in 2017.
Outside the Courtroom
Outside of work, Allison enjoys spending time with her boisterous young family, cooking food from her native Jamaica, running in and around her neighborhood, and scouring estate sales for mid-century modern furniture from significant makers.
Representative Experience
Representation of Moët Hennessy, a division of LVMH Moët Hennessy Louis Vuitton SE, in its partnership with Shawn Jay-Z Carter, pursuant to which Moët Hennessy acquired a 50% stake in the Champagne brand, Armand de Brignac, previously wholly-owned by Jay-Z.

Representation of Sephora in negotiations with Kohl's on a long-term strategic partnership to create a new era of elevated Beauty at Kohl's, marrying Kohl's expansive customer reach and omnichannel convenience with Sephora's prestige service, product selection and exceptional beauty experience.
Activities & Honors
Fellow, Leadership Council on Legal Diversity (LCLD) (2022 – 2023)
Selected,

Crain's Rising Stars in Law (2021)

Member, Board of Directors, Chicago Lawyers' Committee for Civil Rights
Selected, Dean's Attorney of the Year for Public Service, Washington University School of Law (2017)
Member, Young Professionals Board, Cabrini Green Legal Aid (CGLA) (2014-2017)
Recipient, Peggy Brown Fund Fellowship in Labor & Employment Law (2006)
Member, New York City Urban Fellow (2004)
Member, Black Women Lawyers Association of Greater Chicago
Speaking Engagements & Presentations
March 16, 2022

–

(Webinar)

January 11, 2021

–

Speaker, The Ins and Outs of COVID-19-Related Employment Issues

(Virtual)

November 19, 2020

–

(Webinar)

September 28-October 2, 2020

–

Speaker

(Virtual)
Articles & Publications
January 10, 2023

–

Barack Ferrazzano Press Release

December 22, 2021

–

Barack Ferrazzano Client Alert

November 9, 2021

–

Barack Ferrazzano Client Alert

July 15, 2021

–

Barack Ferrazzano Client Alert

June 10, 2021

–

Barack Ferrazzano Client Alert

December 22, 2020

–

Barack Ferrazzano Client Alert

November 23, 2020

–

Law360 Expert Analysis

October 22, 2020

–

Barack Ferrazzano Client Alert
News
July 1, 2022

–

Barack Ferrazzano Press Release

March 29, 2022

–

Barack Ferrazzano Press Release

March 11, 2022

–

Barack Ferrazzano Press Release

February 24, 2022

–

Barack Ferrazzano Press Release

January 19, 2022

–

Barack Ferrazzano Press Release

October 1, 2021

–

Barack Ferrazzano Press Release

September 7, 2021

–

Barack Ferrazzano Press Release

February 22, 2021

–

Barack Ferrazzano Press Release

December 1, 2020

–

Barack Ferrazzano Press Release

September 28, 2020

–

Mentioned

,

Crain's Chicago Business

September 18, 2020

–

Mentioned

,

Chicago Daily Law Bulletin

September 14, 2020

–

Barack Ferrazzano Press Release
Education
Washington University School of Law, J.D., 2008
Northwestern University, B.A., 2002
Bar & Court Admissions
State of Illinois
State of Missouri
State of New York
U.S. District Court - Northern District of Illinois
U.S. District Court - Southern District of Illinois
U.S. District Court - Central District of Illinois
U.S. District Court - Eastern District of Michigan
U.S. District Court - Northern District of Ohio
U.S. Court of Appeals - 8th Circuit