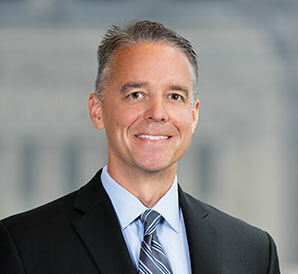 Thomas
M.
Williams
Partner
Practicing for over 20 years, Tom is an internationally recognized litigator and partner in the Firm's Intellectual Property Group. Tom litigates trademark, false advertising, and trade secrets disputes on behalf of a number of the world's largest and most sophisticated brands.
Tom has extensive experience representing clients in all aspects of trademark law and is a member of the International Trademark Association (INTA), where he serves on the Unfair Competition Committee. He has earned recognition in the World Trademark Review 1000: The World's Leading Trademark Professionals for 5 years in a row, where he has been called a "meticulous litigator" and has been noted for his successful representation of clients in courts and administrative proceedings. Tom represents his clients before federal district and appellate courts, and in proceedings before the Trademark Trial and Appeal Board of the U.S. Patent and Trademark Office. He also represents brand owners in domain name disputes under the Uniform Domain-Name Dispute-Resolution Policy (UDRP) and Anti-cybersquatting Consumer Protection Act (ACPA). In addition, he represents clients in trademark prosecution and counseling matters, and manages global trademark portfolios for clients in multiple industries.
Leading Analysis on False Advertising & the Lanham Act
A field-leader, Tom frequently writes and speaks about trademark and unfair competition law and practice. He is well-versed in competitor false advertising disputes under the Lanham Act and has used his extensive knowledge of the field to author the annually updated Lexis-Nexis publication, "False Advertising and the Lanham Act." Section 43 of the Lanham Act is an invaluable tool for intellectual property and commercial litigators. His book addresses false advertising claims under Section 43(a)(1)(B) of the Lanham Act, arguably the most misinterpreted and misapplied subsection. Tom's thorough and up-to-date book has been favorably reviewed by various sources, regarded as comprehensive, insightful, and a 'must read.' INTA's The Trademark Reporter called it, "A helpful tool to practitioners, both in-house and in private practice."
Personal Interests
Tom is an avid cyclist and outdoorsman. He enjoys spending time with his wife and two children. In the winter, Tom competes in the relatively unknown but burgeoning sport of fat bike racing.
Representative Experience
Miller Coors Beverage Co. USA, LLC v. Anheuser-Busch Companies, LLC. Member of the defense team who obtained a reversal of a preliminary injunction in a high-profile competitor false advertising dispute arising out of the 2019 Super Bowl. Law360 named the appellate court's decision the #3 most significant Lanham Act decision of midyear 2020.

DF Institute, LLC d/b/a Kaplan Professional v. Dalton Education, LLC et al. Litigated claims under the Defend Trade Secrets Act involving former employees recruited to join a directly competing company.

Primerica, Inc. v. How Money Works, LLC. Defended a financial services company in trademark cancellation action in USPTO Trademark Trial and Appeal Board. Successfully moved to stay subsequent federal district court action pending outcome of TTAB proceedings.

Monster Energy Co. v. Cavaliers Hockey Holdings, LLC. Successfully defended a professional hockey franchise in consolidated USPTO Trademark Trial and Appeal Board trademark opposition proceedings and related cancellation action after full trial on the merits.

National Futures Association v. Dantata Ighodo / BrunelHCook (No. FA2103001936127 (Forum Apr. 9, 2021)). Successfully represented National Futures Association (NFA) in a UDRP action involving a fraudulent email phishing scheme where the registrant used a nearly identical domain name to solicit confidential information from NFA Members. The panel ruled in NFA's favor, transferring the domain name.

Manages global anti-counterfeiting and trademark enforcement matters for a leading manufacturer of welding, cutting, and joining equipment.


Manages global trademark portfolio for a leading metals and materials distributor.



Obtained a federal trademark and service mark registration covering an iconic 3-dimensional character mark used by one of the nation's leading insurance providers.



Obtained a permanent injunction in trademark and trade dress infringement and dilution action involving a famous advertising spokesperson used by one of the nation's largest insurance providers.



Obtained a permanent injunction and $2 million statutory damages award in a trademark counterfeiting civil action involving financial services fraud.



Obtained a temporary restraining order barring defendants from using, promoting, or displaying infringing trademark during industry's largest trade show.



Obtained a summary judgment and permanent injunction for a plaintiff challenging a defendant's unauthorized use of the plaintiff's famous trademarks on merchandise bags sold to the plaintiff's independent motorcycle dealerships.



Obtained a permanent injunction against a competitor's use of infringing and dilutive color trademark used in connection with medical products.



Obtained a permanent injunction against a competitor's infringing and dilutive product configuration trade dress for game puzzles.



Successfully opposed a competitor's application to register similar hair care products trademark after a full trial on the merits in T.T.A.B.



Obtained a reversal of U.S.P.T.O. genericness and descriptiveness refusal in ex parte appeal of "1-800"-formative trademark in the T.T.A.B.



Represented an applicant in inter partes opposition in the T.T.A.B. involving audible sound marks used in connection with telecommunications goods and services.
Activities & Honors
Selected,

The Best Lawyers in America©

(2018-2022)

Selected,

Illinois Super Lawyers

(2010-2022)

Selected, Leading Lawyers Network (2021-2021)
Selected, World Trademark Review 1000, The World's Leading Trademark Professionals (2012-2016)
Member, Trademark Enforcement Committee, International Trademark Association (INTA)
Speaking Engagements & Presentations
November 1, 2021

–

Speaker
Articles & Publications
January 11, 2021

–

Barack Ferrazzano Client Alert

April 29, 2020

–

Barack Ferrazzano Client Alert

April 24, 2020

–

Barack Ferrazzano Client Alert

April 14, 2020

–

Barack Ferrazzano Client Alert

Updated annually

–

Author

,

Lexis-Nexis

March 18, 2010

–

Author

,

Patent Trademark & Copyright Journal (BNA) 79, No. 607

December 1, 2009

–

Author

,

Law360

July 2007

–

Co-Author

,

World Trademark Review, Vol. 8
News
November 4, 2021

–

Barack Ferrazzano Press Release

August 19, 2021

–

Barack Ferrazzano Press Release

January 29, 2021

–

Barack Ferrazzano Press Release

November 6, 2020

–

Barack Ferrazzano Press Release

October 9, 2020

–

Barack Ferrazzano Press Release

August 20, 2020

–

Barack Ferrazzano Press Release

May 1, 2020

–

Mentioned

,

Law360

April 28, 2020

–

Mentioned

,

Law360

March 26, 2020

–

Barack Ferrazzano Press Release

March 25, 2014

–

Quoted

,

Law360

March 25, 2014

–

Quoted

,

The National Law Journal

March 25, 2014

–

Quoted

,

Bloomberg BNA's Patent, Trademark & Copyright Journal

January 1, 2011

–

Quoted, Comment USPTO and TTAB Treatment of 'Green' Trademarks

,

World Trademark Review, No. 28

June 30, 2000

–

Quoted

,

Managing IP
Education
University of Illinois College of Law, J.D., 1996
University of Wisconsin-Madison, B.A., 1993
Bar & Court Admissions
State of Illinois
U.S. District Court - Northern District of Illinois
U.S. District Court - Eastern District of Wisconsin
U.S. Court of Appeals - 7th Circuit