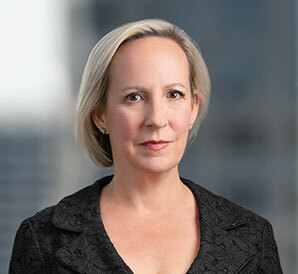 Karyn
L.
Doerfler
Partner
Karyn focuses her practice on transactional intellectual property law and has significant experience in privacy law. In addition, she is the Chair of the Firm's Cybersecurity, Privacy & Technology Group.
Cybersecurity, Privacy & Technology
Karyn devotes a significant portion of her practice to keeping clients abreast of developments in the areas of cybersecurity, privacy, and data protection on both a national and international level. In this capacity, she advises clients on technology sourcing and transactions, helping them understand the interaction of technology, data privacy, and compliance from a legal as well as a business perspective. She regularly advises clients on information security matters, privacy policies, best practices, data sharing, and the collection and use of employee and consumer personal data.
Karyn also represents clients in drafting and negotiating agreements relating to the development and use of technology tools and transactions, including Software as a Service (SaaS), cloud contracting and other technology outsourcing arrangements. She has experience on both the customer and vendor side of matters, allowing her to stay updated on market trends and effectively advise companies on how to anticipate and manage potential risks.
Intellectual Property
Her work in the intellectual property arena includes assisting clients with the management and protection of their IP portfolios as well as drafting and negotiating intellectual property related agreements, including development, licensing, and services agreements. Karyn also advises clients on the IP issues inherent in business transactions, including intellectual property-related due diligence and risk evaluation.
Corporate & Securities
Clients of all sizes in a range of industries look to Karyn as general corporate legal counsel, where she advises individuals and entities on a broad range of corporate matters, including complex contract negotiation, compliance and enforcement, and general operational matters.
Representative Experience
Represented Automobili Lamborghini America, in a collaboration with Lady Gaga and the Born This Way Foundation, a non-profit organization founded by Lady Gaga, to fundraise money for those disproportionally impacted by COVID-19.
Activities & Honors
Member, International Association of Privacy Professionals
Speaking Engagements & Presentations
May 1, 2018

–

Speaker

(Salem, OR)
Articles & Publications
January 11, 2021

–

Barack Ferrazzano Client Alert

May 5, 2020

–

Barack Ferrazzano Client Alert

April 29, 2020

–

Barack Ferrazzano Client Alert

April 24, 2020

–

Barack Ferrazzano Client Alert

April 15, 2020

–

Barack Ferrazzano Client Alert

April 14, 2020

–

Barack Ferrazzano Client Alert

April 14, 2020

–

Barack Ferrazzano Client Alert

March 31, 2020

–

Barack Ferrazzano Client Alert

March 27, 2020

–

Barack Ferrazzano Client Alert

January 7, 2020

–

Barack Ferrazzano Client Alert

October 28, 2019

–

Barack Ferrazzano Client Alert

June 7, 2019

–

Barack Ferrazzano Client Alert

March 18, 2019

–

Barack Ferrazzano Client Alert

March 12, 2019

–

Barack Ferrazzano Client Alert

February 25, 2019

–

Barack Ferrazzano Client Alert

February 14, 2019

–

Barack Ferrazzano Client Alert

December 11, 2018

–

Barack Ferrazzano Client Alert

April 17, 2018

–

Barack Ferrazzano Client Alert

September 26, 2017

–

Barack Ferrazzano Client Alert

August 1, 2017

–

Barack Ferrazzano Client Alert

March 2, 2017

–

Barack Ferrazzano Client Alert

January 4, 2017

–

Barack Ferrazzano Client Alert

December 20, 2016

–

Barack Ferrazzano Client Alert

December 6, 2016

–

Barack Ferrazzano Client Alert

October 6, 2016

–

Barack Ferrazzano Client Alert

September 30, 2016

–

Barack Ferrazzano Client Alert

May 13, 2016

–

Barack Ferrazzano Client Alert

April 11, 2016

–

Barack Ferrazzano Client Alert

March 18, 2015

–

Barack Ferrazzano Client Alert
News
June 30, 2022

–

Barack Ferrazzano Press Release

February 9, 2021

–

Barack Ferrazzano Press Release

July 27, 2017

–

Above the Law
Services
Education
Northwestern University Pritzker School of Law, J.D., magna cum laude, 1998
DePaul University, B.S., with highest honors, 1995