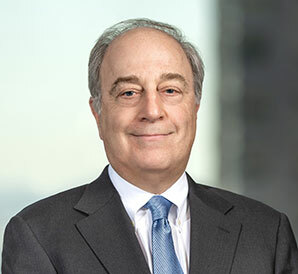 Sandy is a partner in the Firm's Corporate & Securities Group (having served as Chairman of the Group from 2001-2017), and concentrates his practice on general corporate, securities and international law matters. Sandy's general business practice has given him broad-based experience in a number of areas including domestic and international general corporate and new venture counseling, mergers and acquisitions, corporate finance, public offerings and private placements, private equity, joint ventures and contract negotiations. He has extensive experience working with domestic and foreign high tech businesses, as well as negotiating, structuring and documenting unique and complex mergers, acquisitions, financings, distribution arrangements, recapitalizations, university spin-offs, and resolutions of business disputes. He also has represented clients in a number of matters before the Securities and Exchange Commission and the Federal Trade Commission. Sandy regularly works with a diverse group of businesses including domestic, Pacific Rim and European entities involved in advanced technologies, industrial and consumer products, nuclear and conventional power infrastructure projects, manufacturing and financial services.
Sandy spent September 1990 through September 1991 in Tokyo, Japan, where he worked with Mori Hamada & Matsumoto (formerly Mori Sogo Law Offices) representing Japanese, European and American clients on a wide variety of international matters.
In addition to his general corporate work, Sandy works with a number of not-for-profit entities on a pro bono basis. Sandy has co-authored several publications for the Practicing Law Institute on various aspects of federal securities laws, and he frequently speaks about mergers and acquisitions and various corporate-related issues at leading industry conferences throughout the U.S. and internationally.
Representative Experience
Represented Hitachi in the formation of a multi-billion dollar global alliance with General Electric Company of their nuclear power plant businesses.

Served as counsel to family sellers in connection with the sale of leading wallcoverings and design solutions company to Shoreview Industries.

Serves as counsel to a Norwegian investment company in connection with multiple U.S. investments.

Representation of Wanxiang America and its subsidiaries in various investments and acquisitions throughout the U.S.
Activities & Honors
Selected, The Best Lawyers in America©

(2020-2023)
Selected, Leading Lawyers Network (2006-2023)
AV® Preeminent™ Rated 5.0 out of 5
Member, American Bar Association
Member, Chicago Bar Association
Member, Inter-Pacific Bar Association
Member, Board of Directors, Chicago Tech Academy
Articles & Publications
January 11, 2021

–

Barack Ferrazzano Client Alert

May 5, 2020

–

Barack Ferrazzano Client Alert

April 29, 2020

–

Barack Ferrazzano Client Alert

April 24, 2020

–

Barack Ferrazzano Client Alert

April 14, 2020

–

Barack Ferrazzano Client Alert

April 14, 2020

–

Barack Ferrazzano Client Alert

March 31, 2020

–

Barack Ferrazzano Client Alert

June 7, 2019

–

Barack Ferrazzano Client Alert

March 18, 2019

–

Barack Ferrazzano Client Alert

October 6, 2016

–

Barack Ferrazzano Client Alert
News
November 3, 2022

–

Barack Ferrazzano Press Release

August 18, 2022

–

Barack Ferrazzano Press Release

November 4, 2021

–

Barack Ferrazzano Press Release

August 19, 2021

–

Barack Ferrazzano Press Release

November 6, 2020

–

Barack Ferrazzano Press Release

August 20, 2020

–

Barack Ferrazzano Press Release

November 1, 2019

–

Barack Ferrazzano Press Release

August 15, 2019

–

Barack Ferrazzano Press Release

January 2019

–

Barack Ferrazzano Press Release

February 6, 2018

–

Barack Ferrazzano Press Release

December 18, 2017

–

Barack Ferrazzano Press Release

September 25, 2017

–

Barack Ferrazzano Press Release

July 27, 2017

–

Above the Law
Services
Education
University of Chicago Law School, J.D., 1983
University of Chicago Booth School of Business, M.B.A., 1983
Duke University, B.S., magna cum laude, 1979
Representative Clients
Digital Garage
Ellison Technologies
Georg Fischer
Hitachi
MDC Interior Solutions
Neotney Funds
Nizi International
The Horton Group
Wanxiang America Corporation
WellSky/Mediware Information Systems
Wolfram Research