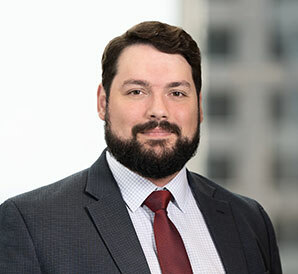 Mike is a trial lawyer in the Firm's Litigation, Intellectual Property, and Tax & Business Planning Groups. He engages in all aspects of commercial dispute resolution and strategic counseling across the country in federal and state courts, at the negotiation table, and in the boardroom. He also has significant experience serving his clients in several other legal areas and industries, in particular in Antitrust & Commercial Competition, Financial Institutions, Bankruptcy & Creditor Rights, Fashion, Luxury & Retail, and Motor Vehicle. He is also regularly called upon in disputes involving complex business valuations and damages. Mike frequently works with leading experts in a wide range of fields to advance his clients' interests, including economics, valuation, corporate finance, forensic accounting, and transfer pricing.
Representative Experience
Litigation
Whether he's representing a multinational manufacturer, a middle-market lender, or a small privately held company, Mike counsels his clients to achieve their strategic objectives through tailor-made strategies while always remaining prepared to try cases to verdict.
Representative Litigation Matters
Defense counsel for Mercedes-Benz USA LLC and Daimler Vans USA LLC in wrongful termination case regarding the discontinuation of the Freightliner Sprinter line-make, where the trial court dismissed the lawsuit on summary judgment in clients' favor. (River States Truck & Trailer, Inc. v. Daimler Vans USA LLC (W.D. Wis.).)
Defense counsel for Porsche Cars North America, Inc. in dispute over changes to dealer sales territories. Obtained a finding of good cause in client's favor after trial, and secured dismissal of entire lawsuit on appeal to the appellate court. (Copans Motors, Inc. v. Porsche Cars North America, Inc. (Fla. 4th Dist. Ct. App.).)
Plaintiff's counsel for landlord in lease dispute involving multi-million dollar commercial property. Case resolved favorably for client. (BREIT CS Atlanta LLC v. Blackhall Studios, Atlanta LLC (Ga. Super. Ct.).)
Defense counsel for Audi of America in litigation involving a large, multi-faceted dealership asset and real estate buy-sell transaction. Obtained a preliminary injunction preserving Audi's right of first refusal and won summary judgment on the buyer's tortious interference claims. (Audi of America, Inc. v. Bronsberg & Hughes Pontiac, Inc. (M.D. Pa.).)
Intellectual Property
Mike has substantial experience as a trial attorney in disputes involving patent infringement, trade secret misappropriation, and false advertising claims. Mike's intellectual property practice focuses on disputes in United States Districts Court, such as most recently in the District of Delaware, the Northern District of Illinois, and the Western District of Wisconsin.
Representative Intellectual Property Matters
Defense counsel for OmniVision Technologies, Inc. in patent litigation asserted against image sensor products by a non-practicing entity that ultimately agreed to settle the case by filing a stipulation of non-infringement, requiring no payments by OmniVision, and agreeing to a full covenant not to sue. (ID Image Sensing LLC v. OmniVision Technologies, Inc. (D. Del.))
Plaintiff's counsel for Varex Imaging Corporation, asserting infringement of two patents related to X-ray tube technology used in CT scanners and trade secret misappropriation against competitor Richardson Electronics, Ltd. Case resolved favorably for client. (Varex Imaging Corporation v. Richardson Electronics, Ltd. (N.D. Ill.).)
Defense counsel for Anheuser-Busch Companies LLC in a high-profile competitor false advertising dispute arising out of the 2019 Super Bowl, where Anheuser-Busch obtained a reversal of a preliminary injunction by the Seventh Circuit. (Millers Coors Beverage Co. USA LLC v. Anheuser-Busch Companies LLC (7th Cir.).)
Plaintiff's counsel for DF Institute LLC d/b/a Kaplan Professional, asserting trade secret misappropriation against competitor Dalton Education LLC. Case resolved favorably for client. (DF Institute LLC v. Dalton Education LLC (W.D. Wis.).)
Defense counsel for employees accused of trade secret misappropriation. Case resolved favorably for clients. (Sears Outlet Stores LLC v. XPO Logistics, Inc. (N.D. Ill.).)
Tax Controversy
Mike's tax controversy trial experience includes litigation in the U.S. Tax Court and federal district courts for IRC § 482 transfer pricing allocations, IRC § 481 disputes, debt-equity characterizations, leasing transactions, IRC § 1031 like-kind exchanges, tax penalties, and economic substance, sham-transaction and other substance-over-form doctrines. His tax controversy practice also includes counseling clients in resolving their disputes with their IRS Examination teams and before the IRS Appeals Office. Prior to joining Barack Ferrazzano, Mike was an attorney in Mayer Brown's Tax Controversy practice.
Representative Tax Controversy Matters*
Advised on transfer pricing documentation and structuring, particularly relating to intellectual property as well as soft intangibles such as going concern value and good will.
Counsel for Boston Scientific Corporation and numerous affiliates in consolidated IRC § 482 transfer pricing disputes. Case resulted in a rare 100% transfer pricing taxpayer victory. (Guidant LLC v. Commissioner (U.S. Tax Ct.).)
Trial counsel for Exelon Corporation in dispute regarding tax treatment of $1.3 billion of IRC § 1031 like-kind exchange of utility assets. (Exelon Corp. v. Commissioner (U.S. Tax Ct.).)
Counsel for Tyco Electronics Corp. and numerous affiliates in consolidated disputes regarding IRC § 385 debt-equity characterizations and withholding tax. Case resolved favorably for clients. (Tyco Electronics. Corp., et al. v. Commissioner (U.S. Tax Ct.).)
*Some of these matters were handled at a prior firm
Counseling
In addition to trial counsel, Mike also has advised on a substantial number of transactions to avoid litigation altogether, including creditors in out-of-court workouts, automotive manufacturers in negotiating approvals for franchise buy/sell agreements, and private and publicly-held clients in numerous strategic transactions and out-of-court settlements. Mike has served as both a lead negotiator and deal architect for such arrangements, developing creative transaction frameworks to solve novel problems in highly regulated fields. Mike also has experience in evaluating warranty regulations that apply to automotive manufacturers' dealership networks.
Advised special committees of boards of directors for internal investigations.
Negotiated out-of-court workouts for clients in heavily regulated and trade-secret-intensive industries.
Advised manufacturers and distributors on the structuring and implementation of national incentive programs.
Pro Bono
An active participant in pro bono legal services, Mike represents individuals in immigration, taxation, special education, and family law matters. He also aided a pro bono client in achieving asylum in the United States, based on persuasive and detailed briefing that was specifically commended by the judge. Mike's work on this case resulted in a "Rising Star" recognition by the National Immigrant Justice Center in 2019.
Outside the Courtroom
Mike spends his free time chasing after his rescue dog, testing out recipes on his family and friends, and keeping his fingers crossed for another Chicago Bears Super Bowl title in his lifetime.
Activities & Honors
Selected, Commercial Litigation, Best Lawyers: Ones to Watch (2021-2022)
Member, Taxation Section, American Bar Association
Member, Chicago Bar Association
Comments Editor, The Chicago Journal of International Law
Recipient, Rising Stars Award,

National Immigrant Justice Center

(2019)
Recipient, Casper Platt Award, University of Chicago Law School (2014)
Speaking Engagements & Presentations
October 6, 2020

–

Speaker

(Virtual)

Quick-Peek Reviews under Federal Rule of Evidence 502: Advantages and Disadvantages in Discovery and Privilege Disputes

February 2018

–

Speaker

(CBA Commercial Litigation Committee)
Articles & Publications
December 19, 2022

–

Barack Ferrazzano Press Release

September 10, 2020

–

Barack Ferrazzano Client Alert

May 12, 2020

–

Barack Ferrazzano Client Alert

April 15, 2020

–

Barack Ferrazzano Client Alert

March 29, 2020

–

Barack Ferrazzano Client Alert

March 27, 2020

–

Barack Ferrazzano Client Alert

March 20, 2020

–

Barack Ferrazzano Client Alert

March 18, 2020

–

Barack Ferrazzano Client Alert

February 25, 2019

–

Barack Ferrazzano Client Alert

"The Common European Sales Law's Compliance with the Subsidiarity Principle of the European Union,"

Spring 2013

–

Volume 14, Chicago Journal of International Law, No. 1, Article 10
News
November 3, 2022

–

Barack Ferrazzano Press Release

September 29, 2022

–

Barack Ferrazzano Press Release

August 18, 2022

–

Barack Ferrazzano Press Release

August 3, 2022

–

Barack Ferrazzano Press Release

May 16, 2022

–

Business Wire Press Release

January 4, 2022

–

Barack Ferrazzano Press Release

December 6, 2021

–

Barack Ferrazzano Press Release

November 4, 2021

–

Barack Ferrazzano Press Release

August 19, 2021

–

Barack Ferrazzano Press Release

November 6, 2020

–

Barack Ferrazzano Press Release

August 20, 2020

–

Barack Ferrazzano Press Release

June 4, 2019

–

Honoree

,

Barack Ferrazzano Press Release

October 23, 2018

–

Barack Ferrazzano Press Release
Services
Education
University of Chicago Law School, J.D., 2014
Yale University, B.A., magna cum laude, 2011

Bar & Court Admissions
State of Illinois
State of Minnesota
U.S. District Court – Northern District of Illinois
U.S. District Court – Southern District of Illinois
U.S. District Court – District of Minnesota
U.S. District Court – Western District of Wisconsin
U.S. District Court – Western District of Michigan
U.S. Tax Court