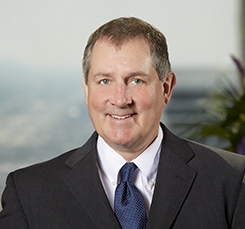 John "Jack"
W.
Roberts
Partner
Jack concentrates his practice on complex commercial litigation matters.
Jack has over 35 years of experience in numerous types of commercial litigation matters, such as:
Representing lenders in large commercial loan disputes, including commercial mortgage foreclosures and suits upon commercial loan guarantees;
Construction related claims, representing clients in matters involving allegations of construction defects, design errors and cost overruns;
Representation in claims under purchase and sales agreements and indemnity contracts, business acquisitions and transactional disputes;
Representation of insureds in a variety of insurance coverage matters; and,
Environmental litigation, including five trials pursuant to the Comprehensive Environmental Response, Compensation and Liability Act.
Jack has tried matters both to juries and in bench trials as well as represented clients in arbitration hearings and is familiar with all means of alternative dispute resolution, including mediation, for which he has completed training and certification as a mediator.

A former multiple time national handball champion, Jack continues to exercise daily or hike at his horse farm in Kentucky. And, an enjoyer of fine wines for several decades, Jack has completed and passed the Introductory Sommelier Course from the Court of Master Sommeliers.
Representative Reported & Appellate Decisions
First Bank and Trust Company of Illinois v. Cimerring, 2010 U.S. App. LEXIS 2603 (7th 2010), appeal of 2008 U.S. Dist. LEXIS 36296 (N.D. Ill. 2008)
First Bank and Trust Company of Illinois v. Walker, Docket No. 2-07-0348 (Ill. App. Ct. 2d Dist. 2008)
Baird and Warner Residential Sales, Inc. v. Mazzone et al., 893 N.E. 2d 1010 (Ill. App. 2008)
Liberty Mutual Insurance Company v. OSI Industries Inc., 831 N.E. 2d 192 (Ind. App. 2005)
Rutgerswerke AG v. Abex Corp., 2002 WL 1203836 (S.D.N.Y. June 4, 2002)
Waste Management of Alameda County v. East Bay Regional Park District, 135 F. Supp. 2d 1071 (N.D. Calif. 2001)
Abex Corp. v. Bessemer and Lake Erie Railroad, Inc. et al., 921 F. Supp. 336, 936 F. Supp. 1250 (E.D. Va. 1996), 142 F.3d 769 (4th 1998)
Anschutz Mining Corporation v. NL Industries Inc., 891 F. Supp. 492 (E.D. Mo. 1995)
H & H Sand and Gravel Haulers Company v. Coyne Cylinder Company, 632 N.E.2d 697 (Ill. App. 1994)
Home Indemnity Company v. Wil-Freds, Inc., 601 N.E. 2d 282 (Ill. App. 1992)
Board of Library Directors v. Skidmore, Owings & Merrill, 574 N.E.2d 869 (Ill. App. 1991)
Edward Hines Lumber Company v. Vulcan Materials Company, 669 F. Supp. 854 (N.D. Ill. 1987); 685 F. Supp. 651 (N.D. Ill. 1988)
Inland Steel Company v. Koppers Company, 498 N.E. 2d 1247 (Ind. App. 1986)
Richman v. Chicago Bears Football Club, Inc., 468 N.E. 2d 487 (Ill. App. 1984)
Representative Experience
Represented numerous financial institutions in connection with the restructuring of, or litigation regarding, real estate loans secured by mortgages on properties throughout the United States with an outstanding indebtedness substantially in excess of $1 billion in the aggregate.
Activities & Honors
Selected, Leading Lawyers Network (2021)
Phi Beta Kappa
Articles & Publications
August 19, 2020

–

Barack Ferrazzano Client Alert

August 4, 2020

–

Barack Ferrazzano Client Alert

May 11, 2020

–

Barack Ferrazzano Client Alert

May 1, 2020

–

Barack Ferrazzano Client Alert

April 30, 2020

–

Barack Ferrazzano Client Alert

April 9, 2020

–

Barack Ferrazzano Client Alert

April 3, 2020

–

Barack Ferrazzano Client Alert

March 18, 2020

–

Barack Ferrazzano Client Alert

February 25, 2019

–

Barack Ferrazzano Client Alert
Education
Harvard University School of Law, J.D., cum laude, 1982
Lake Forest College, B.S. in Mathematics, B.A. in Politics, 1979
Bar & Court Admissions
State of Illinois
State of Kentucky
U.S. District Court - Northern District of Illinois
U.S. District Court - Southern District of Illinois
U.S. Court of Appeals - 4th Circuit
U.S. Supreme Court