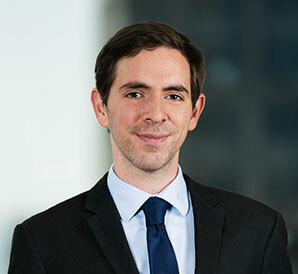 An associate in the Firm's Litigation Group, David concentrates his practice on a wide range of complex litigation matters.
Prior to joining Barack Ferrazzano, David gained valuable experience in Northwestern University Pritzker Scool of Law Law's Civil Rights Litigation Clinic where he conducted research and contributed to appellate briefs on behalf of prisoners' civil rights claims. In addition, David served as a summer legal intern for Lawyers' Committee for Better Housing, where he researched and wrote legal memoranda on complex areas of law concerning tenants' rights, foreclosure, eviction, and public housing regulations, as well as assisted with pleadings, motions, interrogatories, and other legal documents.
Representative Experience
Walker Wear LLC v. Off-White LLC. Obtained dismissal of federal trademark dilution claim on grounds that the asserted marks were not famous marks for purposes of the Lanham Act. Obtained dismissal of NY state law claim on grounds that the complaint failed to allege sufficient harm to the public.
Activities & Honors
VP - Real Property, Real Property Trusts and Estates Law Society, Northwestern University Pritzker School of Law
Summer Legal Intern, Lawyers' Committee for Better Housing
Recipient, Lowden Wigmore Prize
Selected, Northwestern Law Scholars Program
Notes Editor, Northwestern University Law Review
Research Assistant & Teaching Assistant (Contracts), Professor Jide Nzelibe, Northwestern University Pritzker School of Law
Order of the Coif
Articles & Publications
January 11, 2021

–

Barack Ferrazzano Client Alert

April 29, 2020

–

Barack Ferrazzano Client Alert

April 24, 2020

–

Barack Ferrazzano Client Alert

April 15, 2020

–

Barack Ferrazzano Client Alert

April 14, 2020

–

Barack Ferrazzano Client Alert

April 3, 2020

–

Barack Ferrazzano Client Alert

March 27, 2020

–

Barack Ferrazzano Client Alert

March 18, 2020

–

Barack Ferrazzano Client Alert

June 7, 2019

–

Barack Ferrazzano Client Alert

March 18, 2019

–

Barack Ferrazzano Client Alert

February 25, 2019

–

Barack Ferrazzano Client Alert
News
December 6, 2021

–

Barack Ferrazzano Press Release

July 8, 2021

–

Barack Ferrazzano Press Release

December 22, 2020

–

Barack Ferrazzano Press Release

October 9, 2020

–

Barack Ferrazzano Press Release

May 20, 2020

–

Barack Ferrazzano Press Release
Services
Education
Northwestern University Pritzker School of Law, J.D., magna cum laude, 2017
University of Chicago, M.A. in Humanities, 2012
Binghamton University, B.A., Comparative Literature, summa cum laude, 2008