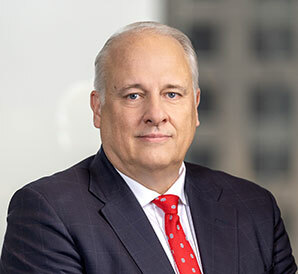 Lloyd
"Buddy"
Ferguson
Partner
Lloyd, better known as "Buddy," is head of the Firm's Waco office and a member of the Firm's Motor Vehicle and Litigation Groups.
Buddy focuses his practice on civil litigation and administrative law with an emphasis on motor vehicle manufacturers and distributors in dealer network matters. For more than 30 years, Buddy has represented manufacturers and distributors in front of state, federal and administrative judges in litigation arising out of business disputes and trade regulation matters throughout the U.S. Indeed, he is the longest-practicing attorney for manufacturers and distributors in Texas before the state regulatory agency now known as the Texas Department of Motor Vehicles, Motor Vehicle Division.
Over the course of his career, Buddy has represented brands such as General Motors (Chevrolet, GMC Truck, Buick and Cadillac), Mercedes-Benz, BMW, FCA, Toyota, Saab, Nissan, Peterbilt, Kenworth, Textron Specialty Vehicles, Kawasaki, American Suzuki, Lincoln, Hyundai, Kia and many others in the myriad issues facing manufacturers, including add-points, relocations, terminations, incentive programs, dealer agreement modifications and others. In addition, Buddy coordinated the defense of 28 terminated dealer arbitrations pursuant to federal legislation.
Representative Experience
Add Point & Relocation Matters
Obtained Final Order approving add point in Dallas, Texas when prior waivers by protesting dealer were found not enforceable. Upheld on appeal.
Obtained Final Order approving add point even though dealer applicant suffered serious financial reversals at other dealerships during severe economic downturn.
Obtained Final Order approving relocation for dealership when market share for line-make was in downward spiral.
Obtained Final Order approving add point based on argument that market had traditionally been at 150% of average performance and current performance of 100% was deficient.
Relocation matter where proposal was to relocate dealer to within 4.5 miles of existing dealer in major metro. During discovery phase, protestant withdrew appeal and license application allowing relocation was approved.
Terminations
Termination involving warranty fraud. Secured testimony of current and former service managers, technicians and other dealership employees regarding fraud. Following trial and before decision was issued, dealership was sold, and dealer agreement voluntarily terminated.
Termination involving warranty fraud. After key depositions were taken and evidence that receipts from NAPA store were fraudulent as NAPA never had a store in the small town, the dealership was sold, and dealer agreement was voluntarily terminated.
Obtained Final Order approving termination of 25+ year dealer for failure to buy $13,000 in connection with brand identity program. Termination upheld on appeal.
Termination matter involving dealer who pulled firearm on customer and chased him down the highway. On eve of trial, an Agreed Order allowing termination was executed.
Final Order obtained allowing termination for poor sales performance and facilities.
Final Order obtained allowing termination for poor performance and failure to properly conduct service operations.
Modification or Replacement Dealer Franchise Agreement Protests
Final Order obtained dismissing protest of modification finding that the language in the new agreement was the same or substantially the same as the current agreement. Decision upheld by Third Court of Appeals in Austin, Texas.
Final Order obtained allowing modification of geographic area set forth in dealer agreement.
Final Order obtained dismissing protest of dealer who claimed modification of dealer agreement and refusal to approve 40 plus mile relocation in face of application by third party.
Miscellaneous
Appointed by DMV Board to serve on advisory committee.
Enforcement matters: Handled numerous enforcement matters pre-filing and post filing of complaint by regulators.
Proposed rules—worked with stakeholders to modify proposed rules.
Formal opinions by Regulatory Board—successfully argued that DMV Board should not undertake consideration of improper request for "formal opinion."
Investigation and subsequent state court litigation regarding possible corporate espionage by competitor's employee.
Advice and counsel regarding introduction of new line-makes or transition of former line-makes to new dealer networks.
Activities & Honors
Selected,

The Best Lawyers in America©

(2009-2023)
Member, American Bar Association

Forum on Franchising
Administrative Law Section
Litigation Section

Board of Trustees, Children at Heart Foundation
Board of Trustees, Children at Heart Ministries
Selected, Franchise Times Legal Eagle (2005)
Lead Articles Editor, Baylor Law Review
Phi Delta Phi
Speaking Engagements & Presentations
September 18-20, 2019

–

Sponsor

(Sacramento, CA)
Articles & Publications
June 19, 2020

–

Selected

,

Best Lawyers®

April 15, 2020

–

Barack Ferrazzano Client Alert

March 27, 2020

–

Barack Ferrazzano Client Alert

March 20, 2020

–

Barack Ferrazzano Client Alert
News
November 3, 2022

–

Barack Ferrazzano Press Release

August 18, 2022

–

Barack Ferrazzano Press Release

November 4, 2021

–

Barack Ferrazzano Press Release

August 19, 2021

–

Barack Ferrazzano Press Release

November 6, 2020

–

Barack Ferrazzano Press Release

August 20, 2020

–

Barack Ferrazzano Press Release

November 1, 2019

–

Barack Ferrazzano Press Release

August 15, 2019

–

Barack Ferrazzano Press Release

November 1, 2018

–

Barack Ferrazzano Press Release

August 15, 2018

–

Barack Ferrazzano Press Release

April 11, 2018

–

Barack Ferrazzano Press Release
Services
Education
Baylor Law School, J.D., 1984
Baylor University, B.A., 1982
Bar & Court Admissions
State of Texas
U.S. District Court - Northern District of Texas
U.S. District Court - Southern District of Texas
U.S. District Court - Eastern District of Texas
U.S. District Court - Western District of Texas
U.S. Court of Appeals - 5th Circuit