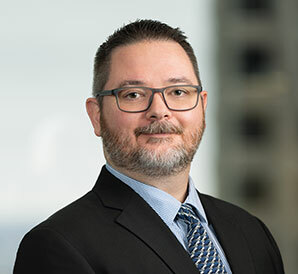 Alun
Harris-John
Litigation Support Specialist
Alun brings over fifteen years' worth of legal services experience to BFKN. He provides technical advice and support to our litigation group in the areas of systems capabilities, workflows, tooling requirements, and best practices. Using programs such as Relativity, LAW PreDiscovery, TrialDirector, and PowerPoint (to name a few), he excels at analyzing and processing eDiscovery data.
Alun has years of courtroom experience running the "hot seat" and presenting evidence during trial. His background is in video/audio and has a wealth of knowledge for those applications. Alun can further support teams in creating high-quality graphic presentations; specifically, demonstratives, timelines, opening and closing slides.
BF Discovery
Alun assists with administering BF Discovery's instance of Relativity that is used by the firm and its clients to service all aspects of document processing, review, analysis, and production.
Personal Interests
Outside of the office, Alun enjoys traveling with his family across the United States and abroad. Alun also enjoys grilling and cooking, trying out new recipes or making creations with "whatever is available".