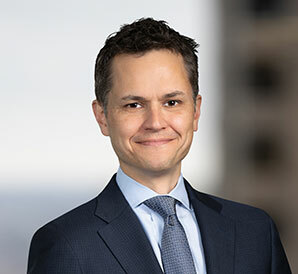 Andrew
K.
Strimaitis
Partner
Andy is co-chair of the Compensation & Employment Group and leads the Firm's executive compensation practice. He regularly advises private and public companies, boards of directors and senior executives in connection with executive compensation and employee benefits in a number of complex corporate transactions, including mergers and acquisitions and other business transactions. Andy's practice focuses on providing advice on a wide variety of executive compensation matters, including structuring and implementing deferred compensation, equity compensation, bonus compensation and incentive compensation plans and agreements. He has substantial experience drafting and advising on incentive compensation plans and nonqualified deferred compensation plans, employment and severance agreements, and change in control agreements, including advising on the operation of Code Sections 409A (nonqualified deferred compensation), 162(m) ($1.0 million deduction limit on compensation) and 280G (change in control), as well as identifying issues arising under, and assisting in complying with, federal securities laws, applicable exchange regulations and related corporate governance rules. Andy regularly advises clients with respect to ERISA's fiduciary duty and prohibited transaction rules. He also has helped clients correct benefit plan defects through Department of Labor and Internal Revenue Service voluntary correction programs and has assisted clients with negotiating settlements with regulatory authorities.
Andy is an adjunct professor in the Master of Science in Taxation Program at DePaul University's Kellstadt Graduate School of Business. He frequently speaks at seminars on tax and ERISA issues arising in connection with executive compensation and employee benefits.
Andy is the former Vice Chair of the Board of Trustees at Merit School of Music. Also, he has served as a volunteer attorney for Project SALUTE, a pro bono legal project that provides assistance on federal benefits issues to U.S. military veterans.
Representative Experience
Representation of Anchor Bancorp, Inc. in connection with its sale to Old National Bancorp (Nasdaq: ONB).

Representation of First BancTrust Corporation (OTCQX:FIRT) in connection with its sale to First Mid-Illinois Bancshares, Inc. (Nasdaq: FMBH).

Representation of Level One Bancorp, Inc. in connection with its $32 million initial public offering of common stock.

Representation of Midland States Bancorp, Inc. (Nasdaq: MSBI) in connection with its acquisition of Centrue Financial Corporation (Nasdaq: CFCB).
Professional & Community Activities
Adjunct Faculty, Master of Science in Taxation Program, Kellstadt Graduate School of Business, DePaul University
Charitable & Community Organizations
Board of Trustees Member, Merit School of Music
Volunteer, Project SALUTE (A pro bono legal project that provides assistance exclusively on federal benefits issues to U.S. military veterans)
Speaking Engagements & Presentations
November 5-7, 2018

–

Speaker

(Dallas, TX)

June 22, 2018

–

Speaker

(Chicago, IL)

May 22, 2018

–

Speaker

(Chicago, IL)

May 7, 2018

–

Speaker

(Irving, TX)

September 19, 2017

–

Speaker

(Milwaukee, WI)

October 2016

–

(Amelia Island, FL)

November 2015

–

(Chicago, IL)

November 6, 2014

–

(Chicago, IL)

November 2014

–

(Chicago, IL)
Articles & Publications
June 6, 2018

–

Barack Ferrazzano Client Alert

December 28, 2017

–

Barack Ferrazzano Client Alert

December 7, 2017

–

Barack Ferrazzano Client Alert

March 2, 2017

–

Barack Ferrazzano Client Alert

January 4, 2017

–

Barack Ferrazzano Client Alert

December 20, 2016

–

Barack Ferrazzano Client Alert

November 29, 2016

–

Barack Ferrazzano Client Alert

November 16, 2016

–

Barack Ferrazzano Client Alert

October 24, 2016

–

Barack Ferrazzano Client Alert

June 27, 2016

–

BankDirector.com

May 19, 2016

–

Barack Ferrazzano Client Alert

May 2, 2016

–

Barack Ferrazzano Client Alert

November 27, 2015

–

Bankdirector.com

October 23, 2013

–

BankDirector.com

December 17, 2012

–

bankdirector.com

July/August 2009

–

Illinois Banker

"New Pension Law Impacts Defined Contribution Plans,"

January 1, 2006

–

Corporate Taxation

"Field Assistance Bulletin 2004-03: Duties of a Directed Trustee,"

January 1, 2005

–

Corporate Taxation

"DOL Issues Final Regulations on 'Blackout Periods,'"

January 1, 2003

–

Corporate Taxation

"Impact of the 2001 Tax Act on 401(k) Plans,"

January 1, 2001

–

Corporate Taxation

"Using New Technology in Employee Plan Administration,"

January 1, 2000

–

Corporate Taxation
News
February 6, 2019

–

Barack Ferrazzano Press Release

January 15, 2019

–

Barack Ferrazzano Press Release

December 7, 2018

–

SENB Bank Press Release

October 15, 2018

–

Globe Newswire Press Release

July 26, 2018

–

Peoples Bank Press Release

July 2, 2018

–

Barack Ferrazzano Press Release

May 17, 2018

–

Barack Ferrazzano Press Release

May 1, 2018

–

Barack Ferrazzano Press Release

March 20, 2018

–

Barack Ferrazzano Press Release

February 28, 2018

–

Barack Ferrazzano Press Release

January 22, 2018

–

Business Wire

January 18, 2018

–

Globe Newswire

January 9, 2018

–

Barack Ferrazzano Press Release

October 2, 2017

–

Globe Newswire

June 12, 2017

–

Barack Ferrazzano Press Release
Education
University of Florida, Levin College of Law, Master of Laws (LL.M.) in Taxation, 1998
Loyola University Chicago, J.D., cum laude, 1996
Loyola University Chicago, School of Business Administration, B.B.A., 1994