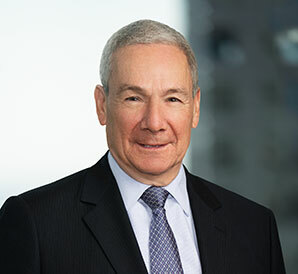 Robert
E.
Shapiro
Partner
Rob is a trial lawyer and litigator who advises clients and handles commercial disputes in state and federal trial and appellate courts, ADR forums and administrative and governmental proceedings.
In his more than 37 years as a litigator, Rob has advised major corporations on the handling and resolution of large-scale threatened and pending controversies, including commercial cases of all kinds throughout the country, and abroad. Rob has handled major breach of contract and fraud disputes, educational law claims, employment litigation, securities and antitrust matters, class actions, governmental disputes, real estate lawsuits, intellectual property disputes and more. Rob served for several years as principal outside counsel and lead trial lawyer for the Illinois Gaming Board, advising the Board on a range of regulatory issues, and as a Special Assistant Attorney General, trying major administrative matters. Rob also has assisted the special counsel for a major international labor union seeking to rid itself of organized crime. He has handled criminal appeals, first amendment cases, employment disputes, art law cases, celebrity disputes, bankruptcy matters and prisoner rights litigation as well.
Rob writes frequently on the law. For the last 29 years, he has been an Associate Editor of Litigation, the journal of the Section of Litigation of the American Bar Association. He has written a quarterly column entitled "Advance Sheet" for that publication since 2000. He has been a contributor to the Southtown News, a local newspaper and appears regularly on local TV as a commentator on a range of foreign policy, political and legal issues.
Rob also is an Adjunct Professor of Philosophy at Saint Xavier University, teaching courses on ancient and modern philosophy and Shakespeare. Since 2008, Rob has taught courses on philosophy of law, the American Constitution and the American legal system in Poland, the Czech Republic, Turkey, China and India and has given presentations on philosophy, the American Constitution and/or lawyering at Vanderbilt University, Boston University and ELSA, the European Law Students Association. Rob also has been a Visiting Professor at De Paul University and a seminar leader at the Newberry Library, an independent research library in Chicago.
Rob hosts a Sunday radio show on classical music on the SXU student-run radio station, WXAV 88.3 FM (streaming at WXAV.com). He has also done color commentary on that station's broadcast of the games of the Windy City Thunderbolts, a Frontier League Class A baseball team.
Representative Experience
Barack Ferrazzano successfully prevented long-time client Louis Vuitton Malletier SA from being forced to litigate trademark issues with the manufacturer of a novelty toy purse called "Pooey Puitton" in the United States. U.S. District Judge John F. Walter granted Louis Vuitton's motion to dismiss the declaratory action, agreeing with Louis Vuitton that trademark issues raised under foreign laws do not create a dispute under U.S. trademark laws.
Professional & Community Activities
Selected, Illinois Super Lawyers (2014-2019)
Selected, Leading Lawyers Network (2004-2019)
Recipient, Law360 Distinguished Legal Writing Award, Burton Awards (2019)
Member, Merit Selection Panel for U.S. Magistrates, N.D. Ill. (1996-1997)
Law Clerk to Honorable Walter J. Cummings, Seventh Circuit Court of Appeals
Order of the Coif
Speaking Engagements & Presentations
May 20, 2019

–

Recipient, 2019 Law360 Distinguished Legal Writing Award Winner
Articles & Publications
June 7, 2019

–

Barack Ferrazzano Client Alert

March 18, 2019

–

Barack Ferrazzano Client Alert

March 12, 2018

–

Volume 44, Litigation, No. 2

December 1, 2017

–

Volume 44, Litigation, No. 1

August 1, 2017

–

Volume 43, Litigation, No. 4

May 1, 2017

–

Volume 43 Litigation, No. 3

March 2, 2017

–

Barack Ferrazzano Client Alert

December 1, 2016

–

Volume 43, Litigation, No. 1

October 6, 2016

–

Barack Ferrazzano Client Alert

May 13, 2016

–

Barack Ferrazzano Client Alert

April 11, 2016

–

Barack Ferrazzano Client Alert

2015

–

Volume 42 Litigation, No. 1

2015

–

Volume 42 Litigation, No. 1

August 28, 2015

–

Chicago Tribune Daily Southtown

2015

–

Volume 41 Litigation, Number 2

2014

–

Volume 40 Litigation, No. 3

2014

–

Volume 40 Litigation, No. 4

2014

–

Volume 40 Litigation, No. 2

February 2014

–

Southtown Star

September 16, 2013

–

Volume 39 Litigation, No. 1

September 6, 2013

–

Southtown Star

2010

–

Volume 36 Litigation, No. 4

2009

–

Volume 36 Litigation, No. 1

Summer 2008

–

Volume 34 Litigation, No. 4

Summer 2008

–

Volume 35 Litigation, No. 1
News
May 14, 2019

–

Barack Ferrazzano Press Release

March 11, 2019

–

Featured

,

Barack Ferrazzano Press Release

January 2019

–

Barack Ferrazzano Press Release

January 25, 2018

–

Barack Ferrazzano Press Release

December 18, 2017

–

Barack Ferrazzano Press Release

July 27, 2017

–

Above the Law

September 14, 2016

–

Law360

January 14, 2015

–

Super Lawyers
Education
University of Chicago Law School, J.D., cum laude, 1979
University of Toronto, M.A., 1975, M.Phil, 1976
Harvard College, A.B., cum laude, 1972
Bar & Court Admissions
State of Illinois
State of New York
U.S. District Court - Northern District of Illinois (including Trial Bar)
U.S. Court of Appeals - 2nd Circuit
U.S. Court of Appeals - 7th Circuit
U.S. Court of Appeals - 9th Circuit
U.S. Court of Appeals - D.C. Circuit
U.S. Supreme Court