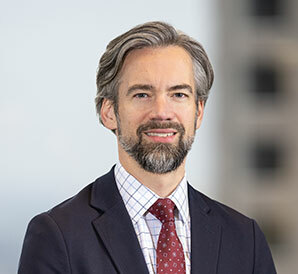 Joseph
T.
Ceithaml
Partner
As the Securities and Transactional Leader in the Firm's Financial Institutions Group, Joseph focuses his practice on corporate and regulatory matters. He regularly represents public and private banks and bank holding companies in connection with mergers and acquisitions, equity and debt offerings and other strategic corporate actions. In addition, Joseph assists the Firm's public financial institutions with their continuing compliance with federal and state securities laws. Joseph currently lives and works in Minneapolis, Minnesota, and is the partner-in-charge of developing the Group's practice in the upper Midwest region.
Prior to joining the Firm, Joseph was an associate at Skadden, Arps, Slate, Meagher & Flom LLP, where he focused on public and private securities offerings and mergers and acquisitions involving large, publicly traded companies.
Representative Experience
Since 2000, S&P Global Market Intelligence rankings has listed our firm as one of the top firms in the nation in number of announced bank and thrift merger and acquisition transactions. Our firm ranks #1 in the Midwest and #3 in the U.S. respectively. In total, we have represented buyers and sellers of financial institutions in more than 300 mergers and acquisitions.

Represented USAmeriBancorp, Inc. (OTC Pink: USAB), in connection with its merger with Valley National Bancorp (NYSE: VLY).

Representation of Anchor Bancorp, Inc. in connection with its sale to Old National Bancorp (Nasdaq: ONB).

Represented many financial institutions with respect to public offerings and private placements of common stock, subordinated debentures and convertible subordinated debentures.

Represent multiple publicly-traded bank holding companies.

Issuer's counsel for the $69.1 million initial public offering of Alerus Financial Corporation (ALRS/Nasdaq), a financial holding company headquartered in Grand Forks, North Dakota (2019 – Raymond James).

Served as legal counsel to Bridgewater Bancshares, Inc. (Nasdaq: BWB), the parent company of Bridgewater Bank, in the completion of a private placement of $50.0 million in aggregate principal amount of 5.25% Fixed-to-Floating Rate Subordinated Notes due 2030.

Served as issuer's counsel for Bridgewater Bancshares, Inc. (Nasdaq: BWB) in connection with its initial public offering.

Represented Dieterich Bank of Effingham, Illinois, in connection with its acquisition of five Illinois branches of First Bank, St. Louis, Missouri.

Represented Heartland Financial USA, Inc. in the sale of its consumer finance subsidiaries Citizens Finance Co. and Citizens Finance of Illinois Co., and the completed sale of their existing loan portfolios to American Credit Acceptance, LLC.

Represented Gateway Banc Corp. in connection with its definitive merger agreement with McLaughlin Holding Company.
Activities & Honors
Adjunct Professor, Securities Law Graduate Program in Financial Services Law, Chicago-Kent College of Law (2008-2012)
Speaking Engagements & Presentations
January 26, 2020

–

Sponsor

(Phoenix, AZ)

October 7-8, 2019

–

Speaker

(Minneapolis, MN)

October 2, 2018

–

Speaker

(Minneapolis, MN)

June 22, 2018

–

Host

(Chicago, IL)

May 15, 2018

–

Host

(Oakbrook, IL)

May 9-11, 2017

–

Speaker

(Denver, CO)

February 2017

–

Speaker

(Vail, CO)

January 2017

–

Speaker

(Phoenix, AZ)

February 2016

–

(Phoenix, AZ)

February 8, 2015

–

(Vail, CO)
Articles & Publications
May 11, 2020

–

Barack Ferrazzano Client Alert

May 5, 2020

–

Barack Ferrazzano Client Alert

May 1, 2020

–

Barack Ferrazzano Client Alert

April 30, 2020

–

Barack Ferrazzano Client Alert

April 17, 2020

–

Barack Ferrazzano Client Alert

April 14, 2020

–

Barack Ferrazzano Client Alert

April 14, 2020

–

Barack Ferrazzano Client Alert

April 9, 2020

–

Barack Ferrazzano Client Alert

April 8, 2020

–

Barack Ferrazzano Client Alert

April 6, 2020

–

Barack Ferrazzano Client Alert

April 3, 2020

–

Barack Ferrazzano Client Alert

March 31, 2020

–

Barack Ferrazzano Client Alert

March 24, 2020

–

Barack Ferrazzano Client Alert

March 20, 2020

–

Barack Ferrazzano Client Alert

March 19, 2020

–

Barack Ferrazzano Client Alert

March 17, 2020

–

Barack Ferrazzano Client Alert

March 10, 2020

–

Barack Ferrazzano Client Alert

February 25, 2020

–

Barack Ferrazzano Client Alert

January 9, 2020

–

Barack Ferrazzano Client Alert

November 8, 2019

–

Barack Ferrazzano Client Alert

October 31, 2019

–

Barack Ferrazzano Client Alert

October 24, 2019

–

Barack Ferrazzano Client Alert

October 17, 2019

–

Bank Director Magazine

September 24, 2019

–

Barack Ferrazzano Client Alert

June 4, 2019

–

Barack Ferrazzano Client Alert

April 3, 2019

–

Barack Ferrazzano Client Alert

March 14, 2019

–

Barack Ferrazzano Client Alert

February 14, 2019

–

Barack Ferrazzano Client Alert

December 4, 2018

–

Barack Ferrazzano Client Alert

October 30, 2018

–

Author

,

Barack Ferrazzano Client Alert

October 11, 2018

–

Barack Ferrazzano Client Alert

September 5, 2018

–

Barack Ferrazzano Client Alert

June 6, 2018

–

Barack Ferrazzano Client Alert

December 28, 2017

–

Barack Ferrazzano Client Alert

December 7, 2017

–

Barack Ferrazzano Client Alert

November 16, 2017

–

Barack Ferrazzano Client Alert

September 26, 2017

–

Barack Ferrazzano Client Alert

August 1, 2017

–

Barack Ferrazzano Client Alert

June 13, 2017

–

Barack Ferrazzano Client Alert

May 2, 2017

–

Barack Ferrazzano Client Alert

April 25, 2017

–

Barack Ferrazzano Client Alert

April 20, 2017

–

Barack Ferrazzano Client Alert

March 2, 2017

–

Barack Ferrazzano Client Alert

January 4, 2017

–

Barack Ferrazzano Client Alert

December 20, 2016

–

Barack Ferrazzano Client Alert

December 15, 2016

–

Barack Ferrazzano Client Alert

November 29, 2016

–

Barack Ferrazzano Client Alert

November 16, 2016

–

Barack Ferrazzano Client Alert

November 3, 2016

–

Barack Ferrazzano Client Alert

October 24, 2016

–

Barack Ferrazzano Client Alert

October 6, 2016

–

Barack Ferrazzano Client Alert

September 30, 2016

–

Barack Ferrazzano Client Alert

August 10, 2016

–

Barack Ferrazzano Client Alert

May 19, 2016

–

Barack Ferrazzano Client Alert

May 2, 2016

–

Barack Ferrazzano Client Alert

March 22, 2016

–

Barack Ferrazzano Client Alert

February 24, 2016

–

Barack Ferrazzano Client Alert

February 11, 2016

–

Barack Ferrazzano Client Alert

February 9, 2016

–

Barack Ferrazzano Client Alert

January 15, 2016

–

Bank Director, 1st Quarter 2016, Vol. 26, No. 1

March 18, 2015

–

Barack Ferrazzano Client Alert
News
July 8, 2020

–

Barack Ferrazzano Press Release

June 19, 2020

–

Business Wire Publication

February 26, 2020

–

Dieterich Bank Press Release, Herald Tribune

January 15, 2020

–

Barack Ferrazzano Press Release

January 15, 2019

–

Barack Ferrazzano Press Release

January 11, 2019

–

Globe Newswire Press Release

December 7, 2018

–

SENB Bank Press Release

September 4, 2018

–

Barack Ferrazzano Press Release

March 16, 2018

–

Barack Ferrazzano Press Release

January 24, 2018

–

Barack Ferrazzano Press Release

January 9, 2018

–

Barack Ferrazzano Press Release

January 2, 2018

–

Barack Ferrazzano Press Release
Services
Education
University of Chicago Law School, J.D., with honors, 2004
Carleton College, B.A., magna cum laude with academic distinction, 1999
Bar & Court Admissions
State of Illinois
State of Minnesota
State of California (inactive)