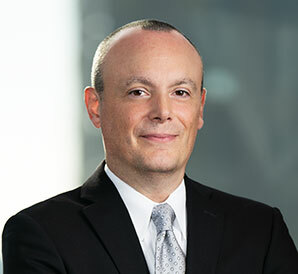 Scott is co-chair of the Firm's Intellectual Property Group, with more than 17 years of experience in trademark law and a cadre of high-profile clients, Scott has earned an enviable reputation for his experience, business-focused advice and counseling.
Whether appearing before a federal district judge, offering counsel on international trademark filing strategies, clearing a new global brand, advising on the nuances of trade secret law or explaining how social media marketing can create undue legal risks, Scott gets the job done quickly and cost-effectively so his clients can get back to work.
Scott's practice focuses primarily on U.S. and international trademark prosecution and litigation. As such, he can use his time-earned skills to help his large corporate clients manage and grow their trademark portfolios. Whether the project involves clearing a new mark in multiple jurisdictions, registering the mark with the relevant trademark offices, policing the mark against infringers or defending a client's use of a mark from threat of attack, Scott has the relevant experience to tackle any trademark-related issue.
Because social media has become an integral way for his clients to interact with their customers, Scott has become an industry thought leader on its impact on trademark protection and enforcement. He has helped many clients craft social media policies to protect intellectual property while still allowing them to exploit new technologies to positively interact with customers. His involvement in this ever changing field has prompted him to write numerous articles and provide state-of-the-art presentations aimed at explaining how companies can navigate the unchartered waters of leading social media sites, while still protecting corporate intellectual property and avoiding infringement risks. He has also been quoted in the Chicago Tribune, Bloomberg BNA, The Chicago Daily Law Bulletin, InsideCounsel and MacNewsWorld, and has appeared on Fox Chicago News.
Scott's clients also rely on his experience in trade secret law, where he focuses on its use in the employment context, particularly in connection with non-compete agreements, confidentiality agreements and restrictive covenants.
Representative Experience
In a coordinated effort with over 70 foreign associates, Scott cleared and applied to register a multi-national corporate client's new trademark in over 75 countries on the same day. Scott devised the difficult international filing strategy to stave off potential infringers from around the world.

Scott has conducted intellectual property audits for more than 25 corporate clients. In the process, he has created social networking policies, web site terms and conditions, and bring-your-own-device policies; conducted on-site inspections leading to the discovery of a number of trade secrets and copyrights; and drafted restrictive covenants and non-disclosure agreements. Scott's tireless attention to detail during these audits has uncovered and protected millions of dollars in corporate assets.

Scott represented a local entrepreneur in a heated trademark dispute that had raged for nearly a decade before his involvement. Scott suggested and conducted court-aided mediation in an effort to finally resolve the matter. The court found in favor of Scott's client, awarding damages and injunctive relief, rejecting the defendant's trademark application and transferring its domain name to Scott's client.

Representation of Kendo Holdings, Inc., a cosmetics and beauty incubator company owned by LVMH Moët Hennessy Louis Vuitton and affiliated with Sephora, in strategic transactions related to the formation and launch of the brand Fenty Beauty by Rihanna.

Representation of LVMH Luxury Ventures, an investment arm of LVMH Moët Hennessy Louis Vuitton SE, aimed at taking minority stakes in emerging, iconic brands, in its equity investment in Gabriela Hearst LLC. Launched by its founder and namesake, Gabriela Hearst, the company is a New-York based luxury ready-to-wear, leather goods, and lifestyle company.
Professional & Community Activities
Selected, Leading Lawyers Network (2009-2019)
Selected, Super Lawyers


Illinois Super Lawyers (2014-2019)
Illinois Rising Stars (2009, 2012-2013)

Selected, World Trademark Review 1000, (2011-2019)
Selected, IP Star, Managing Intellectual Property magazine (2013-2015)
Selected, "Forty Illinois Attorneys Under 40 to Watch," Law Bulletin (2012)
Adjunct Professor, Intellectual Property Clinic, University of Arizona
Member, American Bar Association
Member, Chicago Bar Association
Member, Illinois State Bar Association
Member, International Trademark Association
Member, Marques - The Association of European Trade Mark Owners
Articles & Publications
March 12, 2019

–

Barack Ferrazzano Client Alert

February 14, 2019

–

Barack Ferrazzano Client Alert

December 11, 2018

–

Barack Ferrazzano Client Alert

April 17, 2018

–

Barack Ferrazzano Client Alert

October 18, 2017

–

Inside Counsel

September 26, 2017

–

Barack Ferrazzano Client Alert

September 25, 2017

–

Author

,

Inside Counsel

September 25, 2017

–

Author

,

Inside Counsel

September 5, 2017

–

Author

,

Daily Business Review

August 1, 2017

–

Barack Ferrazzano Client Alert

June 9, 2017

–

Author

,

Corporate Counsel

March 27, 2017

–

Inside Counsel

March 23, 2017

–

Inside Counsel

March 2, 2017

–

Barack Ferrazzano Client Alert

March 2, 2017

–

Barack Ferrazzano Client Alert

February 24, 2017

–

Corporate Counsel

February 21, 2017

–

Corporate Counsel

February 9, 2017

–

Inside Counsel

February 2, 2017

–

Inside Counsel

January 4, 2017

–

Barack Ferrazzano Client Alert

December 20, 2016

–

Barack Ferrazzano Client Alert

December 6, 2016

–

Barack Ferrazzano Client Alert

October 28, 2016

–

Inside Counsel

October 2016

–

ABA Entertainment and Sports Lawyer, Fall 2016 Volume 33 Issue 1

October 6, 2016

–

Barack Ferrazzano Client Alert

September 30, 2016

–

Barack Ferrazzano Client Alert

September 28, 2016

–

Inside Counsel

September 26, 2016

–

Law360

September 26, 2016

–

Inside Counsel

September 21, 2016

–

Inside Counsel

August 2016

–

ABA Entertainment and Sports Lawyer, Summer 2016 Volume 32 Issue 4

August 15, 2016

–

Inside Counsel

July 12, 2016

–

Inside Counsel

June 14, 2016

–

Inside Counsel

June 1, 2016

–

Inside Counsel

May 13, 2016

–

Barack Ferrazzano Client Alert

May 12, 2016

–

Inside Counsel

May 2, 2016

–

Inside Counsel

April 26, 2016

–

Inside Counsel

April 11, 2016

–

Barack Ferrazzano Client Alert

April 5, 2016

–

Inside Counsel

March 30, 2016

–

Inside Counsel

March 25, 2016

–

Inside Counsel

March 21, 2016

–

Inside Counsel

March 2016

–

Entertainment Law & Finance Newsletter, Law Journal Newsletters

February 10, 2016

–

Inside Counsel

January 27, 2016

–

Inside Counsel

January 25, 2016

–

Inside Counsel

January 4, 2016

–

Inside Counsel

December 10, 2015

–

Inside Counsel
News
February 6, 2019

–

Barack Ferrazzano Press Release

January 2019

–

Barack Ferrazzano Press Release

July 25, 2018

–

Barack Ferrazzano Press Release

February 2, 2018

–

Quoted

,

New York Post

January 25, 2018

–

Barack Ferrazzano Press Release

December 18, 2017

–

Barack Ferrazzano Press Release

September 25, 2017

–

Press Release

July 27, 2017

–

Above the Law

July 13, 2017

–

Barack Ferrazzano Press Release
Education
Georgetown University, J.D., 1998
Northwestern University, B.A. 1995