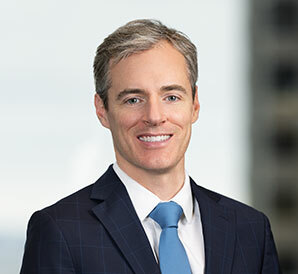 Bill has extensive experience advising corporate clients and financial institutions on significant corporate transactions. His principal practice areas include mergers and acquisitions, representing principal entities or their financial advisors in public and private transactions, and corporate finance, representing issuers and underwriters in public and private offerings of debt and equity securities. He also regularly advises clients with respect to general corporate law and the federal securities laws, including corporate governance and disclosure matters.
Prior to joining Barack Ferrazzano, Bill practiced in the Chicago office of Sidley Austin LLP as a member of the Corporate and Securities group.
Representative Experience
Representation of Midland States Bancorp, Inc. (Nasdaq: MSBI) in its $80.1M initial public offering of common stock.
Professional & Community Activities
Selected, Emerging Lawyers Network (2015-2019)
Selected, Illinois Rising Stars, Super Lawyers (2016)
Member, Dartmouth Alumni Council
Recipient, Nelson A. Rockefeller Prize in Economics, Dartmouth College
Speaking Engagements & Presentations
September 29, 2018

–

(St. Louis, MO)

June 22, 2018

–

Speaker

(Chicago, IL)

June 13, 2017

–

Speaker

(Chicago, IL)

June 15, 2016

–

(Chicago, IL)

September 19, 2015

–

(Nashville, TN)
Articles & Publications
December 4, 2018

–

Barack Ferrazzano Client Alert

October 30, 2018

–

Author

,

Barack Ferrazzano Client Alert

October 11, 2018

–

Barack Ferrazzano Client Alert

September 5, 2018

–

Barack Ferrazzano Client Alert

June 6, 2018

–

Barack Ferrazzano Client Alert

December 28, 2017

–

Barack Ferrazzano Client Alert

December 7, 2017

–

Barack Ferrazzano Client Alert

November 16, 2017

–

Barack Ferrazzano Client Alert

June 13, 2017

–

Barack Ferrazzano Client Alert

May 2, 2017

–

Barack Ferrazzano Client Alert

April 25, 2017

–

Barack Ferrazzano Client Alert

April 20, 2017

–

Barack Ferrazzano Client Alert

March 2, 2017

–

Barack Ferrazzano Client Alert

January 4, 2017

–

Barack Ferrazzano Client Alert

December 20, 2016

–

Barack Ferrazzano Client Alert

December 15, 2016

–

Barack Ferrazzano Client Alert

November 29, 2016

–

Barack Ferrazzano Client Alert

November 16, 2016

–

Barack Ferrazzano Client Alert

November 3, 2016

–

Barack Ferrazzano Client Alert

October 24, 2016

–

Barack Ferrazzano Client Alert

October 6, 2016

–

Barack Ferrazzano Client Alert

August 10, 2016

–

Barack Ferrazzano Client Alert

May 19, 2016

–

Barack Ferrazzano Client Alert

May 2, 2016

–

Barack Ferrazzano Client Alert

February 24, 2016

–

Barack Ferrazzano Client Alert
News
January 15, 2019

–

Barack Ferrazzano Press Release

June 13, 2018

–

Barack Ferrazzano Press Release

May 17, 2018

–

Barack Ferrazzano Press Release

March 20, 2018

–

Barack Ferrazzano Press Release

February 28, 2018

–

Barack Ferrazzano Press Release

January 18, 2018

–

Globe Newswire

January 9, 2018

–

Barack Ferrazzano Press Release

December 18, 2017

–

Barack Ferrazzano Press Release

July 13, 2017

–

Barack Ferrazzano Press Release

June 12, 2017

–

Barack Ferrazzano Press Release
Education
Harvard Law School, J.D., cum laude, 2006
Dartmouth College, A.B., summa cum laude, 2003