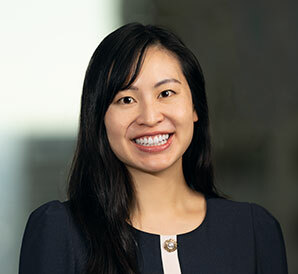 Alice is an associate in the firm's Tax & Business Planning and Real Estate Groups. Alice's practice focuses on a broad range of federal tax issues, including relating to the representation of REITs and other publicly traded corporations.
Prior to joining Barack Ferrazzano, she was a legal intern at a publicly traded international technology services corporation. During her time there, she assisted in the development of a corporate security takeover defense manual, as well as advised the Board in written memorandum of actions in challenged director decisions. Her work also included partnering with the tax department to research employment and corporate laws and to analyze tax incentives for relocating the company's IP holding company from Bermuda to Illinois. Prior to attending law school, she created and taught an AP English curriculum to urban youth and led a team of senior research project teachers for Teach for America, as well as interned at the United Nations Children's Fund in Beijing, China, where she researched, analyzed and presented international models of child protection and related laws to leaders of HIV/AIDS, Protection and Policy departments to assist in establishing a child welfare system.
During the summer of 2014, Alice was a Public Interest Law Initiative graduate fellow at The Young Center for Immigrant Children's Rights and was sponsored by the Firm.
Alice is fluent in Mandarin and has intermediate proficiency in Spanish.
Representative Experience
Representation of Anchor Bancorp, Inc. in connection with its sale to Old National Bancorp (Nasdaq: ONB).

Represented First Busey Corporation (Nasdaq: BUSE), in connection with its definitive agreement to acquire Investors' Security Trust Company.

Represented Level One Bancorp, Inc. (Nasdaq: LEVL) in connection with its acquisition Ann Arbor Bancorp, Inc. ("Ann Arbor") and its wholly-owned subsidiary, Ann Arbor State Bank.

Represented QCR Holdings, Inc. (Nasdaq: QCRH) in connection with thedivestiture of its wholly-owned subsidiary, Rockford Bank and Trust Company, to Illinois Bank & Trust, a wholly-owned subsidiary of Heartland Financial USA, Inc.

Represented USAmeriBancorp, Inc. (OTC Pink: USAB), in connection with its merger with Valley National Bancorp (NYSE: VLY).
Professional & Community Activities
Member, LAF Young Ambassador's Board
CBA Federal Tax Section Award for Academic Achievement in Taxation (2014)
Public Interest Law Initiative (PILI) Graduate Fellow, Young Center for Immigrant Children's Rights (2014)
Associate Editor, Northwestern University Law Review (2013-2014)
Northwestern Law Scholars Program (2012-2014)
President, Real Estate & Estates and Trusts, Northwestern University Pritzker School of Law (2012-2013)
Memorandum Contributor to UN Special Expert Professor David Scheffer, Khmer Rouge Trials (2011-2012)
Edward Zigler Center in Child Development and Social Policy Fellow (2007-2009)
Dwight Hall Early Childhood Education Fellow (2006-2009)
Yale Alumni Interviewer for College Admissions
Yale China Fellow (June 2008-August 2008)
Taiwanese American Society Education Chair/ Chinese Adopted Siblings Program Coordinator (2006-2007)
President, Yale Students for UNICEF (2007-2008)
Charitable & Community Organizations
Sunday School Teacher, Painted Door Church, Chicago, IL
Child Advocate, The Young Center for Immigrant Children's Rights
Speaking Engagements & Presentations
June 20, 2019

–

Sponsor

(Chicago, IL)
Articles & Publications
April 3, 2019

–

Barack Ferrazzano Client Alert

March 14, 2019

–

Barack Ferrazzano Client Alert

January 30, 2018

–

Barack Ferrazzano Client Alert
News
August 14, 2019

–

Barack Ferrazzano Press Release

August 13, 2019

–

Barack Ferrazzano Press Release

May 13, 2019

–

Barack Ferrazzano Press Release

January 15, 2019

–

Barack Ferrazzano Press Release

January 22, 2018

–

Business Wire

January 9, 2018

–

Barack Ferrazzano Press Release

January 2, 2018

–

Barack Ferrazzano Press Release

November 3, 2017

–

Barack Ferrazzano Press Release

July 13, 2017

–

Barack Ferrazzano Press Release
Education
Northwestern University Pritzker School of Law, J.D., cum laude, 2014
Northwestern University Pritzker School of Law, LLM, with honors, 2014
University of Pennsylvania, Masters of Education (Urban Education), 2011
Yale University, B.A. in Sociology (International Studies), with distinction, 2009