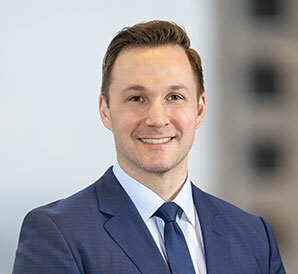 Nicholas
M.
Brenckman
Associate
Nick concentrates his practice in Corporate & Securities, Financial Institutions and Fashion, Luxury & Retail Groups with experience in counseling both public and private companies with respect to securities transactions, mergers and acquisitions, corporate governance, and a variety of other corporate and transactional matters. Prior to joining Barack Ferrazzano, Nick was an associate at a national law firm based in Minneapolis.
Before practicing law, Nick held the position of Negotiations Leader with Target Corporation where he negotiated pricing for more than $1 billion dollars of inventory across multiple product categories, earning the Vice President Award for excellence in negotiation and partnership strategy. His business and negotiating skills are a valuable asset to his clients.
Representative Experience
Issuer's counsel for the $69.1 million initial public offering of Alerus Financial Corporation (ALRS/Nasdaq), a financial holding company headquartered in Grand Forks, North Dakota (2019 – Raymond James).

Representation of Anchor Bancorp, Inc. in connection with its sale to Old National Bancorp (Nasdaq: ONB).

Representation of Bridgewater Bancshares, Inc. (Nasdaq: BWB) and its subsidiary Bridgewater Bank (HQ: Minnesota) in M&A, IPO, subordinated debt, and other transactions.

Represented First Trust & Savings Bank of Albany, Illinois in connection with its planned merger into Morton Community Bank.

Served as underwriter counsel in connection with the $34.5 million follow-on equity offering of Mackinac Financial Corporation (Nasdaq: MFNC).

Represented Gateway Banc Corp. in connection with its definitive merger agreement with McLaughlin Holding Company.

Represented USAmeriBancorp, Inc. (OTC Pink: USAB), in connection with its merger with Valley National Bancorp (NYSE: VLY).
Articles & Publications
September 15, 2020

–

Barack Ferrazzano Client Alert

September 8, 2020

–

Barack Ferrazzano Client Alert

August 19, 2020

–

Barack Ferrazzano Client Alert

August 4, 2020

–

Barack Ferrazzano Client Alert

May 11, 2020

–

Barack Ferrazzano Client Alert

May 5, 2020

–

Barack Ferrazzano Client Alert

May 1, 2020

–

Barack Ferrazzano Client Alert

April 30, 2020

–

Barack Ferrazzano Client Alert

April 17, 2020

–

Barack Ferrazzano Client Alert

April 14, 2020

–

Barack Ferrazzano Client Alert

April 14, 2020

–

Barack Ferrazzano Client Alert

April 9, 2020

–

Barack Ferrazzano Client Alert

April 8, 2020

–

Barack Ferrazzano Client Alert

April 6, 2020

–

Barack Ferrazzano Client Alert

April 3, 2020

–

Barack Ferrazzano Client Alert

March 31, 2020

–

Barack Ferrazzano Client Alert

March 24, 2020

–

Barack Ferrazzano Client Alert

March 20, 2020

–

Barack Ferrazzano Client Alert

March 19, 2020

–

Barack Ferrazzano Client Alert

March 17, 2020

–

Barack Ferrazzano Client Alert

March 10, 2020

–

Barack Ferrazzano Client Alert

November 8, 2019

–

Barack Ferrazzano Client Alert

October 31, 2019

–

Barack Ferrazzano Client Alert

October 24, 2019

–

Barack Ferrazzano Client Alert

September 24, 2019

–

Barack Ferrazzano Client Alert

April 3, 2019

–

Barack Ferrazzano Client Alert

March 14, 2019

–

Barack Ferrazzano Client Alert

March 2, 2017

–

Barack Ferrazzano Client Alert

January 4, 2017

–

Barack Ferrazzano Client Alert

December 20, 2016

–

Barack Ferrazzano Client Alert
News
July 8, 2020

–

Barack Ferrazzano Press Release

June 19, 2020

–

Business Wire Publication

January 15, 2020

–

Barack Ferrazzano Press Release

December 16, 2019

–

Barack Ferrazzano Press Release

January 15, 2019

–

Barack Ferrazzano Press Release

December 7, 2018

–

SENB Bank Press Release

September 4, 2018

–

Barack Ferrazzano Press Release

June 13, 2018

–

Barack Ferrazzano Press Release

March 16, 2018

–

Barack Ferrazzano Press Release

January 9, 2018

–

Barack Ferrazzano Press Release

January 2, 2018

–

Barack Ferrazzano Press Release

July 27, 2017

–

Above the Law
Education
Northwestern University Pritzker School of Law, J.D., cum laude, 2014
University of Minnesota, B.A., 2007