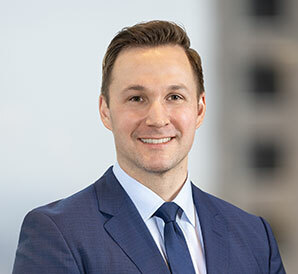 Nicholas
M.
Brenckman
Partner
Nick focuses his practice on capital raising transactions, mergers and acquisitions, securities, corporate governance, and a variety of other corporate and transactional matters. Nick has a wide array of experience in structuring corporate and financial transactions, most notably representing companies in merger transactions and representing issuers and underwriters in public and private offerings of debt and equity securities, including initial public offerings. Nick also advises public companies on reporting obligations and represents corporate clients in connection with the review and negotiation of various types of business contracts, including Fintech agreements. Prior to joining BFKN, Nick was an associate in the corporate and securities group at a national law firm based in Minneapolis.
Before practicing law, Nick held the position of Negotiations Leader with Target Corporation where he negotiated pricing for more than $1 billion dollars of inventory across multiple product categories, earning the Vice President Award for excellence in negotiation and partnership strategy. His business and negotiating skills are a valuable asset to his clients.
Representative Experience
Issuer's counsel for the $69.1 million initial public offering of Alerus Financial Corporation (ALRS/Nasdaq), a financial holding company headquartered in Grand Forks, North Dakota (2019 – Raymond James).

Representation of Anchor Bancorp, Inc. in connection with its sale to Old National Bancorp (Nasdaq: ONB).

Representation of Bridgewater Bancshares, Inc. (Nasdaq: BWB) and its subsidiary Bridgewater Bank (HQ: Minnesota) in M&A, IPO, subordinated debt, and other transactions.

Represented First Trust & Savings Bank of Albany, Illinois in connection with its planned merger into Morton Community Bank.

Served as underwriter counsel in connection with the $34.5 million follow-on equity offering of Mackinac Financial Corporation (Nasdaq: MFNC).

Represented Gateway Banc Corp. in connection with its definitive merger agreement with McLaughlin Holding Company.

Represented USAmeriBancorp, Inc. (OTC Pink: USAB), in connection with its merger with Valley National Bancorp (NYSE: VLY).
Articles & Publications
January 10, 2023

–

BankDirector.com

March 9, 2021

–

Barack Ferrazzano Client Alert

January 15, 2021

–

Barack Ferrazzano Client Alert

January 5, 2021

–

Barack Ferrazzano Client Alert

October 14, 2020

–

Barack Ferrazzano Client Alert

September 15, 2020

–

Barack Ferrazzano Client Alert

September 8, 2020

–

Barack Ferrazzano Client Alert

August 19, 2020

–

Barack Ferrazzano Client Alert

August 4, 2020

–

Barack Ferrazzano Client Alert

May 11, 2020

–

Barack Ferrazzano Client Alert

May 5, 2020

–

Barack Ferrazzano Client Alert

May 1, 2020

–

Barack Ferrazzano Client Alert

April 30, 2020

–

Barack Ferrazzano Client Alert

April 17, 2020

–

Barack Ferrazzano Client Alert

April 14, 2020

–

Barack Ferrazzano Client Alert

April 14, 2020

–

Barack Ferrazzano Client Alert

April 9, 2020

–

Barack Ferrazzano Client Alert

April 8, 2020

–

Barack Ferrazzano Client Alert

April 6, 2020

–

Barack Ferrazzano Client Alert

April 3, 2020

–

Barack Ferrazzano Client Alert

March 31, 2020

–

Barack Ferrazzano Client Alert

March 24, 2020

–

Barack Ferrazzano Client Alert

March 20, 2020

–

Barack Ferrazzano Client Alert

March 19, 2020

–

Barack Ferrazzano Client Alert

March 17, 2020

–

Barack Ferrazzano Client Alert

March 10, 2020

–

Barack Ferrazzano Client Alert

November 8, 2019

–

Barack Ferrazzano Client Alert

October 31, 2019

–

Barack Ferrazzano Client Alert

October 24, 2019

–

Barack Ferrazzano Client Alert

September 24, 2019

–

Barack Ferrazzano Client Alert

April 3, 2019

–

Barack Ferrazzano Client Alert

March 14, 2019

–

Barack Ferrazzano Client Alert

March 2, 2017

–

Barack Ferrazzano Client Alert

January 4, 2017

–

Barack Ferrazzano Client Alert

December 20, 2016

–

Barack Ferrazzano Client Alert
News
September 13, 2022

–

Barack Ferrazzano Press Release

July 1, 2022

–

Barack Ferrazzano Press Release

March 25, 2022

–

Barack Ferrazzano Press Release

January 4, 2022

–

Barack Ferrazzano Press Release

July 13, 2021

–

Barack Ferrazzano Press Release

June 23, 2021

–

Barack Ferrazzano Press Release

January 7, 2021

–

Barack Ferrazzano Press Release

July 8, 2020

–

Barack Ferrazzano Press Release

June 19, 2020

–

Business Wire Publication

January 15, 2020

–

Barack Ferrazzano Press Release

December 16, 2019

–

Barack Ferrazzano Press Release

January 15, 2019

–

Barack Ferrazzano Press Release

December 7, 2018

–

SENB Bank Press Release

September 4, 2018

–

Barack Ferrazzano Press Release

June 13, 2018

–

Barack Ferrazzano Press Release

March 16, 2018

–

Barack Ferrazzano Press Release

January 9, 2018

–

Barack Ferrazzano Press Release

January 2, 2018

–

Barack Ferrazzano Press Release

July 27, 2017

–

Above the Law
Education
Northwestern University Pritzker School of Law, J.D., cum laude, 2014
University of Minnesota, B.A., 2007