Download
Print
November 8 – November 10, 2021
-
Speakers
(
Chicago, Illinois
)
Fundamentals of Banking Law

November 8 – November 10, 2021
To be held at
Chicago-Kent College of Law
565 West Adams Street
Chicago, IL 60661
Register Today
Don't miss Barack Ferrazzano Financial Institutions Group partners Karol K. Sparks and Regulatory Section Leader John M. Geiringer as members of the faculty of Fundamentals of Banking Law (formerly Banking Law Basics). This intensive 2½ day program, which is being held at Chicago-Kent College of Law for the first time, is designed to familiarize participants with the basics of bank regulatory law. The curriculum includes classes on the critical policies, concepts, and regulations that have shaped over 150 years of banking law. This course offers a review of the fundamental themes of banking regulation, an introduction to what has changed since the 2008 financial crisis, and focuses on the dynamic changes in technology and products that are shaping the industry for the future.
Structured as a workshop and lecture-based program, rather than a seminar or conference, Fundamentals of Banking Law is taught by experienced practitioners, former bank regulators, and academics from leading law schools. This program is eligible for 19.0 hours of MCLE credit, including 2.0 hours of legal ethics credit, and is beneficial to attorneys, compliance professionals, and risk managers working in financial services organizations.
Karol and John will lead the following sessions:
Overview of Bank Regulatory Structure, Themes and Law
Monday, November 08 | 8:30 AM
Karol K. Sparks

Understanding a Bank through its Financial Statements
Monday, November 08 | 1:45 PM
Karol K. Sparks

The Role of the Banking Sector in Preventing Money Laundering and Terrorism Financing (BSA/AML)
Tuesday, November 09 | 11:45 AM
John M. Geiringer
Case Study on Banking Cannabis
Tuesday, November 09 | 4:30 PM
John M. Geiringer
To register and learn more, visit: https://ckcle.ce21.com/sales/ckfbl21-537397
About the Lawyers

John M. Geiringer is a nationally recognized banking attorney who advises financial institutions on regulatory, governance, and investigative matters. John regularly provides focused training sessions to boards and management on a wide range of legal and risk management topics.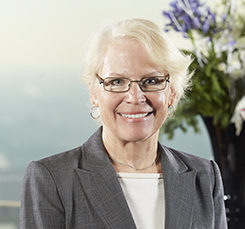 Karol K. Sparks concentrates her practice on corporate activities and regulatory issues of financial institutions, about which she has counseled banks for over 30 years. Her special emphasis is on the distribution of nontraditional bank products, including annuities, insurance, mutual funds, prepaid cards and other deposit account access devices, and the myriad of federal and state laws and regulations that apply to those activities.
Subscribe
Related Professionals
Related Practice Areas
Related Industries