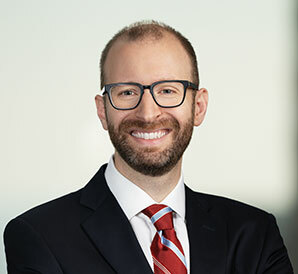 Michael
J. B.
Pitt
Partner
Michael is an experienced litigator and a trusted advisor to the Firm's clients. Michael has handled a wide variety of litigation matters, including those involving commercial contracts, business torts, federal and state statutory claims, and consumer class claims. In addition to his litigation practice, Michael counsels clients on a broad range of legal issues, including business disputes and negotiations, consumer statutes, and regulatory matters.
Litigation
Michael has leveraged his litigation experience to achieve significant results for the Firm's clients. His experience includes:
Briefing and arguing successful motions, including summary judgment motions.
Giving opening and closing argument and taking direct and cross-examination of witnesses.
Working closely with expert witnesses to develop their analyses and testimony.
Taking and defending depositions.
Managing document collection and production.
Counseling
Clients rely on Michael's counsel to achieve their business goals and minimize legal risk. Representative matters include:
Advising a foodservice company regarding the interpretation of multibillion-dollar contracts with key national business partners.
On behalf of a motor vehicle manufacturer, administering a program to improve dealer performance, serving as the primary point of contact for dealer communications for one-third of the country.
Drafting disclosures for a consumer subscription program to conform to federal and state law.
Counseling on a broad array of other topics, including consumer statutes, business torts, arbitration provisions, and regulatory matters.
Settlement
Settlement forms an integral part of the modern legal landscape. Cases frequently end in settlement or settle before they begin, and judges expect parties to actively discuss settlement throughout litigation. Michael's settlement experience includes:
Analyzing client data to quantify potential exposure risk and achieve favorable settlements without the expense of hiring an expert witness.
Representing clients at mediations.
Negotiating and drafting complex settlement agreements for class action matters.
Advising clients regarding the risks and benefits of settlement.
Pro Bono
Michael's pro bono practice includes the following matters:
Juvenile resentencing. In a full, adversarial hearing, took witness testimony and successfully argued for a sentencing reduction for a prisoner who had been given a life sentence as a juvenile.
Political asylum. Prepared an expert witness and developed an extensive factual record in support of an asylum claim, which was granted.
School discrimination. In partnership with the ACLU, obtained a six-figure settlement on behalf of a transgender student whose school discriminated against her in violation of Illinois law.
Activities & Honors
Selected, Commercial Litigation, Best Lawyers: Ones to Watch (2022)
Articles Editor, Michigan Law Review
Articles & Publications
August 19, 2020

–

Barack Ferrazzano Client Alert

August 4, 2020

–

Barack Ferrazzano Client Alert

May 11, 2020

–

Barack Ferrazzano Client Alert

May 1, 2020

–

Barack Ferrazzano Client Alert

April 30, 2020

–

Barack Ferrazzano Client Alert

April 15, 2020

–

Barack Ferrazzano Client Alert

April 9, 2020

–

Barack Ferrazzano Client Alert

April 3, 2020

–

Barack Ferrazzano Client Alert

March 27, 2020

–

Barack Ferrazzano Client Alert
News
January 4, 2022

–

Barack Ferrazzano Press Release

November 4, 2021

–

Barack Ferrazzano Press Release

August 19, 2021

–

Barack Ferrazzano Press Release

January 23, 2019

–

Law360

December 19, 2018

–

Barack Ferrazzano Press Release
Services
Education
University of Michigan Law School, J.D., summa cum laude, 2014
Brandeis University, B.A., magna cum laude, 2010
Bar & Court Admissions
State of Illinois
U.S. District Court - Northern District of Illinois
U.S. District Court - Northern District of Illinois (Trial Bar)