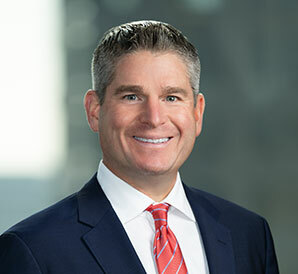 Daniel
L.
Dominguez
Partner
As Chair of both the Fashion, Luxury & Retail and Corporate & Securities Groups, Dan assists clients with mergers and acquisitions, strategic business planning, corporate counseling, and contractual matters and negotiations, with an emphasis on:
Domestic and international mergers, acquisitions, joint ventures, other business combinations, and equity and debt investments
Counseling Firm clients on a variety of legal and business issues, including day-to-day operations, strategic planning, recapitalizations, contract and licensing issues, compliance and dispute avoidance, and resolution
Entity formation matters for emerging businesses, including advising on appropriate corporate structures and drafting operating agreements, shareholder control, and buy-sell arrangements
Dan, who counts a number of European-based companies and their U.S. subsidiaries among his clients, provides daily counsel to companies over a wide range of industries, from railcars to automotive parts to wireless communications, but a large portion of his time is spent working in the fashion, wines and spirits, beauty, and luxury goods industries. Dan also regularly negotiates brand ambassador and licensing deals with prominent celebrities for luxury brands.

Dan serves on a number of Firm committees, including the Strategic Planning, Diversity, Recruiting and Pro Bono committees.
Representative Experience
Representation of Sephora in negotiations with Kohl's on a long-term strategic partnership to create a new era of elevated Beauty at Kohl's, marrying Kohl's expansive customer reach and omnichannel convenience with Sephora's prestige service, product selection and exceptional beauty experience.

Representation of various luxury companies in their acquisitions of, and strategic joint ventures with the founders of, emerging beauty brands, including Bliss, Fresh, Benefit, Ole Henriksen of Denmark, Urban Decay, Hard Candy, Bite Beauty, Kat Von D Beauty and Fenty Beauty by Rihanna.

Representation of Moët Hennessy and its affiliates in the acquisitions of Newton Vineyard, Belvedere and Chopin vodkas, 10-Cane rum, Woodinville Whiskey Company and an equity interest in Colgin Cellars.

Representation of Givenchy – a Louis Vuitton Moët Hennessy luxury brand known for its haute couture clothing, accessories, and perfume – in the negotiation of a relationship deal with prominent actress and singer Ariana Grande as the new face of Givenchy. Ariana will be featured in Givenchy's Fall-Winter 2019 campaign, to be unveiled in July (Announced: May 2019).

Representation of various luxury goods companies in their negotiations of various relationship deals with prominent actors, musicians and celebrities, including Emma Stone, Alicia Vikander, Jennifer Lawrence, Natalie Portman, Charlize Theron, Michelle Williams, Will Smith, Sophie Turner, Justin Theroux, Laura Harrier, Ruth Negga, Riley Keough, Jaden Smith, Brittany Spears, Mila Kunis and Sharon Stone.

Representation of Kendo Holdings, Inc., a cosmetics and beauty incubator company owned by LVMH Moët Hennessy Louis Vuitton and affiliated with Sephora, in strategic transactions related to the formation and launch of the brand Fenty Beauty by Rihanna.

Represented Automobili Lamborghini America, in a collaboration with Lady Gaga and the Born This Way Foundation, a non-profit organization founded by Lady Gaga, to fundraise money for those disproportionally impacted by COVID-19.

Representation of Louis Vuitton in finalizing the negotiation of a complementary collaboration with Leandra Medine Cohen – author, blogger, influencer, and founder of independent fashion and lifestyle site, Man Repeller – as the face of the Spring-Summer 2020 women's shoe collection by Nicolas Ghesquière.

Represented Louis Vuitton Malletier (Louis Vuitton), in its brand ambassador agreement with rising Japanese-American tennis champion, Naomi Osaka.

Representation of LVMH Moët Hennessy Louis Vuitton (LVMH) in strategic corporate and intellectual property transactions related to the formation and launch of Fenty by Rihanna, a new luxury fashion maison of ready-to-wear clothing, shoes, and accessories. The historic collaboration will make Rihanna the first woman to create an original LVMH brand, and Fenty the first LVMH-established fashion house in more than 30 years (Announced: May 2019).

Represented LVMH Luxury Ventures, an investment arm of LVMH Moët Hennessy Louis Vuitton SE, in its equity investment in renowned horology authority HODINKEE.

Represented LVMH Luxury Ventures, an investment arm of LVMH Moët Hennessy Louis Vuitton SE, in its equity investment in Replika Software, a social commerce platform solution enabling brands to empower their network of social sellers to inspire and sell online.

Representation of LVMH Moët Hennessy Louis Vuitton in its acquisition of a UK company that owns Hotel Saint-Barth Isle de France, a 5-star hotel located on the Caribbean Island of St. Barthémy. The acquisition involved complex holding structures that required extensive tax planning and negotiations with minority shareholders.

Representation of LVMH Luxury Ventures, an investment arm of LVMH Moët Hennessy Louis Vuitton SE, aimed at taking minority stakes in emerging, iconic brands, in its equity investment in Gabriela Hearst LLC. Launched by its founder and namesake, Gabriela Hearst, the company is a New-York based luxury ready-to-wear, leather goods, and lifestyle company.

Representation of LVMH in a complex corporate restructuring of the Marc Jacobs companies to strategically align the interests of its founders and investors.

Represented Moët Hennessy, a division of LVMH Moët Hennessy Louis Vuitton SE, in its partnership with Shawn Jay-Z Carter, pursuant to which Moët Hennessy has acquired a 50% stake in the Champagne brand, Armand de Brignac.

Represented Moët Hennessy, a division of LVMH Moët Hennessy Louis Vuitton SE, in its acquisition of a minority stake & distribution partnership with WhistlePig Whiskey.

Representation of Moët Hennessy USA in its acquisition of Woodinville Whiskey Company, LLC.

Following his representation of Neapco in its acquisition of a drivelines division of an affiliate of Ford Motor Company, Dan continues to represent Neapco in the areas of corporate structuring, intellectual property, contractual negotiations, employment and real estate matters as Neapco has grown to become one the world's largest driveshaft and half-shaft manufacturers.

The Firm has a longstanding relationship with LVMH, an iconic luxury goods and services conglomerate with 60+ brands, serving as outside counsel for its corporate and real estate transactions, as well as intellectual property and litigation matters around the world, and providing strategic legal counsel in connection with acquisitions, dispositions, joint ventures, brand management, employment agreements, and endorsement agreements.

Representation of Safecor Health in its acquisition of Regional Service Center, the largest pharmaceutical repackaging company in the eastern United States.

Representation of VTG North America and VTG Rail, US subsidiaries of VTG AG, the largest railcar lessor in Europe, in their acquisitions of railcar assets from various third parties, including Sumitomo, General Electric Capital, Babcock & Brown, and CIT Group, and ongoing general counseling in the companies' railcar leasing businesses.
Activities & Honors
Recognized Practitioner, Illinois Corporate/M&A & Private Equity, Chambers USA (2017-2019)
Adjunct Professor, Northwestern Pritzker School of Law
Vice President, Hispanic Law Students Association (1996-1997)
Member, Christian Law Students Association (1994-1997)
Charitable & Community Organizations
Member, Neighbors (Community Outreach Program), (1994-1997)
Speaking Engagements & Presentations
November 13, 2019

–

Co-Sponsor

(New York, NY)

April 2, 2019

–

Co-Sponsor

(London, UK)

November 14, 2018

–

Co-Sponsor

(New York, NY)

May 15, 2018

–

Speaker

(London, UK)

May 16, 2017

–

Speaker

(London, UK)
Other Events & Speaking Engagements
Kellogg School of Management, Merger Week: The Structure of an Acquisition
Articles & Publications
January 11, 2021

–

Barack Ferrazzano Client Alert

May 5, 2020

–

Barack Ferrazzano Client Alert

April 29, 2020

–

Barack Ferrazzano Client Alert

April 24, 2020

–

Barack Ferrazzano Client Alert

April 14, 2020

–

Barack Ferrazzano Client Alert

April 14, 2020

–

Barack Ferrazzano Client Alert

March 31, 2020

–

Barack Ferrazzano Client Alert

June 7, 2019

–

Barack Ferrazzano Client Alert

March 18, 2019

–

Barack Ferrazzano Client Alert
News
February 22, 2021

–

Barack Ferrazzano Press Release

February 9, 2021

–

Barack Ferrazzano Press Release

January 29, 2021

–

Barack Ferrazzano Press Release

January 11, 2021

–

Barack Ferrazzano Press Release

December 17, 2020

–

Barack Ferrazzano Press Release

December 7, 2020

–

Barack Ferrazzano Press Release

December 1, 2020

–

Barack Ferrazzano Press Release

May 20, 2020

–

Barack Ferrazzano Press Release

February 25, 2020

–

Barack Ferrazzano Press Release

January 23, 2020

–

Barack Ferrazzano Press Release

January 22, 2020

–

Barack Ferrazzano Press Release

November 22, 2019

–

Barack Ferrazzano Press Release

November 15, 2019

–

Barack Ferrazzano Press Release

October 15, 2019

–

Barack Ferrazzano Press Release

October 15, 2019

–

Barack Ferrazzano Press Release

September 27, 2019

–

Barack Ferrazzano Press Release

May 14, 2019

–

Barack Ferrazzano Press Release

May 10, 2019

–

Barack Ferrazzano Press Release

May 9, 2019

–

Barack Ferrazzano Press Release

April 19, 2019

–

Barack Ferrazzano Press Release

February 6, 2018

–

Barack Ferrazzano Press Release

January 22, 2018

–

Business Wire

July 27, 2017

–

Above the Law

July 13, 2017

–

Barack Ferrazzano Press Release
Services
Education
University of Chicago, J.D., with honors, 1997
Houghton College, B.A., summa cum laude, 1994
Representative Clients
Christian Dior
Marc Jacobs
Neapco Holdings
Sephora USA
VTG North America