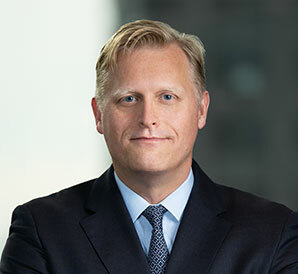 Andrew
E.
Nieland
Partner
Over the last decade, Andrew has represented clients — from banks to car makers to rap artists — in a broad variety of commercial disputes. Never content with just winning the current lawsuit, he strives to help his clients position their businesses to either avoid or handily defeat any potential litigation.
As a former federal law clerk for both trial and appellate judges, Andrew has briefed and argued appeals in state and federal courts across the nation. He has counseled clients on issues involving contract disputes, insurance coverage, and consumer protection and civil rights statutes on both a state and federal level. He is extremely knowledgeable regarding class actions, franchise law, trademark and copyright infringement, and antitrust law. Andrew also advises a variety of clients regarding website/online compliance with the Americans with Disabilities Act ("ADA").
Pro Bono
Andrew also devotes considerable time to pro bono matters. Over the last year, he has counseled several clients in immigration matters ranging from asylum petitions to DACA renewal applications. In 2017, he and a fellow Barack Ferrazzano partner received the Excellence in Pro Bono Services Award from the judges of the U.S. District Court for the Northern District of Illinois for their representation of a suburban Chicago family alleging racial and religious discrimination in violation of the Fair Housing Act.
Representative Matters
Class Actions
Defended bank in putative class action alleging deceptive business practices, implied covenant of good faith and fair dealing, and usury claims relating to the bank's overdraft and item processing policy. Secured dismissal of contract and usury claims on motions to dismiss and obtained highly favorable "claims made" settlement for client on plaintiffs' deceptive business practices claim.
Defended bank in putative class action challenging ATM fee disclosures. Prevailed on a pre-discovery motion to compel individual arbitration, having earlier counseled the client on adding and enforcing arbitration provisions with its customers. Valle v. ATM National, LLC, No. 14-cv-7993, 2015 WL 413449 (S.D.N.Y Jan. 30, 2015)
Defended trust company in putative securities fraud class action based on the purported cherry- picking scheme. Secured dismissal of the plaintiffs' claims with prejudice. The plaintiffs paid the client over 90% of its attorney's fees in settlement to avoid sanctions under the Private Securities Litigation Reform Act ("PSLRA"). Pomeroy v. GreatBanc Trust Co., 14-cv-6162 (N.D. Ill. Dec. 16, 2014).
Motor Vehicle, Franchising & Distribution
Defended client car distributor in action by two dealers opposing a new dealership in Westbury, New York. After prepping and examining witnesses in a 10day bench trial on plaintiffs' contract claims, Secured judgment for client on all claims. Luxury Autos of Huntington, Inc. v. Volkswagen of America, Inc., No. 602591/2014 (N.Y. Sup. Ct., Commercial Div.)
Defended car distributor in dealer's challenge to its incentive program under the Robinson-Patman Act and other statutes. Defeated a preliminary injunction motion demanding the client resume incentive payments The matter was voluntarily dismissed. Mohegan Lake Motors, Inc. v. Audi of America, Inc., No. 14-cv-1688 (S.D.N.Y)
Appeals
Defended automotive client against claim that adding a new dealership was an illegal modification of an existing dealer's franchise agreement. Obtained favorable precedent for client on a novel issue of New York franchise law. JJM Sunrise Automotive, LLC v. Volkswagen Group of America, Inc., 149 A.D.3d 1051 (N.Y. App. Div. 2017).
Pro Bono
Served as pro bono counsel for five plaintiffs alleging discriminatory treatment by village police in violation of the Fair Housing Act. After surviving two rounds of dispositive motions, the clients received an extremely favorable settlement and presiding Judge Matthew Kennelly nominated our team for the 2017 Award for Excellence in Pro Bono Service. Mehta v. Village of Bolingbrook, No. 12-cv-6216 (N.D. Ill.)
Activities & Honors
Law Clerk, Hon. John Gleeson, U.S. District Court - Eastern District of New York, 2008-2009
Law Clerk, Hon. John M. Walker, Jr., U.S. Court of Appeals - Second Circuit, 2007-2008
Editor-in-Chief, Cornell Law Review
Speaking Engagements & Presentations
September 24, 2019

–

Speaker

(Chicago, IL)
Articles & Publications
January 11, 2021

–

Barack Ferrazzano Client Alert

May 1, 2020

–

Barack Ferrazzano Client Alert

April 29, 2020

–

Barack Ferrazzano Client Alert

April 24, 2020

–

Barack Ferrazzano Client Alert

April 15, 2020

–

Barack Ferrazzano Client Alert

April 14, 2020

–

Barack Ferrazzano Client Alert

March 27, 2020

–

Barack Ferrazzano Client Alert

March 18, 2020

–

Barack Ferrazzano Client Alert

June 7, 2019

–

Barack Ferrazzano Client Alert

March 18, 2019

–

Barack Ferrazzano Client Alert

February 25, 2019

–

Barack Ferrazzano Client Alert

October 6, 2016

–

Barack Ferrazzano Client Alert
News
December 19, 2018

–

Barack Ferrazzano Press Release
Services
Education
Cornell Law School, J.D., summa cum laude, 2007
Harvard College, B.A., cum laude, 1997
Bar & Court Admissions
State of Illinois
State of New York
U.S. District Court - Eastern District of New York
U.S. District Court - Southern District of New York