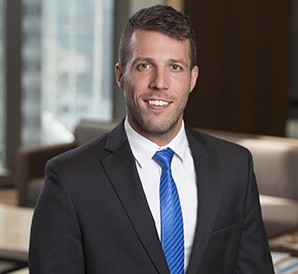 Andrew
J.
Gordon
Associate
Andrew's practice focuses on counseling companies and executives in compensation, benefits, and employment matters in all phases of the employment relationship and in a broad variety of corporate transactions. He draws on a wealth of experience when drafting and advising clients about the design, implementation, termination, regulatory compliance, and enforceability considerations of employment agreements, noncompetition and nondisclosure covenants, non-qualified deferred compensation plans, tax-qualified retirement plans, and equity incentive plans.
A former litigator and two-time federal judicial law clerk, Andrew is skilled at efficiently analyzing employment and compensation disputes and any potential claims under federal and state laws, and in translating legal complexities into clear decisions and recommendations that are useful and tailored to each client's needs.
Andrew's practice additionally involves assisting the Firm's public company clients, including over a dozen financial institutions and REITs, with SEC reporting obligations for executive and equity-based compensation. He also participates in the Firm's robust pro bono practice, through which he has provided ongoing advice in employment matters to a Chicago-based non-profit and successfully represented an indigent civil rights plaintiff in federal court.
Outside of his professional commitments, Andrew enjoys traveling, staying active, and house music.
Representative Experience
Represented Bank First Corporation (Nasdaq: BFC) ("Bank First") — the holding company of Bank First, N.A — in the signing of a definitive agreement to acquire Tomah Bancshares, Inc. ("Tomah"), in an all-stock merger transaction.

Represented First Defiance Financial Corp. ("First Defiance") (Nasdaq: FDEF) in connection with its definitive merger agreement in which United Community Financial Corp. ("United Community") (Nasdaq: UCFC), will merge into First Defiance in a stock-for-stock transaction.


Represented Bankmanagers Corp. and its wholly owned subsidiary, Park Bank, in connection with its acquisition by First Midwest Bancorp, Inc. ("First Midwest") (Nasdaq: FMBI).

Served as primary counsel to Invesque Inc. (TSX: IVQ.U) ("Invesque"), a healthcare real estate company serving the U.S. and Canada, in its acquisition of a number of senior living properties and Commonwealth Senior Living, LLC ("Commonwealth"), a transaction that will position Invesque as a leading healthcare platform and open the door for future growth.

Representation of Level One Bancorp, Inc. (Nasdaq: LEVL) and its subsidiary Level One Bank (HQ: Michigan) in M&A, IPO, subordinated debt, and other transactions.

Represented Gateway Banc Corp. in connection with its definitive merger agreement with McLaughlin Holding Company.

Served as counsel to PGB Holdings, Inc. and its wholly-owned subsidiary, Pacific Global Bank ("PGB"), in their acquisition by RBB Bancorp (Nasdaq: RBB) and its subsidiary, Royal Business Bank.
Activities & Honors
Selected, Employee Benefits (ERISA) Law, Best Lawyers: Ones to Watch (2021)
Member, Lesbian & Gay Bar Association of Chicago
Law Clerk, Hon. Sheila Finnegan (N.D. Ill.)
Law Clerk, Hon. Valerie P. Cooke (D. Nev.)
Editor, California Law Review
Co-Editor in Chief, Berkeley Journal of Employment and Labor Law
Speaking Engagements & Presentations
November 19, 2020

–

(Webinar)
Articles & Publications
July 15, 2021

–

Barack Ferrazzano Client Alert

June 10, 2021

–

Barack Ferrazzano Client Alert

December 22, 2020

–

Barack Ferrazzano Client Alert

October 22, 2020

–

Barack Ferrazzano Client Alert

October 14, 2020

–

Co-Author

,

BankDirector.com

September 9, 2020

–

Barack Ferrazzano Client Alert

July 13, 2020

–

Barack Ferrazzano Client Alert

July 7, 2020

–

Barack Ferrazzano Client Alert

July 2, 2020

–

Barack Ferrazzano Client Alert

June 12, 2020

–

Barack Ferrazzano Client Alert

June 3, 2020

–

Barack Ferrazzano Client Alert

April 10, 2020

–

Barack Ferrazzano Client Alert

April 9, 2020

–

Barack Ferrazzano Client Alert

March 27, 2020

–

Barack Ferrazzano Client Alert

March 20, 2020

–

Barack Ferrazzano Client Alert

March 20, 2020

–

Barack Ferrazzano Client Alert

February 27, 2020

–

Barack Ferrazzano Client Alert

January 29, 2020

–

Barack Ferrazzano Client ALert

April 3, 2019

–

Barack Ferrazzano Client Alert

March 14, 2019

–

Barack Ferrazzano Client Alert
News
June 23, 2021

–

Barack Ferrazzano Press Release

February 22, 2021

–

Barack Ferrazzano Press Release

January 25, 2021

–

Barack Ferrazzano Press Release

January 7, 2021

–

Barack Ferrazzano Press Release

December 7, 2020

–

Barack Ferrazzano Press Release

November 6, 2020

–

Barack Ferrazzano Press Release

September 23, 2020

–

Barack Ferrazzano Press Release

August 20, 2020

–

Barack Ferrazzano Press Release

July 8, 2020

–

Barack Ferrazzano Press Release

May 18, 2020

–

Barack Ferrazzano Press Release

March 10, 2020

–

Globe Newswire Press Release

February 3, 2020

–

First Defiance Financial Corp. Press Release

January 15, 2020

–

Barack Ferrazzano Press Release

January 13, 2020

–

Yahoo Finance

January 2, 2020

–

Barack Ferrazzano Press Release

August 1, 2019

–

Barack Ferrazzano Press Release

January 15, 2019

–

Barack Ferrazzano Press Release

December 7, 2018

–

SENB Bank Press Release
Education
University of California, Berkeley School of Law, J.D., 2014
University of Wisconsin-Madison, B.A., with distinction, 2007
Bar & Court Admissions
State of Illinois
U.S. District Court - Northern District of Illinois