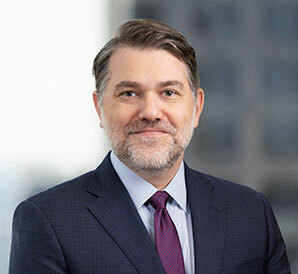 Owen is a partner in the Firm's Motor Vehicle and Litigation Groups.
He represents motor vehicle manufacturers and distributors, as well as captive finance companies, in the automobile, motorcycle, and power sports industries. Owen's practice involves representing manufacturer clients on a nationwide basis in dealership litigation matters, including trials, appeals, and other proceedings before federal and state courts, as well as state administrative agencies. He has litigated cases involving proposed dealer relocations and establishments, terminations, incentive programs, sales performance standards, and ownership changes. Owen also has advised manufacturer clients on business and regulatory issues relating to their distribution networks, including rights of first refusal over dealership transfers, the structure of vehicle allocation systems, and the structure and implementation of national dealer incentive programs. In addition, a significant part of his practice involves advising manufacturer clients on antitrust issues arising under the federal Sherman Act and Robinson-Patman Act, as well as under state antitrust and price discrimination laws.
Apart from his motor vehicle practice, Owen's practice involves a wide variety of complex commercial litigation, including antitrust counseling and defense, securities and financial institutions litigation, and cases involving fraud, breach of contract, and breach of fiduciary duty claims.
Prior to joining Barack Ferrazzano, he was an attorney with a large international law firm where his practice focused on securities litigation, antitrust counseling and defense, and general contract disputes.
Owen is the Chair of the Firm's Recruiting Committee.
Representative Matters
Defense of federal class actions brought against Illinois banks relating to fee notice requirements of the Electronic Funds Transfer Act.
Defense of an Illinois-based international bank against a claim of constructive trust over funds in accounts maintained by a dissolved limited liability company.
Defense of an Illinois-based international bank against negligence claims relating to the bank's right to charge-back client accounts under Article 4 of the Illinois UCC.
Defense of a major investment bank against claims for conversion, breach of contract, and breach of fiduciary duty relating to securities repurchase (repo) transactions.
Defense of various parties in several securities class actions and direct actions, including issuers, underwriters, and others alleged to have made fraudulent and/or negligent misrepresentations or omissions in connection with the issuance and sale of equity securities, corporate bonds, mortgage-backed securities, and limited partnership units.
Conducted a fraud risk assessment of a large financial rescue program implemented by the federal government during the 2008 financial crisis.
Representation of a "Big Six" book publisher in civil antitrust investigations by federal and state authorities relating to competition and pricing in the e-book market.
Representation of a luxury furniture manufacturer in civil antitrust investigations by state authorities relating to "resale price maintenance."
Defense of foreign and domestic automobile manufacturers in litigation relating to dealer terminations and the realignment of dealer territories.
Prosecution of breach of contract and breach of warranty claims by a national retail pharmacy chain relating to its acquisition of a medical services company.
Professional Activities & Honors
Law Clerk, Hon. Richard Conway Casey, U.S. District Court, Southern District of New York, 2006-2007
Articles & Publications
"Getting the Deal Through - Vertical Agreements 2011,"

March 2011

–

Global Competition Review

"On Life Support for Leeginaire's Disease: Can the States Resuscitate Dr. Miles?"

Summer 2008

–

Antitrust, an ABA publication
News
Services
Education
The George Washington University Law School, J.D., cum laude, 2005
Washington University in St. Louis, B.A., magna cum laude, 1999
Bar & Court Admissions
State of Illinois
State of New York
U.S. District Court - Northern District of Illinois
U.S. District Court - Central District of Illinois
U.S. District Court - Southern District of New York
U.S. District Court - Eastern District of New York
U.S. Court of Appeals - 3rd Circuit