Practice Areas
Education
University of Michigan, J.D., cum laude, 2009
University of Michigan, B.A., with high distinction, 2007
Bar & Court Admissions
State of Illinois
U.S. District Court - Northern District of Illinois
Vito S. Solitro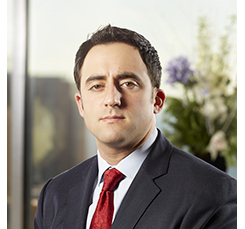 Associate
T. 312.629.5112
F. 312.984.3150

Vito is experienced in a variety of litigation matters. He has handled commercial lawsuits involving breach of contract, fraud, breach of fiduciary duty, deceptive trade practices, judgment enforcement, real estate disputes, mortgage foreclosure and whistleblower actions.
Vito has also represented clients in numerous intellectual property matters, including defense and prosecution of lawsuits concerning trademark infringement and dilution, copyright infringement, false advertising and the right of publicity.
In addition, Vito has represented motor vehicle manufacturers in a variety of disputes, most significantly in litigation with their franchised dealers.
Vito has represented publicly and privately held companies, as well as individual clients in federal and state court. Though he regularly appears in the courtroom and has tried cases before juries and judges in federal and state courts, Vito prides himself in developing cost-effective business solutions to resolve disputes and minimize exposure without litigation.
Representative Matters
General Commercial Litigation

Defense of a toy manufacturer against breach of contract claim involving millions of dollars in damages in six-day jury trial in the Northern District of Illinois

Obtained summary judgment for major drug store chain in breach of contract action in the Circuit Court of Cook County, Illinois seeking over eight million dollars in damages; recovered over ninety-nine percent of attorneys' fees; summary judgment and fee awards affirmed by the Illinois Appellate Court
Obtained dismissal with prejudice of class action in the Circuit Court of Cook County, Illinois under Illinois Consumer Fraud and Deceptive Business Practices Act
Financial Institutions & Real Estate Litigation
Obtained summary judgment for financial institution in foreclosure action in the Circuit Court of Lake County, Illinois; judgment affirmed by the Illinois Appellate Court
Representation of a seller of commercial property in breach of contract and fraud action over tax provision in purchase agreement in the District Court, Denver County, Colorado; negotiated favorable settlement
Representation of a financial institution in six commercial foreclosure actions in the Circuit Court of Kane, County, Illinois; negotiated favorable settlement
Representation of a commercial tenant in the Circuit Court of Cook County, Illinois in dispute regarding lease tax and maintenance provisions; negotiated favorable settlemen
Representation of outside directors in derivative action for breach of fiduciary duty in the District Court for Polk County, Iowa
Representation of a financial institution in breach of contract action to enforce commercial guaranties seeking more than $20 million in principal and interest in the Northern District of Illinois
Representation of a landlord of commercial property in the Superior Court of the State of California, County of San Bernardino in dispute over commercial lease
Intellectual Property
Obtained summary judgment for plaintiff luxury fashion house in trademark dilution action in the Southern District of New York
Representation of a group of champagne producers and distributors in false advertising action against competitor in the Southern District of New York; negotiated favorable settlement
Motor Vehicle Litigation
Representation of an automobile manufacturer in the Superior Court of New Jersey, Camden County in three-week jury trial regarding claims of unlawful termination; negotiated favorable settlement
Representation of automobile manufacturers in pre-litigation enforcement of intellectual property rights; negotiated favorable settlements
Representation of an automobile manufacturer in the Superior Court of Fulton County, Georgia in trade secret litigation against franchised dealer
Representation of an automobile manufacturer in the Southern District of Florida in action brought by franchised dealer to enjoin termination
Representation of an automobile manufacturer in the Northern District of Alabama in action by franchised dealer alleging violation of statutory repurchase obligations
Judgment Enforcement
Representation of an Illinois financial institution in recovery of over two million dollars of real estate and personal property in the Circuit Court of Lake County, Illinois; validity of collection effort affirmed by the Illinois Appellate Court
Representation of a Michigan financial institution in domestication of judgment and judgment collection actions in the Circuit Court of Cook County, Illinois, which resulted in recovery of over a million dollars in assets
Representation of an Oklahoma financial institution in domestication and enforcement of judgment in the Circuit Court of Cook County, which resulted in successful collection of rare artwork
Representation of various financial institutions as third-party respondents to judgment collection actions in various Illinois courts
Representation of an Illinois financial institution in claim for wrongful attachment and malicious prosecution in the Circuit Court of Cook County, Illinois

Qui Tam / Whistleblower Litigation
Representation of seven retailers in five qui tam / whistleblower actions in the Circuit Court of Cook County, Illinois; negotiated favorable settlements
Pro Bono
Representation of an Iranian national in asylum hearing before U.S. Immigration Court; obtained asylum
Representation of a client in Northern District of Illinois in lawsuit under American with Disabilities Act

Representative Clients
Audi of America
Automobili Lamborghini America
First Industrial Realty Trust, Inc. (NYSE: FR)
Louis Vuitton Malletier S.A.
Moët Hennessy USA, Inc.
Porsche Cars North America, Inc.
Sephora USA
Thomas Pink
U.S. Bank National Association
Ventas, Inc. (NYSE: VTR)
Volkswagen Group of America
West Suburban Bank
Professional Activities and Honors
Selected, Illinois Rising Stars, Super Lawyers (2013-2015)
News